Can The Invisible War Help Put an End to Military Rape?
The Oscar-nominated documentary is painful to watch—but will hopefully, finally inspire real change.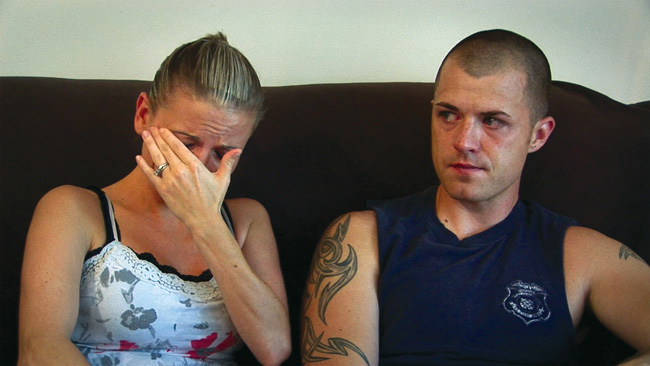 I was 20 years old when Susan Brownmiller's Against Our Will: Men, Women and Rape was published in 1975. I was home from college and spent two days in my pajamas reading it from cover to cover. Even though I called myself a feminist and Gloria Steinem had spoken at my high school graduation and I went to a feminist college called Kirkland (long gone), I didn't know anything until I read this book. It both explained and changed everything I understood to be true about power, sex, and violence. And the real world.
Naïve me, I thought the world listened and changed, too. It really didn't. Thirty-seven years later, here is The Invisible War, which premiered on PBS last night.
This Oscar-nominated documentary tells the stories of women in the military who have been raped by fellow soldiers—usually superiors—and have not only watched their assailants go unpunished, but have been systematically denied the recourse given to any civilian who has been subjected to this crime and, worst of all, penalized for speaking out.
It's a disheartening déjà vu. A sense that this violent constant in the history of men and women was only quelled never stopped.
Watching this film is like reading Brownmiller's book all over again. Just last week an Air Force officer was arrested for sexual assault turned out to be the chief of the Air Force sexual assault prevention unit. Just last week a report issued from the Pentagon reported the incidence of sexual assault in the military is on the rise. That one same question went through my mind as I watched this film and read that book so many years ago.
Which is, of course, are you fucking kidding me?
The film focuses on the testimony of several women who were sexually assaulted, and in some cases were also beaten. There is also a wrenching account from a man who also was raped and suffered in silence for years.
The crimes are bad enough, the failure to prosecute the assailants and the punishment of the victims adds insult to their injuries; members of the military, unlike civilians, are not allowed to seek damages from the government. Small wonder only eight percent of military sexual assault cases are prosecuted.
The interviews with these women and men are the heart of the documentary and are presented with a pristine deference to their accounts of violation and retribution. These are women who are tough, proud, and well-trained. They loved their calling and were decimated. That the assailants were fellow soldiers added to the betrayal. One psychiatrist likens the trauma to incest.
The Invisible War is a tribute to the power of what the filmmakers proudly label advocacy journalism because significant changes have come to pass since the film debuted a year ago.
Progress includes screenings and statements of support by Former Secretary of Defense Leon Panetta and current Secretary Chuck Hagel, the Joint Chiefs of Staff, and numerous members of Congress. In addition, the Army, Air Force and National Guard began to use the film as a training tool. This past January, President Obama signed the National Defense Authorization Act, which addresses sexual assault in the military, and sets up measures, including special victims units, to prevent professional retaliation as well as a mandatory climate for commanders to maintain standards of prevention and prosecution.
That's a lot of progress for a movie.
I recently interviewed Amy Ziering, the film's co-producer, about advocacy and results.
---
You and co-producer Kirby Dick have been loud and proud about this film being a work of advocacy journalism. Can you elaborate?
Given the closing, demise, and scaling back of many investigative bureaus throughout the mainstream media, filmmakers, for better or worse, have become much more seminal and influential source of original news reporting. Also, there is a new and unique demand on filmmakers who do investigative reporting to not only expose an issue, but propose tangible solutions to the problems they are covering. A successful advocacy film is no less a work of art than a successful art film, and conversely, art films always inevitably put forth a political agenda...it does the former a great disservice to regard them as lesser or other than an art film.
You conducted the interviews with the women in the film. Can you talk about how you went about getting them to open up to you and how it affected you?
I always let the persons I interviewed know from the start that their mental health came first, and was sure to establish a safe space for us to talk within where they knew they would be fully supported and believed. And if anything was too difficult for them to discuss we would stop, take breaks, etc.
They were all very grateful to finally have the chance to speak with someone who cared and who believed them, so I think everyone found the interview experience to be a positive one and for some it proved to be cathartic and healing.
You don't come out the same person afterward that you were before—there is no way to take in these stories and not be altered....I was deeply haunted by what I had witnessed and taken in.
I made a personal vow to try and get a recovery program started that could help some of the men and women recover from their debilitating symptoms...after a year of working to make this happen we launched two pilot recovery programs. The first 2 week program took place in February, with five women from our film participating. The second will take place in June with an additional six women. If we show positive results we are hoping to be able to raise funds to make the program ongoing and offer its protocol to others.
The United States military has been able to tackle other societal challenges like racism and drunk driving with some success. Do you have hope that the attitudes that contribute to the injustices you show in this film can be changed?
Yes, if the military really takes this on with the same determination, will and purpose that they have engaged other equally challenging societal issues, they could not only easily reduce the proliferation of these crimes in the military but also provide a model for the public at large of the best ways to respond to sexual assault.
Let's hope that in 10 years time we will credit the military for taking a leadership role on this issue not only within the military but within society at large.