Women's Employment and the Decline in Marriage Are No Longer Related
For a few decades, women's rising share of the workforce probably led to fewer women getting married. But that's not the case anymore.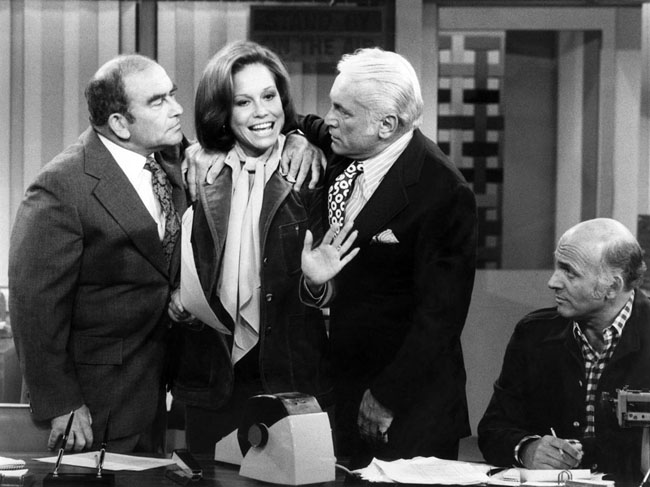 CBS
It is common knowledge—and true—that marriage rates are falling and unmarried parenting is becoming more common (nicely illustrated here). On the other hand, it is also common knowledge—but not true—that women's employment rates have continued to rise in the last two decades (as illustrated here.)
In the long run of history, there is little doubt these trends are related: As women's economic independence increased with better job opportunities, marriage became more optional and fewer women got (or stayed) married. But in the medium run, on the scale of a few decades rather than long eras, it's not that simple.
Here are the trends in marriage and labor force participation for women using U.S. Census data going back to 1900.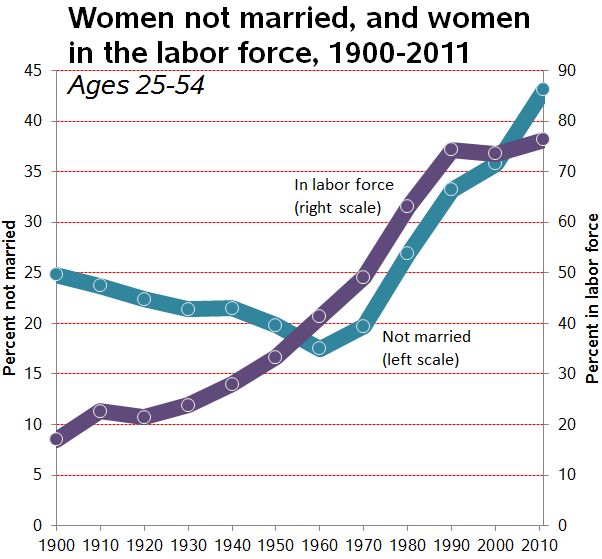 Source: My analysis of Census data from IPUMS.
In the long run of the past 111 years, there certainly are more employed women and more single women. But the trends only moved strongly in the same direction for the three decades from 1960 to 1990, when the percent of women not married more than doubled from 18 percent to 43 percent and the percent in the labor force almost doubled from 41 percent to 76 percent. In the last two decades labor force participation has frozen while the percent not married has jumped another 7 points.
Here is the trick: Despite the real connection between non-marriage and employment—in which women don't feel as strong a need to be married if they are employed—the lion's share of rising employment has been among married women. Women's employment opportunities made non-marriage more viable but also changed marriage. As the employment rates of married and non-married women grew more similar, the decline of marriage has made less of a difference to the total employment rate. Moving women from married to single doesn't do much anymore. Here are the employment trends: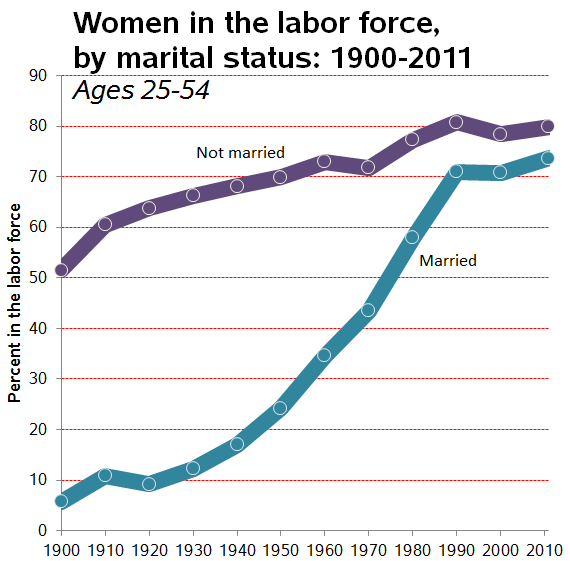 The American Stall
So we need to understand the stalled rise in employment because it may be the key to understanding progress toward gender equality generally.
In a previous post I suggested that stalled progress resulted from feeble work-family policy, anti-feminist backlash, and weak anti-discrimination enforcement. A recent analysis by economists Francine Blau and Lawrence Kahn lends support to the first: work-family policy. Economix writer Catherine Rampbell highlighted the paper, which tracked employment rates over 22 wealthy countries for two decades. During that time, U.S. women fell from sixth to 17th in labor force participation rates—rising just one percentage point while women in the average country increased 12 points.
Here are the labor force participation rates for the 22 countries for 1990 and 2010. Dots to the left of the blue line show countries where women's labor force presence increased; dots to the right show decreases. At the extreme, for example, Ireland saw a jump from 45 percent to 72 percent.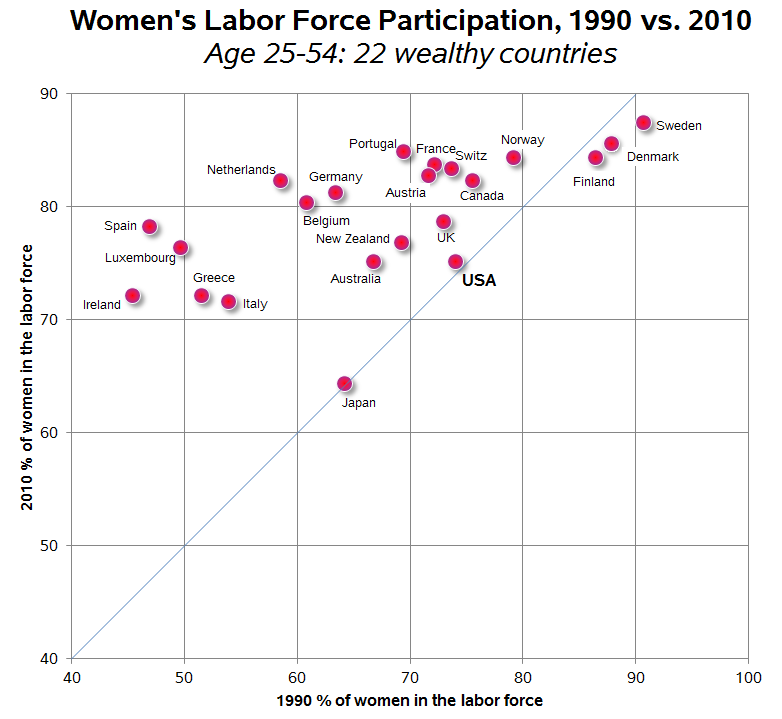 Source: My chart from the Blau and Kahn paper.
What happened? One big change was the advance of several work-family policies. The average number of weeks of guaranteed parental leave increased from 37 to 57 in these countries, with the U.S. adding only a 12-week rule under the Family Medical Leave Act (covering only half the workforce). The average country on this list now provides a guaranteed 38 percent of parents' wages while they're on leave, while the U.S. provides none. Seven of the countries now protect a right to part-time work, and three-quarters guarantee equal treatment for part-time workers. Public spending on child care as a proportion of GDP increased by more than a third outside the U.S., and the average country now spends more than four-times as much as the U.S.
Together, based on the experience of these countries, Blau and Kahn estimate these changes account for more than a quarter of U.S. women's slippage relative to other countries. That's not everything, but it's a substantial bite. If we had kept up with the average country's policies, U.S. women would have had an 82 percent labor force participation rate, putting them at 11th on the list instead of 17th.
On the Other Hand
Not all work-family policies are the same. One way to divide them is between those that protect time out of paid work (parental leave, part-time protections) and those that protect time in paid work (especially state-supported childcare). As Blau and Kahn note, U.S. women have much lower rates of part-time work than those in most other rich countries, but we also have higher rates of women in professional and managerial jobs. That might be because employers in those countries are reluctant to hire or promote women who are expected to take time out of the labor force when they have children—which is exactly the goal of some of our low-fertility peer countries. How, and whether, such policies can improve family life while also promoting gender equality is the subject of a rich debate—which unfortunately remains in the realm of the hypothetical here in the U.S.