Why Jason Collins's Coming Out Is Such a Big Deal
Everyone's been waiting for a major male sports star to make a move like this. Here's why it's so much harder for men than for women.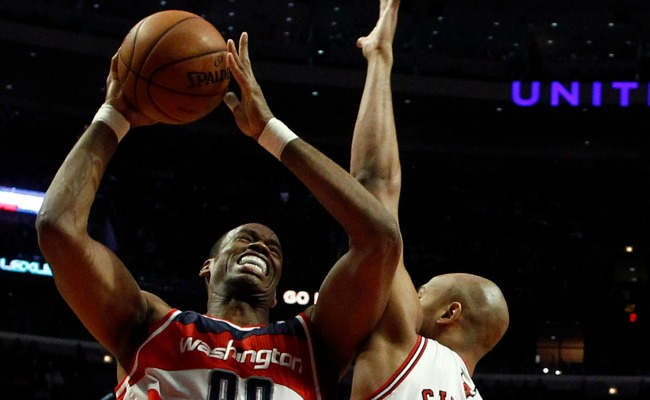 Female professional athletes are already gender non-conforming. Male ones are still worshiped as exemplars of traditional masculinity. Extremely sporty women have to fight stereotyping that they are lesbians and ignore all manner of unkind commentary about how they are mannish, while sporty men are seen as participating in a form of the masculine ideal.
This is the backdrop to why N.B.A. center Jason Collins' revelations in a Sports Illustrated piece today that he is gay are such a big deal -- and why it is that similar recent revelations from the this year's W.N.B.A. Number 1 draft pick Brittney Griner were greeted in mid-April with a collective yawn.
Women who play professional sports are grown-up versions of what we still to this day call "tomboys," a linguistic relic of our cognitive inability to see outdoorsy, competitive, rough-and-tumble behavior as inherently and naturally female, as well as male. Remember when people were speculating that then Supreme Court-nominee Elena Kagan was a lesbian just because she played on a softball team? "Sorry, softball=lesbian," wrote Brian Moylan in Gawker. (Yeah, that still happens.) Team sports have about them something martial or manly, which means that female team sports are often seen as butch activities. Meanwhile, men who participate in activities like gymnastics or ice skating are often stereotyped as gay; even though they are athletes, they are taking part in something more feminine. As King Kaufman observed in Salon in 2002: "The average American sports fan, watching the Olympic men's figure skating competition, probably figured that most of the contestants were gay." He then went on to debunk this assumption in a conversation with U.S. Olympic medalist Rudy Galindo, "the first actively competing figure skater who was out as being gay."
There have been many female athletes who have come out of the closet and been pioneers. Tennis great Billie Jean King. Tennis player Martina Navratilova. WNBA player Sheryl Swoopes, the "female Michael Jordan." Soccer midfielder Megan Rapinoe. Most recently, we had the example of college basketball phenom Griner. Her casual mention earlier this year that she's gay was greeted with a New York Times story headlined, "Female Star Comes Out as Gay, and Sports World Shrugs." Why was her declaration seen as not such a big deal? Because she was female, according to the paper of record.
"It was an odd juxtaposition," the paper's Sam Borden wrote, "as there is increased speculation about whether a male athlete -- any male athlete -- will come out while still playing a major professional team sport, one of the best female athletes in the history of team sports comes out, and the reaction is roughly equivalent to what one might see when a baseball manager reveals his starting rotation for a three-game series in July."
The reality is that by becoming a top-ranking female basketball player, Griner had already done hard work violating gender norms and was already seen as a gender outlier. "In sports right now, there are two different stereotypes -- that there are no gay male athletes, and every female athlete is a lesbian," Patrick Burke of the gay sports advocacy group You Can Play told the Times. "We've had tremendous success in getting straight male players to speak to the issue; we're having a tougher time finding straight female athletes speaking on this issue because they've spent their entire careers fighting the perception that they're a lesbian."
But a traditionally masculine man, playing a traditionally masculine team sport -- and he's gay? Well, that's news.