The WNBA Can Teach Male Athletes About Coming Out and Being Allies
Perhaps it's easier for Brittney Griner to come out than it is for Jason Collins because her teammates view being an ally as the norm.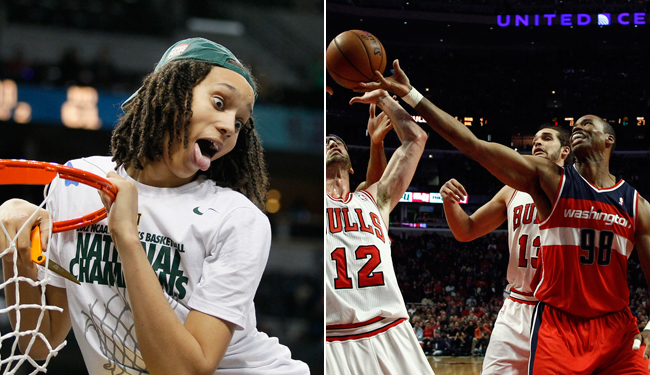 Reuters
Yesterday morning, news broke that the cover of the May 6th issue of Sports Illustrated will feature a picture of NBA player Jason Collins beaming at the camera alongside a headline that reads, "The Gay Athlete." In the issue, Collins penned a piece with sports writer Frank Lidz that begins, "I'm a 34-year-old NBA center. I'm black. And I'm gay." As Jon Wertheim, executive editor of SI, wrote in a post about the interview, "Collins becomes the first active male athlete in a major U. S. team sport to come out of the closet. Yes, that's a lot of qualifiers."
The qualifiers are necessary. John Amaechi and Wade Davis first spoke openly about their sexuality after retiring. Megan Rapinoe, a star U.S. women's soccer player, acknowledged last summer that she was gay. Martina Navratilova and Billie Jean King both played professional tennis while out. Sheryl Swoopes, the first woman to get her own Nike shoe named after her, came out in 2005, while still playing for the Houston Comets.
And less than two weeks ago, one of the most prominent female basketball players in recent years, 6-foot 8-inch Brittney Griner, casually mentioned that she was gay in an interview with Sports Illustrated. "I've always been open about who I am and my sexuality," Griner said, "So it wasn't hard at all" for her to talk publicly about it. She had just been drafted #1 overall in the WNBA draft and was discussing sexuality and sports in a joint interview with Elena Delle Donne and Skylar Diggins, the number 2 and number 3 draftees respectively. Delle Donne, when asked how she would feel sharing a locker room with an openly gay player like Griner, responded, "In our sport [women's basketball], we're fine with it...Hopefully the men can one day adopt that same attitude that we have."
The response to Griner was, as the New York Times put it, a collective shrug in the sports world. Not so much with Collins.
Word spread fast through social media and within an hour, there were supportive tweets from fellow NBA players Kobe Bryant, Baron Davis, Steve Nash, and John Amaechi. Martina Navratilova, Billie Jean King, Chelsea Clinton, Bill Clinton, Dwayne "The Rock" Johnson, Spike Lee, and Michael Strahan took to Twitter to offer their support and congratulations to Collins. Doc Rivers, the coach of the Boston Celtics (for whom Collins played part of this last season), had an extensive interview with Sports Illustrated today in which he said, "It's funny, in some ways I'm happy for Jason. I can't imagine trying to be something, and then try to be something else. I'm happy for him." The commissioner of the NBA, David Stern, quickly released a statement saying, "Jason has been a widely respected player and teammate throughout his career and we are proud he has assumed the leadership mantle on this very important issue."
So why the big difference between the two responses? Why did Griner get a shrug but Collins received a deluge of support? Only five days ago, Wesley Morris wrote a piece at Grantland titled, "Brittney Griner and the Quiet Queering of Professional Sports." In it, he posits that "one reason her anti-announcement announcement wasn't a bigger deal to the media was because it wasn't a big deal to her." He characterized the interview with Griner as "amazing for its utter whateverness." For Morris, Griner is an indication of where our narratives about gay athletes are heading, echoing something David Stern told the New York Times earlier this month: "It's our fervent hope that this draws less attention, not more, when a player eventually comes out." The idea, then, is to get to the point where all discussions of players being gay are placed in the "utter whateverness" category. It is Stern's hope and Morris' belief that eventually Griner's style of "coming out"—a video released on SI's website and a part of a larger discussion—will be the norm and Collins' cover story will be a relic of the past.
And yet, there is something else going on here with the discrepancy between the response to Griner and Collins' revelations, one that is more sinister than it appears. There is an argument that because of Sheryl Swoopes and current out WNBA players like Seimone Augustus, people who are fans of the WNBA are just used to players being out. Certainly that is true. Eleven years ago, though, when Sue Wicks became the first active professional basketball player to publicly state that she was gay, the response was very similar to Griner now. The New York Times piece about it was titled, "Wicks's Statement Stirs Little Reaction." Sheryl Swoopes garnered more attention because she had a bigger name, but she didn't make the cover of a major sports magazine. There are multiple reasons that in the decade between Wicks and Griner, little has changed.
There are two intertwining beliefs that feed each other: that most women in professional sports are lesbians (the only "proof" you need is that they are engaging in "manly" pursuits like playing sports) and that it is easier, therefore, for women to be open about being gay. But part of why it is "easier" and what allows for Griner's anti-announcement is a form of misogyny itself. Trudy Hamilton, writer and culture critic at Gradient Lair, argues that we accept lesbians more readily in our society on a popular level because "lesbians exist to 'perform' for men, not as independent humans in their own relationships with their own meaningful lives." While it is getting easier to find well-round portrayals of lesbian couples in our culture, most lesbian sexuality in advertising, movies, and TV is portrayed as "hot" or we see or hear about a heterosexual man's "lesbian fantasy." Lesbian sexuality, like almost all female sexuality, falls on the spectrum of "acceptable sexuality" because it turns on heterosexual men. Gay men like Jason Collins rarely have a place on that spectrum. They are, in fact, threatening. And so when a woman announces that she is gay, she only shifts her position on the spectrum. When Jason Collins admitted that he was gay, he fell right off.
But it is a myth that being a lesbian in the sports world is necessarily easy. There are often backlashes within women's sports to the stereotypes that all female athletes are gay. Only six years ago, Rene Portland, the then-head coach of Penn State's women's basketball team resigned after it came to light that she had a strict "no lesbians" policy for her team. Lauren Lappin, a gold medalist softball player for the US, has talked candidly for years about her fears of coming out because of the negative stereotyping around gay people generally and her fears of feeding the idea that all women who play sports are necessarily lesbians. Often, teams or leagues retreat to what Hamilton has described as "an almost hypersexualized version of feminity" in order to "derail homophobic assumptions" by glomming onto sexist ones. This was evident in 2009, when the Florida State women's basketball team created a media campaign that featured their athletes in fancy dresses, heels, and makeup (since being seen as "butch" by playing sports feeds stereotypical ideas about gay women in our society). Or more recently when the Women's Tennis Association's "Strong is Beautiful" campaign used similar techniques to draw attention to their players. The desire to combat the idea that all female athletes are gay is an attempt to lessen the stereotypes that feed the belief that women's sports are lesser versions of men's sports. This stereotype of all female athletes as gay, which is homophobic at its core, is held up as yet another reason to denigrate women's sports, which face constant misogyny in the battle to justify their existence and importance.
All of this tension around women's sexuality in women's sports and the fear of being stereotyped as "gay" in a homophobic society means that we see far fewer heterosexual female athletes who are willing to speak up as allies. Patrick Burke, president of You Can Play, an organization that is attempting to end homophobia in sports, recently told the New York Times, "we've had tremendous success in getting straight male players to speak to the issue; we're having a tougher time finding straight female athletes speaking on this issue because they've spent their entire careers fighting the perception that they're a lesbian." There are no high-profile Chris Kluwes or Brendon Ayanbadejos in women's sports.
And yet, when Elena Delle Donne was asked by Sports Illustrated to speak about this, she saw it as no big deal to be an ally. Her position as an ally was as much "utterly whatever" as Griner's own admission. Despite all of the homophobia and misogyny that someone like Brittney Griner faces when being a gay professional basketball player, perhaps it is easier for her to do so than it is for Jason Collins because her teammates and colleagues view being an ally in the same way Delle Donne appears to: as the norm. Unlike Kluwe or Ayanbadejo, who are swimming against the tide and so must fight louder and harder, we can look at the casual acceptance of Griner and her sexuality by Donne, Diggins, and other members of the WNBA as the future when men's sports will no longer need Kluwes or Ayanbadejos because being an ally will be a given.
What Jason Collins has chosen to do by going public as a gay professional male athlete in one of the four major sports in the U. S. is historic. As Jon Wertheim wrote, "Tens of thousands of men have played in the NFL, NBA, NHL, and Major League Baseball. Until today none had expressed his homosexuality before retirement." In 2010, Dave Zirin, sports editor at The Nation, called the men's locker room "the final frontier of homophobia in our society." Collins was so nervous about coming out publicly that he did not tell anyone in the NBA about his SI cover story beforehand. In his piece, Collins makes sure to note that he goes "against the gay stereotype" because he's "always been an aggressive player." He is not soft. His team comes first. Winning is everything, stats are not. As Travis Waldron wrote at Think Progress yesterday, when athletes "no longer feel the need to preemptively convince teammates that they won't stare or coaches that they won't distract, sports will have truly changed."
That change has not yet come to the NBA or men's professional sports in the United States. Despite the complicated reasons that Griner's response was met with a shrug, there is something breathtaking about her anti-announcement. In comparing Griner's discussion of her sexuality and Collins' "coming out," the lesson may well be that the WNBA (which is under the NBA's umbrella) can serve as a model for its parent league and for men's sports more generally. As Delle Donne said, "hopefully the men can one day adopt that same attitude that we have": utter whateverness.