The Colorful, Subversive History of Women Getting Tattoos
A recently reissued book traces how body art went from forbidden to trendy.
powerHouse Books
Tattooed ladies were once carnival freaks. Now they're cool hipster chicks. A recently published third edition of a book about body art, Bodies of Subversion: A Secret History of Women and the Tattoo by Margot Mifflin (powerHouse Books), traces that shift, documenting how tattoos' popularity has risen among women as the social implications of getting them have shifted. It's a good time for a tome like this: Mifflin told me that tattooing has changed tremendously in the couple of past decades, both aesthetically—improved color and more detailed, expansive imagery—and socially, to the point where it has "fully entered the middle class." She added that "as of last year, for the first time in American history, more women are tattooed than men."
Mifflin, who is not tattooed, is an Associate Professor at Lehman College/CUNY Graduate School of Journalism and came to tattooing as a cultural critic in the mid '90s after writing about feminist art and pop culture for publications like Elle and ARTnews: "I saw that tattooing was an amazing barometer of women's dreams and fears and passions at that time—a period when body issues were at a peak of controversy at the end of the culture wars—and it made me wonder what women's tattoos revealed about them going back to the 19th century when European and American women started getting inked."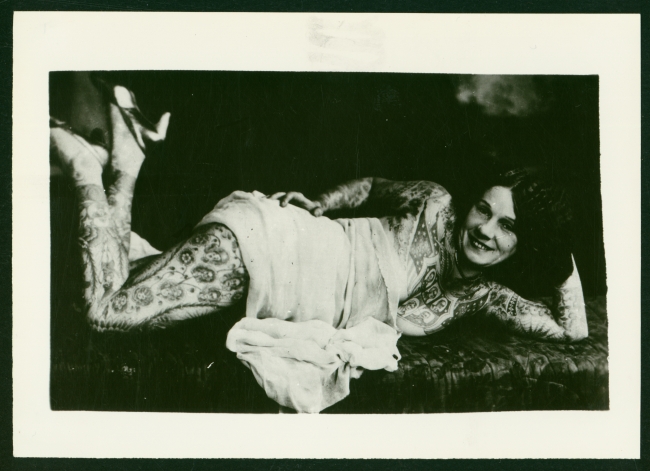 Although much has already been written about tattooing, especially in the last decade, Mifflin notes that very little of what's in the popular press is critical or analytical: "I have always been and continue to be amazed at how little interest visually literate people have in tattooing, which is all around us." Only in the past couple of decades has what she calls a "chronic class bias in the visual arts" turned around somewhat. Now, "low" arts like graffiti are now themes for scholarship. Even so, while mass media is enthusiastic about tattoos, the art world still shows little interest in them, despite their links to popular fashion, folk art, graphic design, and fine art.
So Mifflin's thesis is rooted in subversion. She asserts that tattoos in Western culture have always been subversive for women, especially in the 19th century when they violated the assumption that "women should be pure, that their bodies should be concealed and controlled, and that ladies should not express their own desires, which is implicit in the very act of permanently marking the skin with imagery that reflects individual tastes." In the early 20th century, tattoos were stigmatized (even illegal in some jurisdictions) because of their association with raunchy male imagery. Middle-class women who were tattooed knew they would be considered "loose" or seedy if they showed their marks. By the '60s and '70s, tattooing became more directly linked to the counterculture, and remained so until the 2000s. Now tattoos are not as subversive or associated with "bad" women—instead, they have become fashion accessories of the most indelible kind.
Although "not all tattooed women were considered freaks—tattooed society women wore discreet decorative tattoos, which were trendy in the late 19th century, first in London, then in New York," heavily inked women were considered "a violation of nature." Something similar could be said for men, but women were decidedly less accepted because "they were more explicitly associated with nature through motherhood and female intuition and other feminine intangibles that disqualified them from having much influence in culture." The circus and carnival freak-show ladies were also guilty of transgression because they showed bare skin in public.
Mifflin refers in her book to Olive Oatman, "a tragically bicultural American" who was orphaned after her family was killed by Southwest Indians in the 1850s, then adopted and raised by Mohave Indians who gave her a chin tattoo as a mark of tribal acceptance. After she was ransomed back to the whites at age 19, she was stranded between the two cultures and the tattoo marked her as a Mohave and functioned as a kind of ethnic barrier. "It's somehow fitting," Mifflin said, "In light of our colonial past and our multicultural present, that the first American tattooed woman was a white Indian. She literally embodied the two cultures on which the country was founded."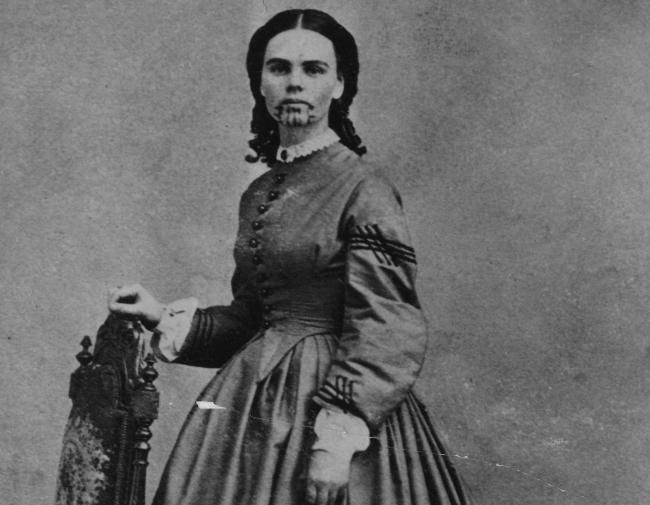 The permanency of tattoos is the most confounding, and controversial, issue across genders. We all switch pictures on the wall from time to time or change our jewelry, but those who wear conspicuously outrageous tattoos are doing it for life. Mifflin said that although the people she has talked with seem to be content, "you do have to wonder if someone would tell you that they made a huge mistake they regret and will have to show publicly forever. I have only heard about regrets about mistakes that can be hidden."