Lilly Pulitzer Knew a Secret to Women's Clothing: Dresses Are Practical
She designed her first pieces of clothing to conceal stains at work, not to impress people at a cocktail party.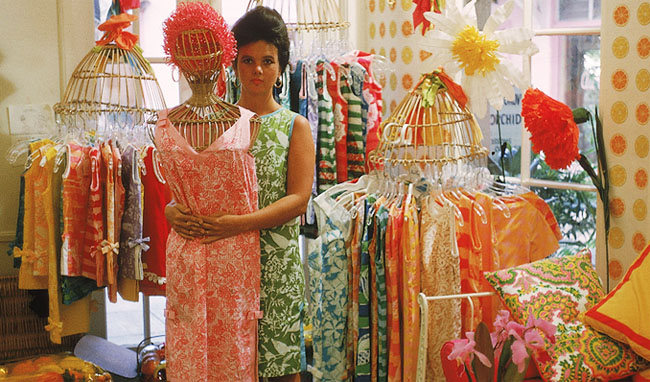 Lilly Pulitzer
Throughout my life, I've accumulated several articles of clothing by Lilly Pulitzer, the fashion designer who died Sunday at 81: a pair of navy corduroys, a white cardigan, a green sleeveless top, a pink-and-green bandana, a pink-and-yellow skirt, and, of course, many, many dresses, the signature piece that got Pulitzer started in fashion more than half a century ago.
Pulitzer's marketing materials try to associate her clothes with the Palm Beach good life. "Life's a party," LilyPulitzer.com declares. "Dress like it." Lilly Pulitzer stores have a beach-party atmosphere, with pink wallpaper and scallop-shell-framed mirrors and cheery staff eager to help you look your best.
But what's drawn me back to her clothes so many times over the years isn't their fabulousness, but rather how easy they are to wear. The cords and cardigan have kept their color and shape despite years of regular machine washing. Even more practical have been the dresses. Most of the dresses I've bought from Lilly Pulitzer have a comfortable, roomy fit and a flattering A-line style. They're lightweight and brightly colored—perfect for keeping cool (and hiding sweat) on a warm day. Her clothing's usefulness makes sense considering her start in the clothing business. As her Associated Press obituary explains, she was drawn to bold prints not because they were fashionable, but because they were practical:
In the late 1950s, the Palm Beach socialite had time to spare and a wealthy husband who owned citrus groves, so she opened an orange juice stand just off the island's main shopping street. Pulitzer needed to hide all the juice stains on her clothes, though. Instead of just putting on an apron, she asked her seamstress to make some sleeveless dresses in colorful fruit prints, and a fashion staple was born.
The dresses weren't made for dainty cocktail parties, but for concealing stains at work.
Of course, the women who buy Lily Pulitzer dresses, back in the '50s as well as now, are more likely to be wearing them in social situations than messy professional ones. But that doesn't make the dresses any less useful. Despite their association with relatively formal occasions, dresses are probably the simplest types of clothing to wear. They're an outfit all in one piece—you don't need to match them with a top and a belt the way you do with a skirt or pants. This seems trivial, but women have so many hoops to jump through when getting ready in the morning: hair, makeup, clothes, shoes. We can't just throw on a gray suit and red tie and walk out the door. Any piece of clothing that reduces the number of appearance-related decisions a woman has to make on a given day is a blessing. A dress that fits well and holds up to repeated cleanings and can hide a stain or two, therefore, is an essential part of any woman's wardrobe. Lilly Pulitzer understood that, and several generations of women are better dressed—and therefore better off—for it.