Hasbro Games
New examples of the sexualization of girlhood crop up all the time. Of course there are the dolls that look like Sesame Streetwalkers—Monster High, Winx Club, Bratz; the makeup lines for third-graders; the padded bikini tops for seven-year-olds. But a Facebook reader recently pointed out evidence of this phenomenon in the last place I'd expect: Candy Land.
Here is the original Candy Land, circa 1949:
Yum. Here is the game in 1978:
I dreamed of those ice cream floats...
Things begin to change more significantly in the 1980s. That's when Candy Land ditched the Dick-and-Jane outfits for generic his-and-hers overalls:
They also added some friendly candy characters: Plumpy with his plum tree, Mr. Candy Cane, Gramma Nutt, Princess Lolly, Queen Frostine. More on some of them in a moment.
Then we hit 2010. On the upside, Milton Bradley finally recognized, at least in some versions, that there are children who are not white and blonde (nothing against blonde white kids—I was one myself—I'm just saying):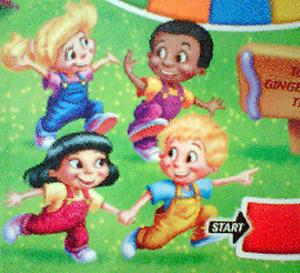 Beyond that, though...Yikes! Check out today's board!
In case you can't see it: here's the new Princess Lolly:
And Queen Frostine turned into a Bratz doll:
Candy Land isn't the only classic that has, without our notice, gotten a hot makeover. (And I'm not the only one who finds this evolution alarming.) The Disney Princesses have grown gradually more skinny and coy over time. And, check out Strawberry Shortcake, Rainbow Brite, Trolls (now called "Trollz"). Even Care Bears and My Little Pony have been put on a diet.