American Girls Aren't Radical Anymore
Since the company was bought by Mattel 15 years ago, the dolls and their stories have shied away from the controversial subjects that once made them distinctive.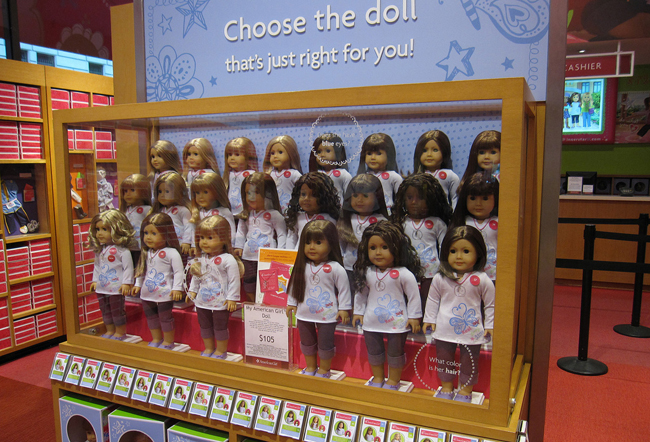 InSapphoWeTrust/flickr
Pinafores, bonnets, and candelabra crowns: For early American Girl doll owners, the historically accurate clothes, doll furniture, and accessories brought bygone eras to vivid, tangible life. The initial focus of the brand was on the historical characters, starting with the original three from 1986—Scandinavian farmsteader Kirsten, Victorian aristocrat Samantha, and World War II patriot Molly—who were soon joined by Felicity, a tomboy from colonial days, and Addy, who bravely escapes from slavery on the eve of the Civil War. Each doll had plotlines developed over a six-book series (with illustrations that perfectly matched the extensive catalog offerings). The books all followed the same sequence—we meet each girl, she learns a lesson, celebrates Christmas, birthdays, and summers, and faces a major life change. Mary Ann McGrath, professor of marketing at Loyola University says, "The stories from history are about strong girls facing crises like slavery and the Depression in strong ways."
Initially owned by the Pleasant Company, founded by former schoolteacher Pleasant T. Rowland, American Girl underwent an incremental but noticeable shift after its acquisition by Mattel in 1998. In 2008, historical dolls that were previously considered core to the brand were "archived," the doll term for "going to a nice farm." Samantha, Kirsten and the headstrong colonial character, Felicity, are no longer sold by American Girl. These characters represent more than just the original characters of an iconic brand—their archiving represents a lost sensibility about teaching girls to understand thorny historical controversies and build political consciousness.
According to American Girl spokeswoman Stephanie Spanos, the archiving of Samantha, Kirsten and others was simply an inventory decision, to make room for new product lines. Spanos says American Girl "still considers the historical characters to be the heart of the brand." But the marketing spotlights suggest otherwise. Previously known as The American Girls Collection, indicating their core importance to the brand, dolls of previous eras have been officially renamed "Historical Characters" in order to give more attention to the customizable "My American Girl" (advertised as a doll that looks "just like you!") and the annual "Girl of the Year." These product lines offer blander avatars who reflect only the present time period and appearance of contemporary girls. Girls of the Year have two biographical books, compared with the six provided for each historical character. The current catalogue leads with the My American Girl offerings, followed by "Dress Like Your Doll," "2013 Doll of The Year," and "Books and Magazines." Only when you get to the fifth section, on page 38, do "Historical Characters" make an appearance. They are almost an afterthought on the website, where the homepage features matching doll and girl outfits, plus the product line and online game for Saige, the latest Girl of the Year.
Saige is white and upper-middle-class, just like McKenna the gymnast and Lanie the amateur gardener and butterfly enthusiast, both previous Girls of the Year. Even in their attempt to encourage spunky and active girlhoods, their approaches to problem-solving are highly local—one has a bake sale to help save the arts program in a local school; another scores a victory for the organic food movement when she persuades a neighbor to stop using pesticides.
By contrast, the original dolls confronted some of the most heated issues of their respective times. In the book A Lesson for Samantha, Samantha wins an essay contest at her elite academy with a pro-manufacturing message, but after conversations with Nellie, her best friend from a destitute background who has younger siblings working in brutal factory jobs, she reverses course and ends up giving a speech against child labor in factories at the award ceremony. Given the class divide, Samantha's speech presumably takes place in front of the very industrial barons responsible for those factory conditions. The book is a bravura effort at teaching young girls about class privilege, speaking truth to power, and engaging with controversial social policy, all based on empathetic encounters with people whose life experiences differ from her own.
Samantha's story had an impact on young readers like Tricia Radford, a 30-year-old Kentucky native now working as a nonprofit consultant in New York. She says she remembers learning "what it was like to be poor in the early 20th century ... Reading the coverage on the anniversary of the Triangle Shirtwaist Factory Fire immediately reminded me of Nellie's experience as a child working in a factory."
Kirsten explored tensions between early pioneers and Native Americans. In Kirsten Learns a Lesson, the "lesson" may have been her introduction to manifest destiny, when her cousin Lisbeth expresses concern about the Indian tribes getting angry about immigrant settlements on their hunting grounds while insisting to Kirsten that "we need the land too." The story is resolved, with the ambivalence that should characterize any girl's view of America's pioneer past, in Kirsten on the Trail, when her Native American friend Singing Bird has to move away because of a food shortage.
Organic gardening and school art supplies are perfectly acceptable issues for young girls to tackle, but contrasted with Samantha taking on the entire practice of child labor (as opposed to just rescuing her one friend from factory exploitation), these plotlines keep good works close to home, focusing only on issues that affect their own backyards and school days. Problems that mainly affect people who, echoing the My American Girl dolls' appeal, look "just like me." After the entry-level critiques of capitalism (Samantha), Native American persecution (Kirsten), and traditional domestic roles for women (Felicity), perhaps the time has come for a doll who takes her fourth-grade class on a field trip to Occupy Wall Street.
With a greater focus on appearance, increasingly mild character development, and innocuous political topics, a former character-building toy has become more like a stylish accessory. Radford says, "I was really focused on the historical and fictional stories of the dolls. My [younger] cousins seem to view their dolls as one more item they need to be cool. They seem focused on having more outfits than their friends, as opposed to connecting to the stories." American Girl once provided a point of entry for girls who have matured into thoughtful, critical, empowered citizens. Now the company's identity feels as smooth, unthreatening, and empty as the dolls on their shelves.