A Simple, Legal Way to Help Stop Employment Discrimination
Women and racial minorities are no longer making progress toward equal representation in the workplace. Here's a way to maybe fix that.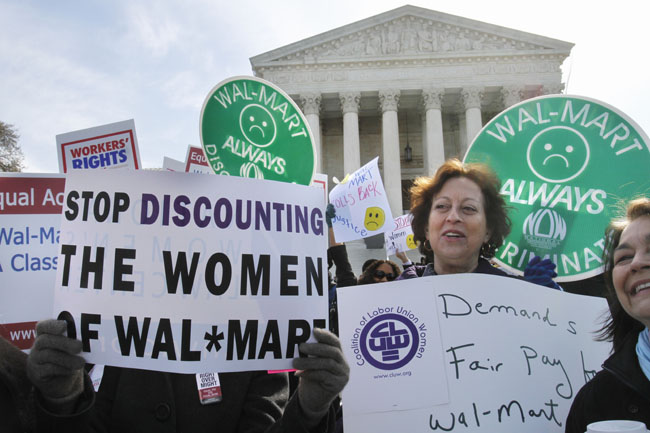 Jacquelyn Martin
Progress toward gender and racial equality in the workplace has basically stalled. One reason for that is the government's lack of antidiscrimination enforcement. As Donald Tomaskovic-Devey and Kevin Stainback show in their book Documenting Desegregation, ever since the reign of Clarence Thomas as head of the EEOC in the 1980s, the Equal Employment Opportunity Commission (EEOC) has been underfunded, understaffed, and largely ineffective at doing its job. To help get things moving again, under the existing law (more or less), we could use the power of social media and the principle of government transparency to allow workers and consumers themselves to apply pressure on discriminating employers. Would it work? It couldn't hurt. First a little background.
Anti-discrimination today
Here is the occupational segregation trend from 1966 to 2005, from Documenting Desegregation, just comparing white and black men and women. The index of dissimilarity shows what percentage of a group would have to change jobs to have the same representation as white men.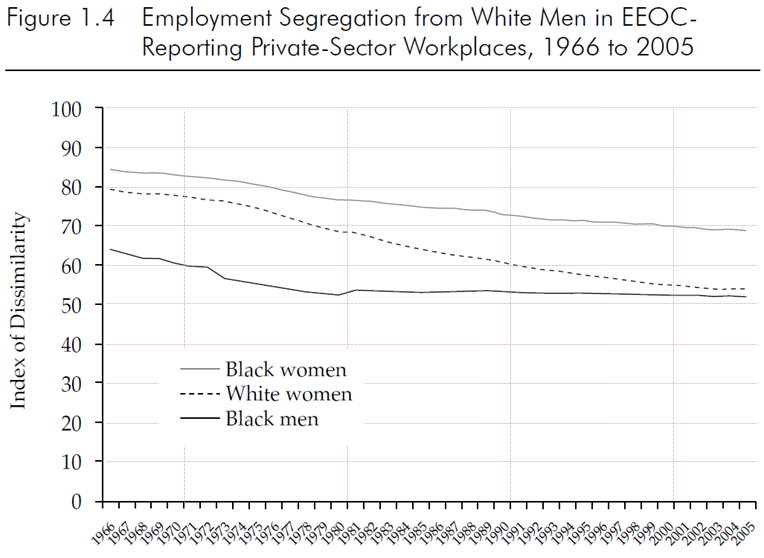 The figure shows white women made a lot of progress in the 1970s and 1980s, but less since. Black women have a similar pattern but much slower progress. And black men haven't budged since 1980. The same pattern holds for representation in managerial jobs.
The burden to fight discrimination today is mostly on workers who have been discriminated against to first discover this fact and second file a complaint and/or lawsuit themselves. The courts have tightened their definition of discrimination to include only deliberate acts proven to have been motivated by discriminatory intent - a very steep burden. And they have reduced workers' capacity to bring class actions, most notably in the Wal-Mart decision, which makes it hard to get good legal teams. As a result, few cases make it to court, and virtually no one wins. A study of 1,672 employment discrimination cases from 1988 to 2003 found that about half resulted in settlements (with a median value of $30,000), 6 percent went to trial, and one-third of those were victorious (with a median award of $110,000). Although more than 100,000 people file discrimination complaints with the EEOC, most workers lack basic information not only about the law and their options, but about their own employers' practices (as was painfully revealed when Lilly Ledbetter discovered she had been discriminated against by Goodyear for many years). And people who aren't hired in the first place have an even smaller chance with the law.
In the 1964, Congress passed the Civil Rights Act, which included in
Title VII a mandate to collect information about employment in the private sector. Since 1966, all large employers are required to submit a simple accounting: the number of workers, by race and sex, in each of nine occupational categories. This has produced a treasure-trove of data, which Tomaskovic-Devey and Stainback used to document the trends. But this information could be used more proactively by the government itself, if stopping discrimination were a higher priority.
Anti-discrimination tomorrow
Defining and proving discrimination is difficult. Many employers have no outward motivation to discriminate—they just don't do enough to stop discrimination by individual supervisors, recruiting practices that produce narrow applicant pools, and malicious co-workers. So not every workplace with an underrepresentation of women or minorities is a case of willful discrimination. But when a workplace has significant underrepresentation in either its management or its overall employee pool, it's at least worth taking a look to see what's going on.
Here's my suggestion, inspired to by Documenting Desegregation. Underrepresentation is very widespread, and easy to detect. Why not label it?
Using the same EEOC data, my colleague Matt Huffman and I identified workplaces in which there were fewer African-American managers than would be expected by chance, using a test common in employment litigation. With a wide statistical margin—95 percent confidence—we found, for example, that 7 percent of black private-sector workers in the D.C. metropolitan area worked for employers with easily identified underrepresentation of black managers. That is, they had fewer black managers, compared with other firms in their same industry in their same town, than would have occurred by chance. Maybe they aren't discriminating on purpose, but they're probably doing something wrong. As a customer, client, business partner or job applicant at that firm, wouldn't you like to know that? (Of course, as researchers we are prohibited from revealing information about individual employers.)
So why doesn't the EEOC generate a simple certificate, like the one I have mocked up here, to notify the employer, the employees, and the public, about such cases? (This would only apply to those with 50 workers or more.)
This hypothetical firm has an overrepresentation of white men in management compared with the local industry (for example, a department store with 60 percent white male managers when the local industry average is 30 percent). They have underrepresentation of black women across the board, and Latina women compared with the rest of the industry locally. Representation of the other groups isn't outside the range of the 95 percent test, or there aren't enough cases to judge. The test accounts for sample size—if you only have two managers at your business, and one is a white man, you're not going to fail.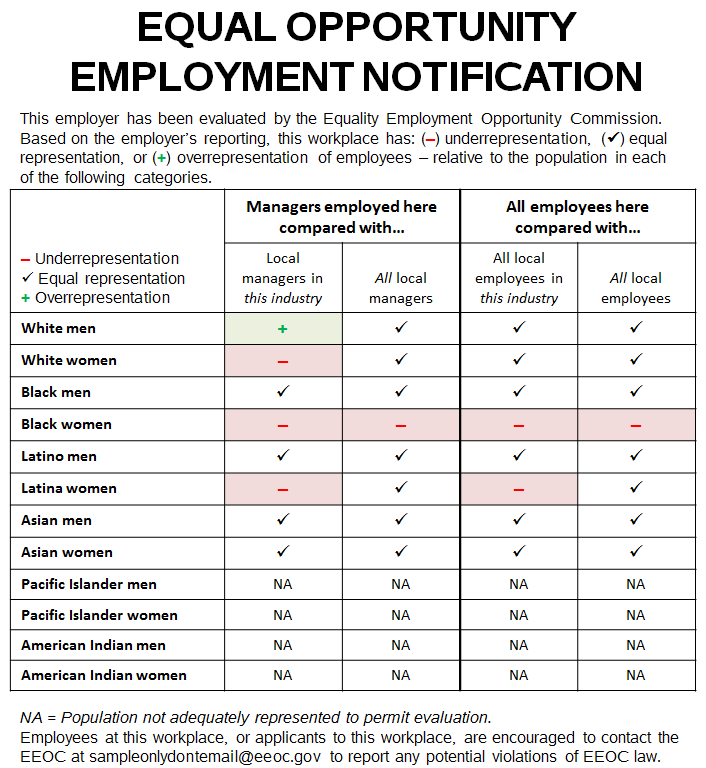 It could be like the health department certificate posted on a restaurant wall (and online). Then, maybe someone who worked there would get up the courage to file a complaint. Maybe customers wouldn't shop there. Maybe politicians running for office would promise to improve the local statistics. Maybe concerned managers would honestly consider their hiring practices to look for ways to do better.
This doesn't reveal any trade secrets. It doesn't increase the reporting burden on employers, since they're already required to submit the forms. It wouldn't cost much. But it gives the public a little more leverage and increases the accountability for employers. It wouldn't solve everything either. But if equal opportunity employment were a major priority, a small step like this would seem pretty reasonable.