When Going to the Office Makes You a Better Dad Than Working From Home
A conversation about the benefits and drawbacks of Yahoo's new policy
A conversation about the benefits and drawbacks of Yahoo's new policy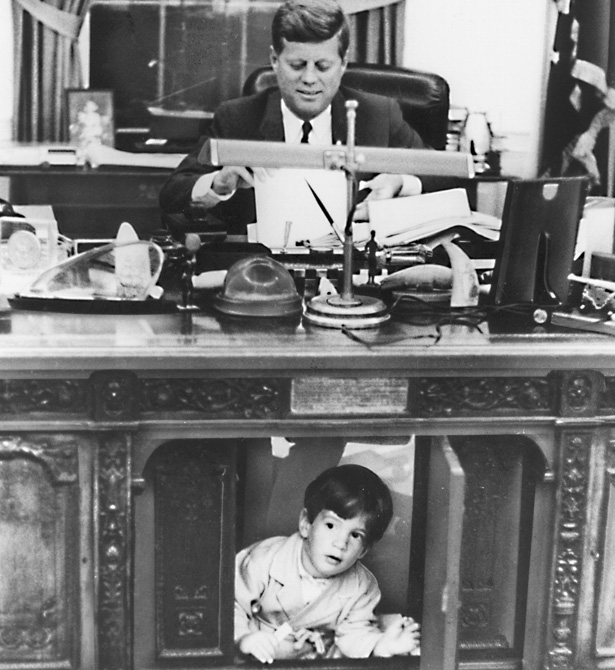 Twice a month, a panel of dads discusses a topic of the moment. For today's conversation, they discuss benefits and drawbacks of working from home. Part one of the discussion is below; parts two and three are here and here.
---
So much has been made of Yahoo CEO Marissa Mayer's decision to end the company's telecommuting program that I'm reluctant to paddle about in the wash from its already-crested wave of online opprobrium. Instead—and in true Internet fashion!—I will constrain my reaction to the reaction. A fair amount of the criticism directed at Mayer has come from women (see: here, here, and here, though there are more examples), framed within a context that assumes eliminating telecommuting is anti-woman, and that more was to be expected of Mayer as a woman.
Speaking of women, my wife doesn't telecommute, but then again neither do I, nor have I ever worked in an office of sufficient benevolence to allow such arrangements. (Publishing: pick a curve—we're behind it.) Furthermore, if only one of us could telecommute, it's not evident which one it would be. At previous jobs, I have worked fewer hours than my wife, and I have also held a measure of control over which of those hours I apportioned to the office and how. I had flexibility—at times, yes, due to unemployment—which meant that when someone had to come home early to relieve our nanny, or head to work late because the very same (and much beloved) nanny got stuck in traffic, that someone was me. My current job is a candle-at-both-ends affair, so that is no longer the case.
All that means is that Yahoo's policy roils my employment anxieties in the same way it would my wife's (I say would: we haven't discussed it; too busy working). Yet I still understand the frustration women feel with Mayer. The traditional work environment was not, shall we say, created by or for women. It seems a reasonable expectation that a woman, finally able to seize authority to order a workplace, would, within the bounds of legal fairness and brazen profitability, do so in a way that benefits her gender. Men have, without regret or consequence, since long before the days of OSHA, the ERA, or Equal Employment Opportunity. That's why the day I become CEO (breath held, clock ticking, hell freezing), I intend to reinstitute three-martini lunches (stirred or shaken—freedom!), bequeath free baseball tickets to all (box seats for me), and stock the vending machines with cheeseburgers (I don't like cheeseburgers particularly; novelty vending—that I dig). Or, perhaps, though I rule via unchallenged decree and temperamental pique, I will nonetheless choose to install a nursery in my office, as Mayer has done, or enact flexible work scheduling, Scandinavian-style family leave, and improved wages. You never know.
A final thought: shortly after this began, NPR aired a segment assessing why firms like Yahoo might do away with telecommuting. Jerry Davis, a management professor at the University of Michigan, weighed in, espousing the pro-ass-in-office-swivel-chair perspective. He noted the workplace success that is "Free food Fridays" among his departmental colleagues, and deemed the coffee machine a "central holy site." (Must have good joe in Ann Arbor.) He conceded, of course, that telecommuting was "more efficient," but added that companies that permit it "lose that serendipity." Serendipity. Good old-fashioned serendipity. Gotta get me some of that!
Nothing against Davis, who wasn't really taking a side, but what's that serendipity stuff going for by the pound these days, exactly? Can you bottle it, package it, ship it book rate to the Coast? When serendipity at one's workplace flags, can you swap it out for a fresh supply of bonne chance? Or, as it seems to me, is serendipity no more than squishy and inchoate work-theory bunk wielded by those comfortable with the status quo but ill-equipped to defend it?
–Theodore Ross
My four-year-old boy and I have a recurring discussion each morning. Not that I want to discuss anything with anyone at 7 am, but his daily question is pressing enough that he asks it, almost in tears, as soon as he sits up in bed: "Is today a work day?"
He knows it is. In these conversations, we always say the same things. We go over the days of the week. I explain how they relate to the basic ratio of modern life (for schoolchildren and crossing guards, at least): five work days to two weekend days.
And then he complains about the ratio itself. 5:2. It's not fair, he insists. It's lopsided: too much work, not enough weekend. He wants to stay home.
This is the point in the conversation every day where I tell him, in gentler terms, to shut up and get dressed.
That usually works.
If you read Business Insider's reaction report to Marissa Mayer's fatwa against telecommuting, you'll see that in one interpretation, Mayer wasn't being anti-working-mom so much as she was being a mother herself to a very large, errant workforce. According to one former engineer, the telecommuting culture at Yahoo! had devolved into "people slacking off like crazy, not being available, spending a lot of time on non-Yahoo! projects."
If this is true, and some large portion of the workforce was being either lazy or manipulative or both, then she did some parenting. She told them to shut up and get dressed. Today's a work day.
That much I get. And I do believe the arguments about the workplace as an incubator for your company's culture. A larger question, then, is what kind of culture you're making your workers be a part of. Will it take the good parts of telecommuting—the flexibility to spend important time with family—while leaving out the bad (the shirking, the lack of focus)?
While there was a lot of attention on women in the Mayer debate, it's worth noting that, in dual-income families at least, fathers have even greater work-life conflict issues than mothers (according to the National Study of the Changing Workforce in 2008). It's plausible, especially when Harvard Business Review's roundup of working-father studies found one study in which 99 percent of fathers surveyed said that their managers had the same or higher work expectations of them after they had a child. Women don't get enough accommodation after their children are born; men don't get any.
When my first child was born, I was in a great job surrounded by a lot of men who rarely spent time with their kids. I got a lovely chalice to commemorate her birth, but not much in the way of role models or implicit or explicit encouragement to spend more time with the new family. I got a few promotions in the years that followed, plus a heap more responsibility and longer hours to go with them.
And then, I left all of that behind. In my new venture, there are no morning meetings. No office at all. Which means that I get to be the one taking care of the kids in the morning and taking them to school. I'm grateful even for the early mornings, and for the repeating conversations about work days and weekend days. The question my son will have to ask himself when he's older is not how many work days there are in a week, but what kind of work days they are.
–Nathan
I am writing these words at 10:16 pm. My two daughters—four-year-old Sasha and six-month-old Sandy—are asleep (I think), and my wife is just starting to clean up the skirt steak, grilled onions, guacamole, and salsa I made for dinner—made for dinner after getting home at 8:30, after a slightly extra-long day at work, and after a quick drink with a visiting writer I'd like to have working for me. In just over eight hours, I'll be waking up again, to start the whole thing all over.
Not all that long ago, I worked from home. I was a freelancer, and although I had an office two subway stops—or a 15-minute bike ride&mddash;away from our apartment in Brooklyn, I identified as a stay-at-home dad. I could leave late, go shopping during the day, run errands, and pick the older girl up from school. And somehow, in between all of that, I managed to write the articles that to some degree sustained us. I was a SAHD.
Of course, that's total crap. Three years ago, when Sasha was about a year old, I took that office two subway stops away because I realized that, with a kid around, I was never ever going to get any work done. Yes, she took naps. No, she didn't require all that much care. But the simple fact is—she was there. She took up my brain space. I couldn't concentrate. And so I moved out, to an office, a place where all you are supposed to do is work. And that's what I did there, mostly: I wrote my little articles, and I e-mailed with editors, and I finished a whole darn book. Preorder it now!
(Now the baby, Sandy, is crying, in a way that she usually doesn't. But I'll wait and see if she quiets down. Oh, no, my wife is going to deal with her. Okay, back to this article.)
That office was my savior, as is my new office, at an enormous media company in Times Square. That's where things get done, where I have the time and head space to think and act in the ways that allow me to earn the money that goes toward the kids' clothes and diapers and food. And, I should add, that provides me with a sense of fulfillment—a feeling of challenges accepted and overcome.
(Sorry, Sandy's crying again. Let me go stick a pacifier in her mouth.)
Right, so, I like going to the office. I can concentrate. And I like it when the small staff I oversee comes in as well. I can talk to them (even if it's often only over IM), and we can work issues out quickly, and if no one calls me or IMs me from another part of the office, I can give them, and our collective work project, the full attention that they and it all deserve. It doesn't work that way when too many of us are at home.
I mean, I get telecommuting. If the nanny were sick one day, I'd be the one staying home, tending to the children and checking in on the development of this website whenever I could, attempting to be present in both places at once. But as Katie Roiphe, whom I normally can't stand, put it in Slate recently, "In this weirdly emotional debate, we should at least be willing to admit that something is lost and something is gained from working at home. That the comfort and flexibility are counteracted by certain constrictions on the imagination, by a competition of focus, even by the relaxation and familiarity of home."
(Is the baby crying again? I keep waiting for it. It's going to happen, isn't it?)
Look, I don't know what Marisa Mayer is thinking. I've heard her workforce is lazy--telecommuting for no good reason at all. I've heard her called draconian, a traitor to mothers, to parents, to her generation. And I don't really care what she's up to at Yahoo, whose raison d'être has been in doubt for more than half the company's existence. But I do know that I like to work at work—it lets me separate that me from the other me, the dad I am when the sun goes down from the guy who's charged with steering a publication into the future. Neither my family nor my co-workers should have to deal with the other guy. I certainly wouldn't want to.
(Okay, now the kid's silence has me worried. BRB.)
–Matt