'Veronica Mars,' TV's Realest Depiction of Rape, Is Going to Be a Movie
Why the record-breaking success of the show's Kickstarter campaign is great news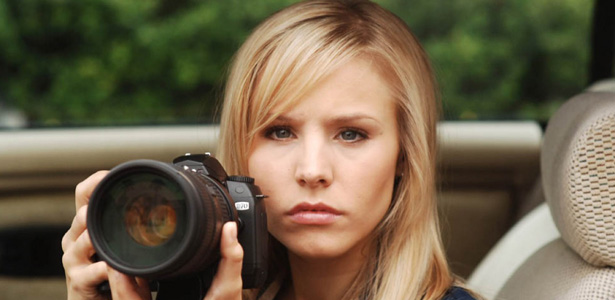 CW
It took me all of three seconds to decide to back the Veronica Mars Kickstarter movie campaign. And given how quickly creator Rob Thomas reached his goal—in less than 24 hours the project became the fastest campaign to hit $1 million as well as the fastest to hit $2 million in the history of Kickstarter—it is clear that a lot of fans felt much the same way.
I could tell you about how this young-adult drama was the best TV series of its kind since Buffy the Vampire Slayer. I could also tell you all about Kristen Bell's under-appreciated acting talents. Instead, I want to point out that the support for this movie is one of the most encouraging signs we have had so far that America is ready to talk about date rape—you know, rape rape—in a real way.
Veronica Mars first aired on UPN in 2004. It ran for a measly three seasons before the CW, UPN's successor, cancelled it. As with most cult TV shows, fans—called "marshmallows"—campaigned to keep the show on the air. Unfortunately, thousands of petition signatures failed to convince the network of the show's viability. But Veronica Mars is more than a failed teen detective drama because, to this day, the show remains the only American series to address date rape and its aftermath for longer than a few episodes.
Of the series' three main story-lines, Veronica's rape was the only one creator Rob Thomas sustained for the entirety of the show. Veronica loses her virginity at a party after being drugged by one of her classmates. She spends the entirety of the series trying to uncover her rapist's identity and bring him to justice—something she finally succeeds in doing in the very last episode.
Exceptionally smart writing and acting aside, the date rape story-line is what made this particular teen drama different from all that ones that aired before it. Unlike most televised rape accounts, Veronica was no damsel in distress waiting to be rescued. She had agency and was given a voice that went deeper and was more honest than any of its predecessors. Throughout the television show, Veronica has nightmares about the night she was assaulted. Viewers also find out in the second season that Veronica has an STI as a result of her rape, making the assault all the more realistic. Needless to say, the teenager ends up developing a keen distrust of the men around her, affecting all her future relationships throughout the show. But despite getting laughed out of the police chief's office when she comes forward about her ordeal, Veronica never loses sight of the fact that she is not to blame for her rape—and neither do the show's viewers, who are treated to a dramatic story-line that is both realistic and empowering. For fans and haters alike, Veronica Mars remains the only American television series that successfully depicts the long-term effects of this type of sexual violence.
As Chaos Mandy argued on Wired, the backing of the Veronica Mars Movie Project is momentous in that it will give fangirls and fanboys everywhere hope for the resurrection of their beloved, misunderstood TV characters. But the record-breaking backing of this project is more than a win for those burned by the cancellation of their favorite television series. It proves that a show with this kind of plotline can be beloved enough to generate and sustain the interest of television viewers—a big win for those who aren't afraid to acknowledge rape culture.