There Aren't Enough Women Even Considering Running for Public Office
There's a wide ambition gap when it comes to politics. Is there any way to close it?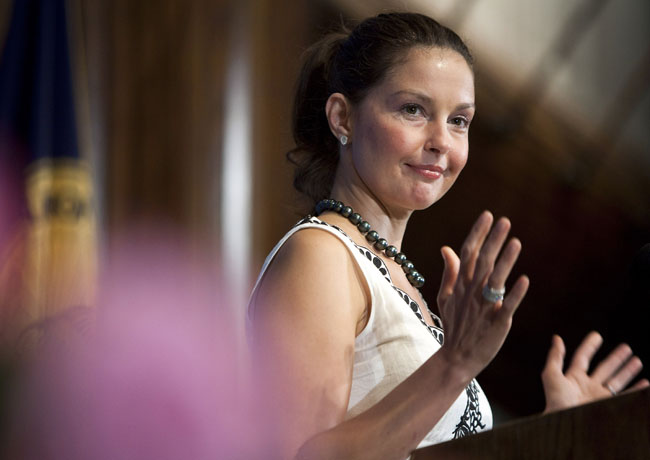 Ashley Judd announced earlier this week that she would not be running in Kentucky to challenge Senate Minority Leader Mitch McConnell.
Her decision highlights a deeper truth about women running for office. The vast majority of women don't even seriously consider running for office, and new research shows that young women especially are far less likely than men to think about trying to be an elected official.
According to research released this week by the Women & Politics Institute at American University, the first-ever survey of 18- to 25-year-old men and women on political aspirations reveals that women still fall far behind their male counterparts in what's becoming known as the "ambition gap," or the likelihood to think about running for office someday.
The researchers tried asking the question in different ways, including what kinds of jobs college-aged women found most appealing. When asked to pick a job if income were not a factor, 42 percent of the women said they found teacher to be most appealing on the list and 8 percent said mayor was most appealing compared with 30 percent of men who found being a teacher most appealing and 15 percent of men who found mayor the most appealing job.
"Given this persistent gender gap in political ambition, we are a long way from a political reality in which young women and men are equally likely to aspire to seek and hold elective office in the future," the report grimly predicts.
Jennifer Lawless, professor at AU and director of the Women & Politics Institute, finds these results disturbing because she conducted a survey sussing out the likelihood of older women to run for office in 2001 and found similarly weak numbers among women best situated in their careers to run for office. This new research shows that these trends start earlier than she previously thought.
"This is the time that they're considering all of their career options," Lawless said. Yet older women were half as likely as men to think "many times" about running and 20 points more likely to say they had never thought about running for office at all.
"Although we expected to see some degree of a gender gap [with younger people], we certainly thought it would be smaller. The evidence suggests it's just as big," she said.
One group that does have a smaller gap, though, is high school students. Twenty-three percent of girls and boys both ran for high school student government and won at roughly equal rates (15 percent for girls and 14 percent for boys). "If you look at their broad socialization as high school students, there were far fewer gender differences than there were once they reached college. So it seems something is happening once they enter college," Lawless said. "It seems like the key intervention at this point really needs to be on those college campuses because they're more similar before they get there than when they leave."
That intervention could take some deep-seeded cultural change. Lawless' group found a number of factors they felt were holding women back when it came to running for office.
For instance, college-aged men were much more likely to say that a parent had encouraged them to run for office someday; about a third of men said their mom or dad had encouraged them while less than a quarter of women said the same.
Researchers also found men were much likelier to put themselves in politically immersive environments, like getting involved in the College Democrats or College Republicans, reading political news, or even discuss politics with friends.
Meanwhile, what had changed for women in the ten years since Lawless' previous study was female political role models: Minority Leader Nancy Pelosi, former Republican presidential candidate Rep. Michele Bachmann, former Democratic presidential candidate and later Secretary of State Hillary Clinton and former vice presidential nominee and former Alaska Gov. Sarah Palin all rose to prominence since 2001. Yet those female role models had virtually no effect on whether women were inclined to run for office.
"Certainly having Nancy Pelosi be speaker of the House suggests that a woman can get elected and become speaker of the House and that's a vital ingredient," Lawless said. "But having an internship in any member of Congress' office probably confers a greater degree of confidence, experience, skills, and interest in terms of someone's own future potential candidacy than the mere presence of a female speaker."
In other words, it might have more of an effect on women's future political prospects to work in Nancy Pelosi's office than to see that Nancy Pelosi is holding that office.
The silver lining is that this new research indicates that among those who played varsity-level sports, men and women were both much likelier to express interest in running for office. Sixty-three precent of men who played sports were likely to say they would consider a run for office compared with 55 percent of men; among women, 44 percent of those who played sports said they would consider a run compared with 35 percent who did not.
And the number of girls and women participating in competitive sports has risen dramatically in the last 40 years since Title IX. The National Federation of State High School Associations reported that in 1972, when Title IX giving women equal access to sports was passed, girls made up just 7.4 precent of high school athletes. In the 2010-2011 school year, that percentage was 41.4.
The downside, of course, is that women are less likely to play sports—and especially competitive sports—in the first place.
"I think getting women to participate in these organized sports is going to require the same kind of encouragement and recruitment that politics requires," Lawless said.
If cultural forces manage to change for women who might run for office one day, it might get women to gender parity. In the meantime, the United States currently ranks 77th on an international list of women's participation in national government. And the strategies that have been successful at getting women's participation rates up—strong party systems and constitutional quotas—are unlikely to ever happen in America.
Stephanie Schriock, president of the pro-choice political PAC EMILY's List, said in a statement provided to The Atlantic, "Whether you see the gender gap in leadership as a reflection of innate or systemic roadblocks, getting more women to run for political office is the answer. Not only do women in elected office serve as role models for future generations to follow in their footsteps, they inspire a country to develop more women into leaders."
Lawless seems optimistic that changing cultural forces might eventually lead to more women in government, but she worries about women ever getting to the point of considering running for office.
"If a woman or a young girl thinks about running for office, and makes the conscious decision that this is just not for her and she'd rather work behind the scenes or she'd rather be an astronaut, that's fine. My concern is that it's less likely to appear on women's radar screens in the first place," she said.
Lawless wants more women to be like Judd, who at least seriously thought about running for office. Lawless' ultimate goal is to get more women actually running for office so that more women can hold office. Her research points to a disappointing number of women who are opting out before they even consider the idea of running.