The Mixed Results of Male Authors Writing Female Characters
Authors of both genders have long experimented with narrators and protagonists of the opposite sex—but there's still debate as to whether either sex can do it right.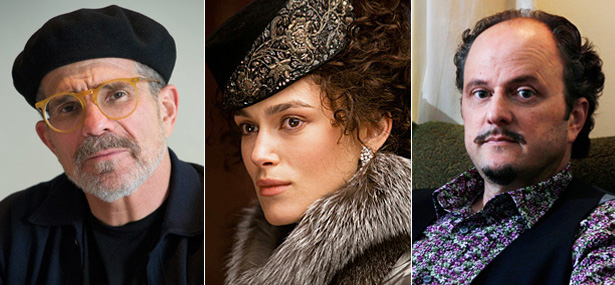 David Mamet; Focus Features; Jeffrey Eugenides
If we want to investigate the way women have been "written" through the years by the opposite sex, we should return to the beginning. Eve took a bite of that forbidden fruit and pretty much got blamed for every sinful deed since. "Let's not forget the Bible was written from a man's point of view," pointed out a scholar I watched on TV recently.
This is not an awards show, of course. No winners or losers on which sex writes the other better. But there are strong opinions. When Nation magazine writer and poet Katha Pollitt learned that I was pondering whether men write women better than women themselves, her response practically crashed my computer. "You could not possibly be suggesting that! I think few men write female characters who are complex and have stories of their own. Where are the vivid, realistic and rounded portrayals of women in Roth, Bellow, Updike?"
To which others may respond, as did one friend, "I have two words for you. Anna Karenina."
Tolstoy's classic was written a long time ago, of course, and, on the flip side, evergreen female authors like Jane Austen and the Brontes managed to give us fine portraits of men alongside their memorable heroines. However, we have had a few revolutions since, resulting in a lot of space on the shelves, the stage, and the screen devoted to feminine mystiques and mistakes. For women writers, it is about finally getting, if not even, at least equal time.
"By default, women have it easier than men when they attempt to craft characters of the opposite sex," says novelist Sally Koslow (The Late Lamented Molly Marx), "because our whole lives we've been reading vast amounts of literature written by men." For male writers, trying to navigate the evolving battles of the sexes is more challenging. To their credit, they are not necessarily shying away from tackling women in their work, but are they 'getting' them?
Two hugely popular authors, Jonathan Franzen and Jeffrey Eugenides, for example, are known for full-bodied, decade-spanning novels. But their female characters? "Franzen's women are confused and masochistic," claims Pollitt. "The female lead in Eugenides' The Marriage Plot is the least interesting of the three major characters." Literary critic and writer Sarah Seltzer is a bit kinder, but agrees that a double standard endures. "I doubt whether a female novelist who so obviously bungled/sidelined a major male character as Eugenides did, would get the same slack from readers and critics."
Bringing a complex female character to fictional life is daunting enough for one of the opposite sex. Inhabiting their actual voice is even more so. "I don't necessarily find women difficult to write about in the third person," says author Eli Gottlieb (The Face Thief), "but to write them in the first person is to make a hubristic leap. It can be done—Madame Bovary comes to mind—but the reader will often begin from a suspicious wariness." One of the most dazzling turns is Brazzaville Beach by William Boyd. It truly never dawns on the reader—and in fact is a constant surprise—that there is a man behind the marvelous female storyteller.
To be fair, today's female novelists rarely take on a male voice, but when they do, their success rate seems noteworthy. This past year's "it" book was Gillian Flynn's Gone Girl, in which the author tells one story from both the male and female points of view. Hilary Mantel has also wowed critics and readers with HIStorical fiction, and Louise Erdrich wrote the prize-winning The Round House from the viewpoint of a teenage boy.
Related Story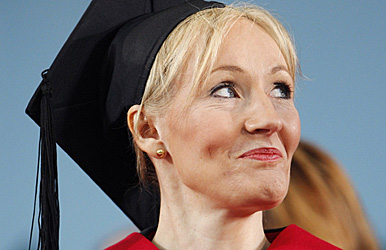 Why don't women do it more? Either because they feel men have had their say, thank you, or they feel obligated to mine their own juggling lives for rich material. "A novel takes two years out of your life, so I am more comfortable living with characters I know," explains Sally Koslow. "Before I start every book, I think of Jack Nicholson's line from As Good As It Gets. Someone asks him, 'How do you write women so well?' and he says, 'I think of a man and I take away the reason and the accountability.'"
In the theatre world, more and more women playwrights (Sarah Ruehl, Amy Herzog, Lynn Nottage) have entered the scene, which has helped tremendously in giving audiences true-to-life female characters. Their plays still tend to be seen off-Broadway, but frankly, that is where the most original material is showing up. The final work of the voice of so many women, Nora Ephron, is soon to open on Broadway—and revolves around a man.
The chauvinist king of the stage, David Mamet, suffered a serious blow this past season when he attempted to center a play (The Anarchist) on two women. The characters never felt remotely organic and it was a short-lived disaster. Two of the better male playwrights, when it comes to writing women, are Jon Robin Baitz (Other Desert Cities) and Richard Greenberg (the new stage adaptation of Breakfast at Tiffanys). Does the fact they are openly gay figure in? (Tennessee Williams, Edward Albee, and William Inge, anyone?)
Over at the multiplex, one has to start with the fact that an infinitesimal number of commercial films are written or directed by women. All ten actresses nominated for Oscar performances this year played characters written by men. (Only six-year-old Hushpuppy was co-conceived by a woman.) The roles were obviously demanding, and their creators should be applauded. But were any as multi-faceted as their counterparts over in the male categories?
The most noteworthy female characters these days are probably on television, though more than a few are of the all-work-no-play (Homeland, The Killing) variety. The newest such girl on the block is Keri Russell as a KGB agent on the FX series The Americans. Josh Brand is among a group of respected writers of the series and insists the story, being a procedural, is the priority and, "Character to me has nothing to do with gender."
It may behoove such programs to add more women to the writer's rooms, (The Good Wife has the best cast of mixed-sexes, perhaps because it was created by one of each) but that is still no guarantee. Smash was created by Theresa Rebeck (since replaced by a man), who gave us four female characters, none of whom is really resonating. In one of those "show within a show within a show" scenarios, Debra Messing's writer-character is "saved" by a dramaturge (a man) who says her mushy take on Marilyn Monroe needs to be more about sex and power. I am sure there is a lesson here.
Screenwriter Stephen Schiff (Wall Street: Money Never Sleeps) says what may be most challenging for men in all media are talky scenes between women. (Sex and the City comes to mind... though once again, it was a gay man calling the shots.) "But then it's probably tough for women to write a scene between guys doing guy things," says Schiff. This is where the mandatory Lena Dunham reference must be made. "Lena is depicting female and artistic thought processes in startling ways," insists my friend and avid reader/viewer Susan Horowitz. "But she is also giving us unusually dimensional views of male characters."
Dunham is nothing if not brave. She is also young and open to seeing both sexes clearly. For older males, they tread a bit more gingerly. "I try to go inside my characters and listen to them speak," says Schiff, a former journalist. "I can listen to a woman the same way I can listen to a man. But some people can't get outside their sex to do that." Josh Brand adds, "Most of us are influenced by the real women in our lives, which hopefully informs how we write our female characters."
Psychologist Dr. Vivian Diller believes, "Authors who write about their own gender use their internal experience and speak from the inside out. When they write about the opposite sex, their perspective has to shift—from the outside in. Neither is necessarily better but rather they try different points of view."
Readers and viewers may not even consciously be aware of which sex is behind what words. (Though could a man have tapped into whatever has made those Fifty Shades so popular?) For the creators, the issue is very real. "I think most writers see capturing the opposite sex as an ultimate goal and triumph," says novelist Betsy Carter (The Puzzle King).
While women probably still write their own parts better, cheers for all who are daring to probe the ever-changing state of the sexes. There is reason for optimism, as gender roles become less distinct, more men get in touch with their at-home sides, and more women become action heroes.
As literary critic Sarah Seltzer says, "writing across gender may be harder, require more research and humility. We may fail or get 'called out' for letting our biases show, or being ignorant. But the attempt at understanding, empathy, and inhabiting the soul of someone whose life experience is not ours, helps us grow as writers, and people too."