The National Archives (United Kingdom)
Lisa Miller's recent cover story on "feminist housewives" in New York magazine seemed to irritate people like sandpaper on a sunburn.
In her story, Miller focuses on a few well-heeled stay-at-home moms who are embracing what they feel is their most "natural" role as mothers and claiming their choice as a feminist one, an embrace of what's good and natural and handmade over what's greedy and corporate and mass-produced.
Cue reader dyspepsia.
"These navel-gazing articles that are mainly about middle-class folks are repetitive and useless," writes a New York commenter, reflecting general sentiment.
"This article was specifically written just to bug me," writes a commenter on The Hairpin.
Fair enough.
But the phenomenon Miller touches on—what I term "new domesticity" in my upcoming book on the subject—is very real. There's been a tangible shift in the way educated young women—and many young men—approach the issues of feminism, work, and homemaking over the past decade or so, and it's not just about the rich white ladies Miller profiles.
Across different social and cultural groups, there's been a collective return to domesticity—the rise in educated stay-at-home moms, the obsession with traditional crafts, the mania for cooking and growing our own food, the decline in career ambition and the growing importance of family among the young. This phenomenon is about far more than privileged women choosing to stay at home with their children. It's about the laid-off office worker who opens an Etsy boutique selling crocheted baby clothes rather than jumping back into the fray of recession-era job searching. It's about the grown child of harried Baby Boomers who, having seen his parents work 60-hour weeks to climb the corporate ladder, decides to lead a slower, more home-focused life. It's about the young parents who, freaked out about BPA in baby food and pesticides in fruit, decide to take food into their own hands by growing their own veggies and baking their own bread, maybe even raising a chicken or two in the backyard.
Related Story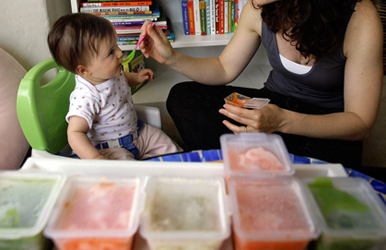 Their mothers and grandmothers may have eagerly shunned domestic work in favor of the office, but they're reclaiming traditional women's work in the name of environmentalism, sustainable living, healthier eating culture, anti-consumerism. Some are quitting their jobs to do domesticity full-time. But most couldn't afford that, even if they wanted to.