Pop culture has portrayed wage-free internships in fashion and art as the territory of spoiled young women—which makes it easier to ignore their real injustice.
Fashion-industry blog Fashionista reported earlier this month that Occupy Wall Street's "Intern Labor Rights division" had made plans to protest unpaid internships in the industry at New York Fashion Week.
Illustrating the story was a photo of former reality-TV-star-portraying-an-intern Lauren Conrad, cheerily steaming some clothes in Teen Vogue.
If we were to pick the major social-justice issue of our time, it would probably not be whether Conrad was properly compensated at her "internship." But that's part of the problem: The longer unpaid internships are associated with rich kids and chic but low-grade tasks like hauling designer clothing across Manhattan, the more those who complain about their proliferation are in danger of being seen as clueless, whiny, or spoiled.
Related Story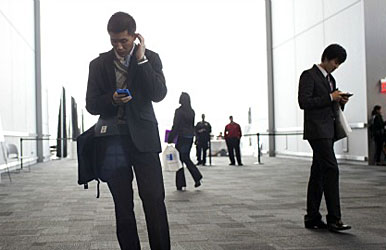 To many people, the face of the unpaid intern is already that of a young woman whose survival (and possibly It-bag) needs are already being met, and there's a reason for that. Unpaid internships are mostly taken on by women: Madeleine Schwartz reported in Dissent that three-quarters of the unpaid workforce is female. Unpaid work is also popularly associated with the fashion industry, in part because of shows like The Hills, but also because of the especially glaring hypocrisy of unpaid labor at companies that are not only for-profit, but also producers of expensive designer clothing.