Mary Walker's Quest to be Appointed as a Union Doctor in the Civil War
Tale as old as time: Woman does "man's job" in the military, military resists giving her credit.
Tale as old as time: Woman does "man's job" in the military, military resists giving her credit.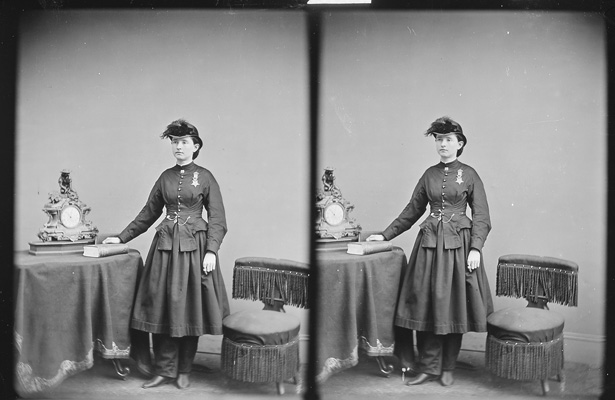 In 1864, President Abraham Lincoln penned a carefully worded letter to Dr. Mary Edwards Walker:
The Medical Department of the army is an organized system in the hands of men supposed to be learned in that profession and I am sure it would injure the service for me, with strong had, to thrust among them anyone, male or female, against their consent.
Lincoln would not invite a national controversy about women's work during the Civil War by appointing a female physician to the Union Army, even one he knew had been acting in such capacity on nearly half a dozen battlefields. While the military ban on women in combat has only just been lifted, a small but determined number of women have found their way to front lines since the very establishment of this country. Walker could have posed as a man, like the nearly 400 women who fought during the Civil War did, but that was never an option for her. The Osewgo, New York native desired public acknowledgment, and obscuring her sex would negate that primary goal.
Before the Civil War, Walker often wrote about women's rights and abolitionism, but her primary commitment was to her education, marriage, and medical practice. When the war began in earnest during the spring of 1861, Walker responded by shutting down her practice, writing that she "was confident that the God of justice would not allow the war to end without its developing into a war of liberation."
In the end, Walker's most ardent desires would be realized. Lincoln would issue the Emancipation Proclamation in 1863, freeing all slaves in Confederate territory, and two years later the Thirteenth Amendment, banning slavery in the United States, would ratified. While Walker would die just one year before the Nineteenth Amendment gave her the right to vote, she is still, to this day, the only woman to have ever received the Congressional Medal of Honor.
She lit out for the nation's capital and found a city overrun with soldiers wounded during the Second Battle of Bull Run, and an insufficient number of medical professionals struggling to treat them. She went straight to Secretary of War Simon Cameron and presented herself as a willing and able surgeon. Cameron found Walker's reform dress, a shortened dress atop slacks, totally absurd, and would not consider the idea of commissioning a woman for any rank above nurse. He turned her away, but it did not matter.
Walker was determined to be a useful patriot, and her services were readily accepted by Dr. J.N. Green, the lone surgeon of the Indiana Hospital, a makeshift infirmary hastily set up inside the unfinished U.S. Patent Office. Eager for Walker to be compensated, Green requested that Surgeon General Clement A. Finley formally appoint her assistant surgeon, which he refused. Entangled in a long divorce with a philandering husband who impregnated at least two patients, Walker was not a woman of means, yet she returned to work, politely refusing to share Green's salary.
Indiana Hospital soon received additional doctors, but Walker did not hold them in high esteem. By 1861, the Sanitary Commission recommended amputations be conducted when a limb had serious lacerations or compound fractures, but the practice was controversial, with disconcerting mortality rates: Nearly 60 percent of leg amputations done at the knee resulted in death, while less than 20 percent survived hip-level amputations. Walker observed her colleagues senselessly amputating for want of practice. She wrote, "It was the last case that would ever occur if it was in my power to prevent such cruel loss of limbs." She began double-checking their work, surreptitiously counseling soldiers against the surgery when appropriate. Many wrote her thankful letters after the war, reporting their limbs to be fully functional.
Word quickly spread throughout what Walt Whitman called the "mad, wild, hellish" wartime capital: Dr. Mary Walker was a friend to soldiers. Knowing she was bold and skilled, anxious families begged her to seek out their injured sons, brothers and husbands, marooned near raging battles. In an 1862 letter published in The Sibyl, she wrote:
It is literally impossible for one with any force of character and humanity to remain 'in the background,' when convinced by knowledge and reason, that their mission is evidently one that will result in great good in those whose necessities demand that they have not the power to gain for them selves. For such let us labor. Virtue is as much higher than innocence as angers are higher than mortals.
Two years into the Civil War, Walker was mired in a frustrating cycle. She wrote endless letters requesting an official post, and received just as many refusals. Regardless, Walker continued to treat wounded soldiers, and military surgeons and generals on the ground were grateful for her sudden appearances. Dr. Preston King penned a letter describing Walker's contributions in the aftermath of a brutal defeat at Fredericksburg, resulting in 13,000 casualties, but the secretary of war responded that there could never be a commission for her, as there was no "authority of law for making this allowance to you."
Walker could have agreed to the title of nurse, but she was obstinate. Each refusal seemed to reinvigorate her. After one letter, she designed a blue uniform for herself, replete with a green sash, the sign of a physician on the battlefield. The New York Tribune took notice in December of 1862:
Dressed in male habiliments...she carries herself amid the camp with a jaunty air of dignity well calculated to receive the sincere respect of the soldiers...She can amputate a limb with the skill of an old surgeon, and administer medicine equally as well. Strange to say that, although she has frequently applied for a permanent position in the medical corps, she has never been formally assigned to any particular duty.
Walker was now famous, and on occasion she appeared onstage alongside the likes of "Wild Bill." The Tribune continued to criticize the military's reluctance to recognize her efforts, asking "What 'ism' is more absurd than Conservatism? If a woman is proved competent for duty, and anxious to perform it, why restrain her?"
Assistant Surgeon General Robert C. Wood was sympathetic, but outranked by naysayers. He struck and agreement: Walker would be evaluated by the Board of Medical Officers. Dr. G. Perin, who was not present during the examination, wrote that her skills were "not greater than most housewives posses." Walker protested, arguing the Board refused to hear about her medical experience as with soldiers, insisting on questions pertaining to women's bodies.
General Wood read the fetid assessment for it was, instead basing his decision on his own observations made during the Chickamauga Campaign. In 1864, he tasked Perin with formally naming Walker the only female acting assistant surgeon in the United States Army during the Civil War. She was assigned to the 52nd Ohio Volunteers, and offered a contract salary of $80 a month, which would be around $1,170.21 today.
For the first time, Walker wore the sanctioned dress of a Union military surgeon. Proud of her accomplishment, Walker wrote, "I let my curls grow while I was in the army so that everybody would know that I was a woman." She was regularly sent on missions outside of Union lines, armed with two revolvers in her saddle, but her orders were not entirely medical in nature.
General Sherman was preparing to march on Atlanta, and Walker was asked to gather information under the guise of Union doctor. She had longed for this request. In a letter addressed to the secretary of war in 1862, Walker wrote:
I refer to my being sent to Richmond under a "flag of truce" for the relief of our sick soldiers and then use the style (of double communication in writing their necessities) that I invented, to give you information as their forces and plans and any important information. No one knows what the style of writing is, except Hon. Mssrs. Cameron Seward and Mr. Allen of the "Secret Service."
A year after she barely escaped a run-in with the notorious Confederate guerilla Champ Ferguson, the judge advocate general would write, "at one time [she] gained information that led General Sherman to so modify his strategic operations as to save himself from a serious reverse and obtain success where defeat before seemed to be inevitable."
Her luck inevitably ran out. On April 10, 1864, her hard-won blue army uniform was now damning evidence; Walker was taken prisoner by Confederate soldiers under General Harvey Hill. Five days later, General Ulysses S. Grant ordered all women to leave Union battlefields, but by then Walker had been sent to Castle Thunder Prison. It was run by Captain George W. Alexander, a cruel man who regularly hanged prisoners by their thumbs, toes barely scraping the floor, primed for flogging.
The guards were equally infamous, particularly in the female ward where Walker would spend the next four months. She no doubt heard about another female spy had been chloroformed, raped, and killed there. Walker's reputation preceded her, and the imprisoned "female Yankee surgeon" who believed in the emancipation of African Americans was openly ridiculed in Virginia papers. "Miss Doctress, Miscegenation, Philosophical Walker, who has so long ensconced herself very quietly in Castle Thunder, has loomed into activity again," wrote a reporter in The Richmond Examiner.
In letters to her parents, Walker claimed she was well fed and treated fairly, but she was likely protecting them from the truth. Food was known to be scarce at Castle Thunder, and rations maggot-filled. Walker's mattress was infested. At night, there were screams, but the loudest sound came from below, as mice scurried across the filthy prison floor.
Both the Confederate and Union armies were desperate for physicians, and on August 12, 1863, Walker was exchanged, in equal measure, for a male physician. President Lincoln, eager to hear about her time as a prisoner-of-war, summoned her to Washington.
Walker had now served as a physician at Indiana Hospital, Bull Run, Warrenton, Fredericksburg, Chickamauga, Chattanooga, and Atlanta, but securing another commission required renewing the letter-writing campaign. She was finally sent to Louisville to be the head surgeon at the Female Military Prison, but it was populated by Confederate woman who rebuffed the "Yankee woman doctor," often refusing her services. By the time she managed to trade Louisville for Clarksville, President Lincoln had been assassinated, and the war was coming to a close. On June 15, 1865, Walker requested that her military service conclude. This time, the army readily granted her request.
The partial muscular atrophy Walker developed during the four months she spent as a prisoner-of-war never fully healed, which meant her career as a surgeon was over. She attempted to resume her medical practice at 374 Ninth Street in Washington, but found her patients had gone elsewhere in her absence. The Johnson administration, already under scrutiny for failure to address the post-emancipation hardships of African Americans, rejected her request to serve as a medical inspector in the Freedmen's Bureau. The presence of a woman doctor would have only intensified the criticism. Despite her service, Walker was unsuccessful in finding a postwar commission from the government, though formal recognition was in the works.
It was rumored that it was the intention of Lincoln himself but whether President Johnson, who ordered Stanton to look into the matter, was acting on the wishes of his predecessor or by his own inclination is unknown. Judge Advocate General Joseph Holt was tasked with the investigation, but in an 1865 letter he wrote the major issue had nothing to do with her performance, but "whether or not...her sex is to be deemed an insuperable obstacle to her receiving the official recognition."
President Johnson proved determined, and in 1865 he issued a presidential order for the Congressional Medal of Honor to be awarded to Dr. Mary Walker. She was rumored to wear it every day of her life, but just two years before her death, it was rescinded during the "Purge of 1917," an attempt by congress to reduce the long list of pension recipients. The award was posthumously restored by President Jimmy Carter in 1977.