"We are all capable of going a little too far": the challenges of avoiding overparenting
Bad Parents
Twice a month, a panel of dads discusses a topic of the moment. For today's conversation, they look at treading the line between responsible parenting and being overbearing. Part one of the discussion is below; parts two and three are here and here.
---
"I'm going Tiger Mom on her from now on."
So said my wife, Jean, a little over a week ago, about 12 hours after our 4-year-old daughter had tried—and failed—to take the New York City gifted-and-talented exam. We'd brought Sasha to Williamsburg early in the morning, having explained she'd be doing puzzles with teachers, and extracted a promise from her that, when the time came, she'd leave us and walk alone with a teacher up the stairs and into the testing center.
Instead, when the time came, she clung to us crying to be taken home.
Thus began a miserable Sunday of errand-running and Sasha-denying. No lollipop, no TV, no fun—she was being punished, not because we were angry but, for the first time in her life, we were seriously disappointed. She had broken a promise. She was, to her own horror, not a princess.
Yes, Jean and I were both disappointed, but in different ways. It didn't bother me that Sasha had broken her promise—I hadn't really expected that to mean anything to her. No, it was her overall fear of taking the test that got to me, for I've started to notice similar fears in other parts of her life. At times, she'll be drawing at the table next to me when she'll throw down her magic markers and storm off, yelling, "I can't do it! I can't do it!" And this even before she's done anything. It's as she's afraid of failure.
Related Story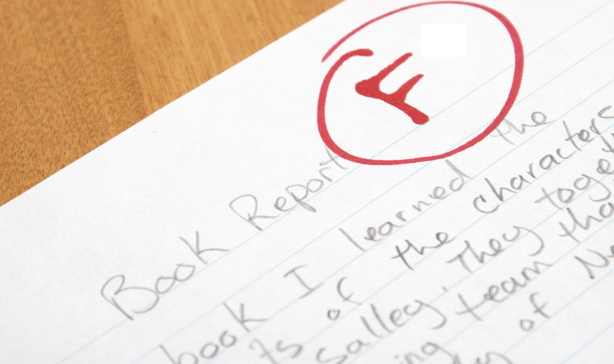 Now, I love failure. Over the decades, I've gotten used to it, come to understand it as the price of success, and even come to relish it in certain ways. ("Well, at least that's over!") I vividly remember a day in sixth grade when I refused to draw a picture of Emily Dickinson, crying, "I can't!" My teacher, one of the best I've had, warned me that in his class, those were swear words—the only thing I could never say. So I drew the Belle of Amherst. The drawing was terrible. But I'd done it, and come out the other side.