The American Woman Who Wrote Equal Rights Into Japan's Constitution
As a 22-year-old military aide, Beate Sirota Gordon gave Japan's new founding document its own version of the Equal Rights Amendment.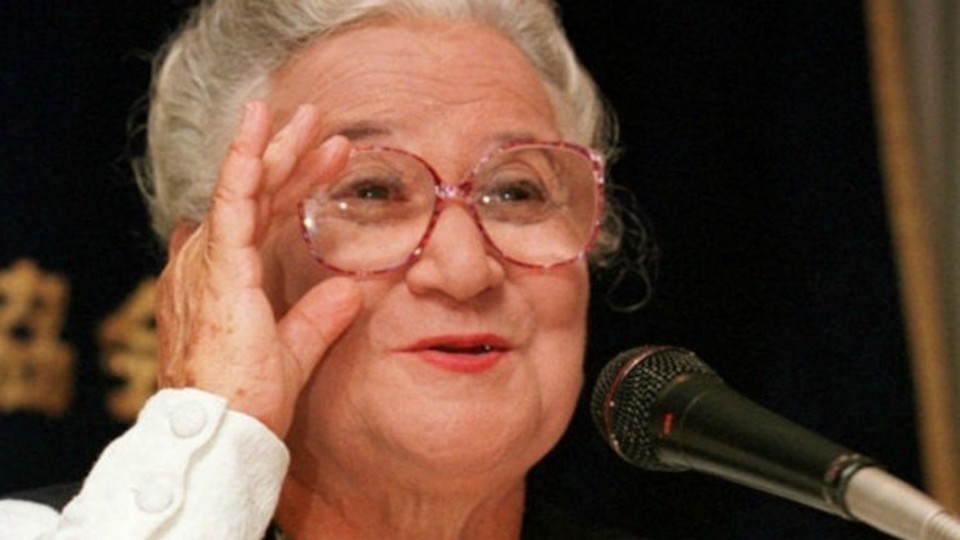 American efforts to pass an Equal Rights Amendment to the U.S. Constitution have failed since the early 1920s. But, in 1946, a 22-year-old naturalized American citizen participating in a secret crash project in occupied postwar Japan succeeded in writing two strikingly simple but powerful clauses into the modern Japanese constitution that stipulate equality among the sexes as well as civil rights for women involving marriage, money, and family.
The young woman, Beate Sirota Gordon, later became a well-known, decorated figure in Japan for her pathbreaking efforts. But she was never widely known in her adopted country. Gordon died last Sunday at age 89 at her home in Manhattan. The women's rights provisions, drafted under pressure in a seven-day period in early 1946 under Gen. Douglas MacArthur's charge, live on today in the Japanese constitution.
Gordon's remarkable talents and personal history put her in the right place at the right time. Born in Vienna in 1923, the daughter of Russian Jewish immigrants, she grew up in Tokyo from ages 5 to 15, where her father, a renowned concert pianist, taught and performed. In 1939, her parents sent her to Oakland, Calif. to study at Mills College.
As a fellow alumna, I had the pleasure of meeting and hearing Gordon speak twice in recent years, including a memorable 2011 commencement speech at Mills, the oldest women's college in the West. This elegant and eloquent white-haired woman recalled her first years in America, where, in December 1941, after the attack on Pearl Harbor, she lost all contact with her parents in wartime Japan, as well as their financial support. A student of modern languages and literature, including Japanese, English, German, French, Spanish, and Russian, she was recruited to work at a U.S. listening post in San Francisco monitoring Japanese radio broadcasts.
At the time, Gordon said, "there were only 65 Caucasians in the whole of the U.S. who knew Japanese." So she was highly sought after, and her skills helped her move to the U.S. Office of War Information. She earned her Mills undergraduate degree in 1943 and became a U.S. citizen in early 1945.
Gordon went to work in Washington, D.C., as an interpreter on General MacArthur's staff, and, on Christmas Eve, 1945, arrived in Tokyo as part of his team to find her parent's home devastated and their whereabouts unknown. She said she was the first civilian American woman to work in postwar Japan. In February 1946, she worked in Tokyo on a top-secret project to draft a new Japanese constitution. Her assignment: women's rights.
Despite her young age, while growing up Gordon "had seen discrimination against women in Japan," she told the Mills commencement audience. "Women had no rights at all. The arranged marriages were often unhappy. The women sometimes did not even meet their future spouses until just before the wedding. Women were not trained for careers and thus could not obtain work that interested them. Women had no inheritance rights, no rights to choose their own domicile."
With a tough deadline, she headed for the library, searching through copies of constitutions from other countries. She drafted two provisions that included broad equal rights language -- "All of the people are equal under the law and there shall be no discrimination in political, economic or social relations because of race, creed, sex, social status or family origin" -- as well as specific civil rights for women:
Marriage shall be based only on the mutual consent of both sexes and it shall be maintained through mutual cooperation with the equal rights of husband and wife as a basis. With regard to choice of spouse, property rights, inheritance, choice of domicile, divorce and other matters pertaining to marriage and the family, laws shall be enacted from the standpoint of individual dignity and the essential equality of the sexes.
The new Japanese constitution went into effect in 1947. "It set a basis for a better, a more equal society," Carol Gluck, a Columbia University professor of Japanese history, said in an excellent New York Times obituary of Gordon. "By just writing those things into the [Japanese] Constitution -- our Constitution doesn't have any of those things -- Beate Gordon intervened at a critical moment. And what 22-year-old gets to write a constitution?"
Gordon found her parents alive but malnourished in the Japanese countrywide, and went on to marry Joseph Gordon, chief of the interpreter team for American military intelligence in postwar Japan. She settled in Manhattan for the rest of her life, working for more than three decades at the Japan Society as its "iconic" director of performing arts, bringing little-known Asian artists to the U.S.
Gordon said little about her secret assignment on the Japanese constitution until the mid-1980s, not wishing to inflame Japanese conservatives critical of the constitution. But then she began to speak out. Her memoir, The Only Woman in the Room, published in Japanese in 1995 and in English two years later, "made her a celebrity" in Japan, the Times said. She lectured widely in Japan and was the subject of a stage play and later a documentary film, The Gift from Beate. In 1998, the Japanese government gave her a high honor, the Order of the Sacred Treasure.
Meanwhile, in the U.S., the 1964 Civil Rights Act and judicial actions brought equal rights protections under the law to American women. But efforts to pass an Equal Rights Amendment to the U.S. Constitution, beginning in 1923, have failed to win passage. The closest attempt was passage of a 1972 bipartisan congressional bill, signed by President Richard Nixon, which was unable to acquire the needed approval from three-fourths of the states. In recent years, women's-rights organizations have supported a renewed effort to win ERA passage.
The practical impact of Gordon's youthful contribution to the Japanese constitution is hard to measure. As the Times noted, it survived later attacks by Japanese conservatives and won admiration from Japanese women when she traveled there. But Japan remains a male-dominated society.
Writing about Gordon's death, Bloomberg columnist William Pesek urged Japanese women to take up her charge:
It's time for Japanese to take up the flame of a woman some consider their answer to Gloria Steinem. Nearly 67 years after Japan's constitution was written, sexism remains rampant. In 2012, the World Economic Forum ranked Japan 101st out of 135 countries in gender equality, after Indonesia and Azerbaijan. Such inequality holds back Japan's economy by reducing the quality of its labor force. Women must demand their due.
"Few young Japanese women knew much about Beate Sirota Gordon when she died in New York on Dec. 30 at age 89," said Pesek. "That's a shame, considering how much they owe her for the freedoms they enjoy."
Gordon's death has unearthed her legacy promoting gender equality for all women. Let's hope it stays in the light.