It's easy to meet people online, but it's much harder to form genuine connections. The next in a series of responses to Dan Slater's article "A Million First Dates."
Warner Bros.
I started online dating in 2000, at the tender age of 18. I was a fan of TheSpark.com—a site largely known for humorous "science" projects and CliffNotes-style study guides—and when they launched SparkMatch (which, as it happens, was the precursor to OkCupid), I found myself intrigued. SparkMatch wasn't like the other online dating sites I'd seen before. It was friendly, it was unintimidating, and because of its affiliation with The Spark, it was easy to say you'd signed up just for laughs. Emboldened by this degree of plausible deniability, I made a profile and started perusing the site. Within a short period of time, I was on a date with a man who'd ultimately become my first serious boyfriend.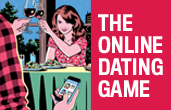 How technology is changing love and marriage.
See full coverage
Over the years, I've also set up profiles on Nerve.com, OkCupid, and How About We, just to name a few. Though I haven't exactly kept count, I'm sure my number of personals-enabled first dates ranges in the three digits. Given those stats, it might seem natural to lump me in with the constantly searching, never satisfied online daters profiled in Dan Slater's "A Million First Dates." Yet on my end, Slater's vision of online dating is exactly the opposite of what I've experienced.
My reasons for online dating are pretty simple, and rather neatly summed up by an early slogan of Nerve Personals, which reminded potential users that "Bars are for drinking." I've never felt particularly comfortable approaching strangers in bars, and dating friends of friends has always felt a bit too incestuous for my tastes. Online dating offers access to a wide swath of people I might not otherwise come into contact with. More importantly, it offers access to a wide swath of people who I know are also looking for dates. More than anything, it's an efficient way to cast a wide net in the search for a potential partner. Is it a flawless system? Of course not—but as far as methods of consistently finding new people to date go, it's the least flawed one I know.