White men are the most sought-after group on OkCupid, while black women are the least.
ABC
Even in Super Sad True Love Story—the Gary Shteyngart novel where everyone wears an "äppärät," a device around their necks that broadcasts to everyone around them their credit history, income, cholesterol, and how attractive they are compared with everyone else in the vicinity—even in that world people fall in love. And we're not quite there yet.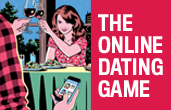 How technology is changing love and marriage.
See full coverage
Executives in the middle of a growing business can be forgiven for overstating trends—as can individuals used as anecdotal launching pads for trend pieces—but readers should take it a little slower. So rather than go right to "online dating is threatening monogamy," as Dan Slater argues in his article in The Atlantic magazine, maybe we could agree with the less alarmist conclusion that people who engage in rapid serial online dating are probably less likely to make commitments because they won't settle down. And then we could look at how that trend fits in with the larger questions we face.
Efficiency
First, I'm skeptical of the claim that, as one executive put it in the article, "the market is hugely more efficient" as a result of online dating. Plenty of the people who spend all day online are interacting with real people less than they used to. They waste huge amounts of time dealing with online daters who lie, mislead them, stand them up, or dump them on a moment's notice.