One Possible, Troubling Outcome of Online Dating: More Social Inequality
White men are the most sought-after group on OkCupid, while black women are the least.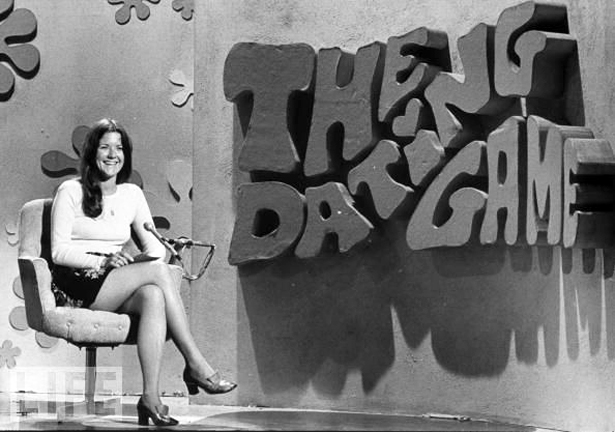 ABC
Even in Super Sad True Love Story—the Gary Shteyngart novel where everyone wears an "äppärät," a device around their necks that broadcasts to everyone around them their credit history, income, cholesterol, and how attractive they are compared with everyone else in the vicinity—even in that world people fall in love. And we're not quite there yet.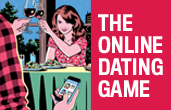 How technology is changing love and marriage.
See full coverage
Executives in the middle of a growing business can be forgiven for overstating trends—as can individuals used as anecdotal launching pads for trend pieces—but readers should take it a little slower. So rather than go right to "online dating is threatening monogamy," as Dan Slater argues in his article in The Atlantic magazine, maybe we could agree with the less alarmist conclusion that people who engage in rapid serial online dating are probably less likely to make commitments because they won't settle down. And then we could look at how that trend fits in with the larger questions we face.
Efficiency
First, I'm skeptical of the claim that, as one executive put it in the article, "the market is hugely more efficient" as a result of online dating. Plenty of the people who spend all day online are interacting with real people less than they used to. They waste huge amounts of time dealing with online daters who lie, mislead them, stand them up, or dump them on a moment's notice.
In a terrific 2003 New York Times article by Amy Harmon, a fourth-grade teacher, retold the statistics of her four-months of online dating: messages exchanged with 120 men, phone calls with 20, in-person meetings with 11—and 0 relationships. That's not efficient at producing relationships—but it is efficient at producing anxiety. My favorite sentence from that article:
It's amazing how all women say they're slender when a lot of them are overweight," said one 79-year-old Manhattan man who lists himself as 69 on his Match.com profile.
On the other hand, back in the days of dating, women entering college in the 1950s reported an average of about 12 dates per month (three per week) with five different men. These women were grossly outnumbered in college, and most women didn't go to college, so it wasn't a system for the whole society. But it tells us something about efficiency: Since dating reliably ended in marriage within a few years, it was pretty efficient, but that's because of the attitude and expectations, not the technology.
For people who are intent on being choosy, online dating might be more efficient than meeting people in person, but people in urban areas have been finding alternative partners for a long time. For example, we have known for several decades that people are more likely to divorce when they are presented with more, or better, alternatives. In the 1990s researchers discovered that "the risk of [marital] dissolution is highest where either wives or husbands encounter an abundance of spousal alternatives." They concluded, "many persons remain open to alternative relationships even while married." This has been shown not only by looking at the composition of the surrounding urban area, but also by simply comparing the divorce rates of people who work in gender-mixed versus gender-segregated occupations (the former are more likely to divorce). Marriage hasn't been unleavable for quite a while.
Still, maybe online dating speeds up the turnover process, and this might contribute to the trend of delaying marriage going on since the 1950s.
Inequality
Second, I think it's possible that—in addition to undermining what's left of monogamy—the spread of online dating will widen some social inequalities. Remember those left behind by Jacob's wandering webcam eye in the article? When he wanders off to a new partner, he leaves one behind. She might or might not have the same options to exercise. In this rapid-turnover process, the richer, better-looking, healthier, better-lying, etc., might make things miserable for more people than they used to be able to. Jacob's efficiency might be their wasted months and years.
But remember, divorce rates have probably been falling more or less continuously since about 1980. And it is the less well-off who have been marrying less and divorcing (relatively) more. The people who are divorcing more—or marrying less—are the ones who aren't going to do as well in the "efficient" competition on dating sites. They aren't going to gain much from this onlinification.
A few years ago I reported on an amazing analysis of message patterns by the dating site OkCupid. It showed that black women got the lowest response rates to their messages on the site. Here is the pattern—with each cell showing the percentage of men replaying to messages from women, according to the race of the sender (left) and the recipient (top). For example, black women got a 32 percent response rate from white men, whereas Middle Eastern women got a 47 percent response rate from white men.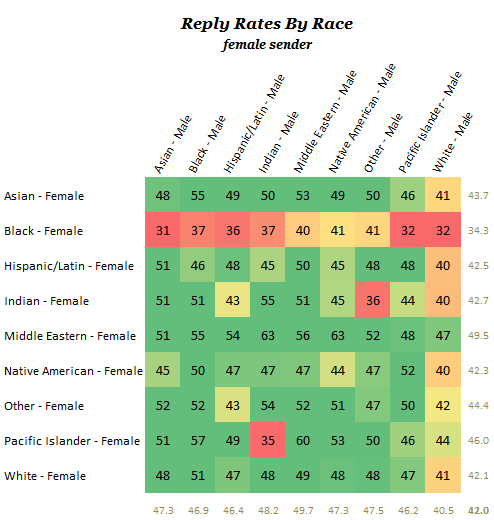 If this system is efficient at finding perfect matches, it is also efficient at sorting people according to existing social hierarchies—applying what Alexis Madrigal in The Atlantic called "algorithmic perversity." Some people will use online dating to constantly trade up—maybe ditch a sick or unemployed spouse—and that will also speed up other processes, like the widening of social inequality.
Reflexive responses
There's no reason not to overhype a trend. The reward in attention is much greater than the penalty down the road if it turns out you're wrong. But put this in perspective. Granting that the situation may be changing fast, let's just consider that in 2006 the Pew Center published a report on its survey of 3,215 adults. Of those who were married or in a committed relationship, 3 percent had met their partner online, and of those, just 41 percent—or 1 percent of the total—met through a dating website.
So online dating may be affecting a fair number of Jacobs and their partners, but it hasn't remade all of our relationships yet. Articles like this, however, increase the pressure on people to consider—and reconsider—their choices. The same happens with articles about parenting, or biological clocks, or cohabitation—all the family decisions for which choices appear to be multiplying. And it may be true that people are less content when they have more choices—but I bet it's also true that the effect is magnified when the extent of their choices is hyped and rehyped, and evaluated by competing experts.