It Pays to Be a Married Dad Whose Wife Doesn't Work Full Time
Married, biological fathers who live with their families are associated with a wage bonus of about four percent after they have kids, according to a new study.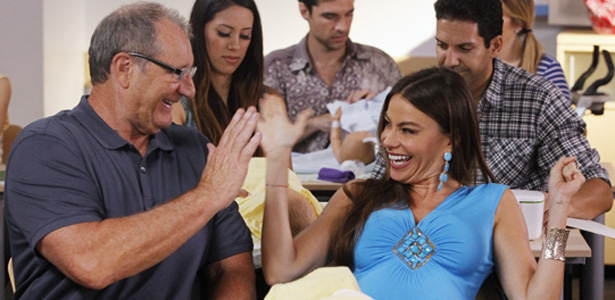 ABC
When the pot-smoking, financially irresponsible protagonist in the 2007 comedy Knocked Up becomes an expectant father, he attempts to reconcile his life with impending fatherhood. He bids adieu to his slacker roommates and their dreams of launching a celebrity porn website, and we next see him painting a nursery in a newly procured apartment. The biggest change of all: Taking a job in an office.
This illustrates something people have long assumed: The responsibilities associated with fatherhood motivate men to work a bit harder and move into more lucrative careers. Harvard sociologist Alexandra Killewald had certainly read research that corroborated this theory, but wondered if "the fatherhood premium," which asserts that entry into fatherhood will produce wage gains if it prompts altered behavior, held true for all dads.
In the forthcoming paper in next month's American Sociological Review, "A Reconsideration of the Fatherhood Premium: Marriage, Coresidence, Biology, and the Wages of Fathers," Killewald shows that the wage gain does in fact exist, but that boost is not available to everyone.
Related Story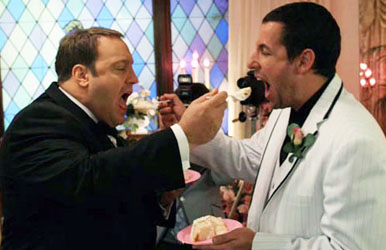 Killewald found that married, biological fathers who live with their families are associated with a wage bonus of about four percent after they have kids. Unmarried fathers, fathers who do not live with their children, and stepfathers do not receive this premium.
As if it was not already clear that fathers who assumed the traditional role of providers were at a distinct advantage, Killewald found that married fathers who lived with their biological children did not receive a statistically significant wage increase if their wives worked full-time. Men married to women who work less than full-time or who stay at home, however, are all but guaranteed the bonus. This may imply that diminished household responsibilities allow these men to fully devote themselves to their careers, making it possible to have a wife who does unpaid labor.
"Families who are committed to having a mom who stays at home with a kid may make the man feel even more pressure to provide as a father and husband," said Killewald, meaning that he may redouble his efforts at work.
A higher marriage premium—seven percent—exists as well. Men who cohabitate with women may enjoy the marriage premium for that partnership, but no more when they become fathers. Married fathers enjoy both premiums, putting them at an 11 percent advantage.
One might assume that an increased dedication to the workplace would mean that these fathers are spending less time at home, but research indicated that the men who had enjoyed the largest fatherhood premium also reported spending the most time with their kids. This is consistent with what we know about fathers who do not live with their children or non-biological fathers who are less engaged with the children they do live with: They spend less time together. While work and family often seem in conflict, men who fill the traditional role of provider do seem to be "having it all."
It was encouraging to see that there was no evidence suggesting that men of color in normative family structures do not get the same benefit as their white colleagues, but discrimination may still play a role. "The difference is that white, educated men are more likely to be in this traditional family structure," Killewald said, "so they have greater access to the bonus."
Adoption is a long, arduous, and expensive process that certainly demonstrates a commitment to family, but it is unclear as to whether or not adopted fathers enjoy the boost. Every survey has limitations, and for Killewald, that meant she could not directly ask about adoption, or its myriad forms, including when a step-father adopts the child. "These are conceptually important groups," she said, "but they are still extremely small."
Are fathers in non-traditional family structures being punished by their employees? One would imagine that the pressures of child support, for example, would lead a divorced father to work that much harder to earn higher wages. When I suggested that the stigma of divorce might preclude such a father from making this known, or from an employer recognizing it, Killewald thought it was plausible, but said "More research on employer discrimination against men who violate the normative expectations is still needed."
We already know that children of divorce are disadvantaged, and part of the explanation points to fewer financial resources available to them. In a country where less than 60 percent of American children live with married, biological parents, these findings on the fatherhood premium certainly highlight the ways in which family structure can have far-reaching effects.