India's Gender-Equity Problem
Gang rape isn't the only issue: Sex-selective abortion, sexual harassment and child marriage are also creating disparities in the world's largest democracy.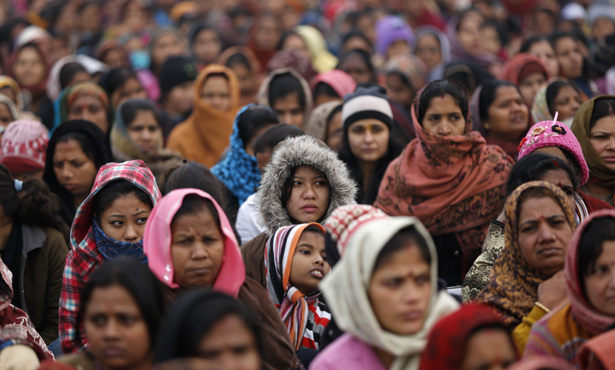 Shocked by a brutal rape case that has gripped the country, India is going through some soul-searching about its shameful mistreatment of women. Riot police lined the streets of Delhi the past few days to calm protesters who gathered in outrage as the body of the 23 year-old rape victim returned from Singapore where she had been transferred for emergency treatment. She suffered severe internal injuries after being gang-raped, beaten, and thrown naked from the bus she and her boyfriend tragically got on after seeing a movie on December 16. She died on Saturday and protesters have demanded the death penalty for the rapists.
Rape happens everywhere, but India is a particularly tough place to be female. Over 40 percent of the child marriages in the world take place in India. Sex selective abortions occur there at staggering rates. In 2011, the gender ratio was at its most imbalanced since India's 1947 independence: among children six years old or under, there were only 914 girls per every 1,000 boys. Increases in wealth and literacy have only exacerbated the problem of female feticide.
Sexual harassment of women -- known in India by its euphemism, "eve-teasing" -- is widespread and includes behaviors ranging from lewd remarks to physical assault. In a recent Hindustan Times survey of 356 New Delhi women who take public transport, 78 percent of them reported having been sexually harassed in the past year.
According to the New York Times, rape in India has risen about 25 percent over the past few years; increased reporting partly explains that rise; but some have speculated that it is also driven by the realities of a modernizing society that brings women into public spaces and professional life in greater numbers, phenomena that some young men view as threatening. Interestingly, a 1960 Time magazine article describing the "eve-teasing" problem also cited a society in transition as a contributing factor.
While 24,206 instances of rape were reported in 2011, one nonprofit leader estimates from her field work that only ten percent of rape cases see the light of day. Rape is a crime in India, but when women do come to the police with a rape charge, the authorities frequently encourage them not to file their complaints. Last week, a 17 year-old girl in India killed herself by ingesting poison. She had been gang-raped in November, and when she brought the case to the police, they urged her to withdraw the complaint, encouraging her instead to marry one of her rapists or figure out a monetary settlement with them.
Despite the laws on the books, violence against women is so lightly condemned that over the past five years, India's political parties have nominated 260 candidates waiting to go on trial for various crimes against women. A handful of state- and national-level lawmakers currently in office in India face charges of rape or other crimes against women.
India's current public outrage might begin to chip away at this culture of impunity around rape. The Home Secretary has pledged more security on buses, and several fast track courts to adjudicate cases of violence against women, including the recent bus assault, are being set up; this program should be expanded throughout the country.
Such procedural improvements are welcome, but India needs a broader cultural shift that revalues the lives of girls and women. Appalling levels of female feticide, female illiteracy, child marriage, and condoned violence against women are the harsh reality that Indian women confront, and unless addressed, will hold the country back in the 21st century.
---
This post appears courtesy of CFR.org, an Atlantic partner site.