Forget Online Dating: Here's Something That Might Really Hurt Monogamy
Let's say you met an over-educated, underemployed, thirty-something man who seemed incapable of holding down a relationship, and who was known to date up to half-a-dozen women at a time after meeting them online. If you had to come up with a single theory to explain his desultory love life, what would it be?
Dan Slater thinks you should blame the Internet. His article in this month's Atlantic, "A Million First Dates," argues that online matchmaking services like OKCupid and eHarmony are so powerful that they are bound to infect us all with a collective case of romantic ADHD -- or, as he puts it, that "the rise of online dating will mean an overall decrease in commitment." The impulse to search for "an ever-more-compatible mate with the click of a mouse" will prove so intoxicating over the long term, he writes, that it could undermine the very notions of marriage and monogamy.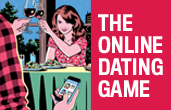 How technology is changing love and marriage.
See full coverage
Of course, online dating has been around for a while now. But Slater doesn't offer up much hard evidence that monogamy is actually becoming passe in this country, other than to point out that divorce rates have increased -- an oversimplification of what's happened in the past few decades. Rather, he introduces us to Jacob, the pseudonymous thirty-something schlub I alluded to above. Jacob is a dedicated Green Bay Packer's fan who is less than enthusiastic about the idea of a 40-hour workweek. He is also convinced that the constant temptations of online dating have kept him from settling down. And other than quotes from the executives of a few assorted matchmaking sites, whose insights boil down to admissions that their products aren't designed to foster long-term relationships, his story makes up the bulk of the piece.
The things is, there are much, much bigger social forces at work in this country that could explain Jacob's love life than the irresistible charms of a well-curated Match.com profile.
Take, for instance, the enormous shortage of college educated men in Portland, Jacob's hometown. Across the United States today, young women are much more likely to graduate from college than their male peers, a trend that's been compounding itself for a few decades now. And because college graduates overwhelmingly tend to date other college graduates, that's created an enormous imbalance in the national dating pool. In Portland, the situation is particularly dire. According to the Census Bureau's American Community Survey, there are 33 percent more women in Portland who are under the age of 35 and have at least a bachelor's degree in than there are men. That's on par with New York, which is notorious for its lopsided gender ratio.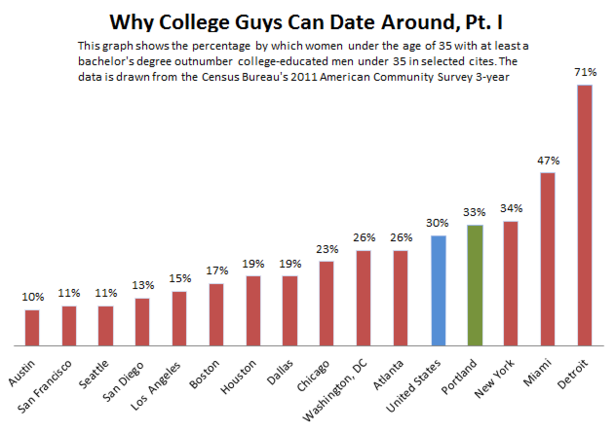 Even if you look at Portland's wider metro region, which offers up a larger singles population, the ratio is still fairly skewed,* especially compared to cities such as Austin, San Francisco, or nearby Seattle.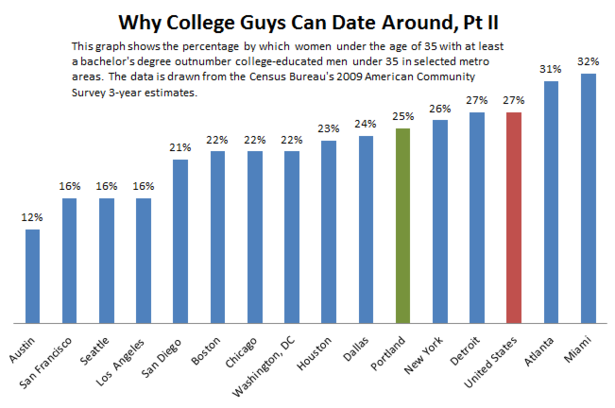 But could the mere fact that Portland has thousands upon thousands of surplus, college educated women be enough to keep men like Jacob from settling down? It's not meant to be a silly question--after all, much of this probably just comes down to personality. But in fact, social scientists have been researching the society-wide effect of sex ratios on marriages and relationships since the early 20th century, and some of the evidence suggests that when there are excess women around, young men are less likely to commit.
In 1983, Marcia Guttentag and Robert Secord posited the theory that in female-heavy populations, men would become more promiscuous, and that in male-heavy populations, they'd become more faithful. Much of their thinking seemed to be confirmed in an analysis of 117 countries by Scott South and Katherine Trent. The pair found that, in developed countries, having a higher ratio of men led to more marriage for women, less divorce, and fewer illegitimate children. Other studies have had similar findings across cultures and time. A look at immigrant communities in early 20th century America found that as the proportion of men on the market went up, so did marriage rates for both males and females. In the contemporary U.S., academics have found that female college students are less likely to have a boyfriend or go on traditional dates, and are more likely to have bad feelings about the men on campus, at schools that enroll disproportionate number of women. And in an interesting, gender-equitable twist, research on China has found that women there are more likely to sneak away for extramarital sex in communities with too many men.**
With those findings in mind, it seems reasonable to suggest that instead of pointing a finger at the internet for Jacob's relationship habits, we can keep things simple and just blame Portland, where going to a bar, going to a concert, or even going to work would probably leave him surrounded by available women. Better yet, not only could the city's sex-ratio explain why he finds himself dating so many different women, but it might also clarify why so many different women are willing to date him: scarce alternatives.
Sold? I actually hope you're not. In truth, my goal here isn't to convince you beyond reasonable doubt that sex-ratios are turning young, educated American adults into commitment-phobes. Someone who wanted to could probably marshall enough contradictory social science research to mount a good counterargument to the idea. It's possible that, for Jacob, signing up for Match.com really did change his outlook, rather than exacerbate personality traits that were already there. But ultimately, I only want to illustrate how dicey it is to fixate on a single factor like the Internet when trying to explain something so complicated as the social-psychological mores that underpin love and dating, especially when there are other equally viable explanations waiting to be explored out there. We're complicated creatures, and as Alexis Madrigal wrote earlier this week, it's both a bit myopic and ahistorical to believe that most technology is capable of single-handedly warping our behavior. Suggesting otherwise doesn't do human beings nearly enough justice, even if we're just talking about a schlubby guy from Portland.
___________________________________
*An important note about the two graphs: The city data is from the ACS 2011 three-year estimates, which collect figures from 2009 through 2011. The metro-region data is a bit less up to date, as it comes from the 2009 3-year estimates, based on figures collected from 2007 through 2009. Between then and 2011, you might notice, the national gap between young college educated men and women grew by 3 percentage points. So it's likely the metro region data is understating the problem.
**If any of this research sounds familiar to you, it may be because Kate Bolick reviewed some of it in "All the Single Ladies." My overall argument here is, of course, somewhat somewhat inspired by hers.