When Your Daughter Asks for a Victoria's Secret Gift Card
Is there any way to shield young women from damaging messages about their bodies?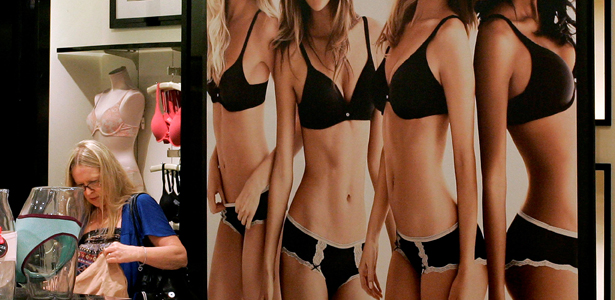 Phil Coale/AP Images
'Tis the season to shop for holiday gifts. So I embark for the mall, armed with a list of items coveted by my four children. Efficiently I march through the halls of American retail, focused only on killing the list, gift by gift. At Pink, the teenage offshoot of Victoria's Secret, I seize a gift card and take my place in the checkout line that ends at a long counter "manned" by hyper-feminine-styled cashiers.
Glancing at the wall of large photographic posters behind the cashiers, I wonder, "What is Victoria's Secret doing, subjecting young shoppers to these super-sexual images?" One woman's breasts brim atop her bustier; another displays undies, topless; a third wears black stilettos, stockings, garter—sans panties. A model lures with "that" pout, another touches her cleavage. I'm getting hot. Pink's pajamas are nice, but teenagers can't escape this mature content when they shop here. There's no boundary between girlhood and womanhood in this store. I'm sweating now. Am I a perimenopausal fuddy-duddy or an evolved feminist mom staring into the eyes (and thigh-highs) of the enemy? So I launch this lame missile at the cashier: How can girls purchase items without seeing these inappropriate photos? Shouldn't Pink have a separate checkout in the teen store? No response, not even a conciliatory "I only work here" face.
You may be wondering why I didn't just walk out, refusing to buy the gift card. I'm a social scientist, a scholar of business strategy and human behavior in organizations. This is field research, a case study of my own stressful physiological reaction to what is, theoretically, "simply" marketing. Big photos, big beauty, big profits. But there's one small problem: Victoria's Secret is targeting my little girl and—to paraphrase one of her generation's musicians, Bruno Mars—I want to catch a grenade for her, throw my hand on a blade for her, jump in front of a train for her (but you brands won't do the same).
Related Story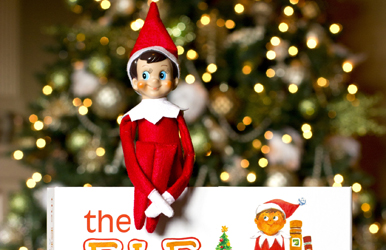 When Victoria's Secret launched Pink in 2002 to target younger females with "age-appropriate" underwear, sleepwear, and lounge wear, it intended to create brand loyalty for the transition of girls to women buyers of their adult product lines. Not exactly a rocket-science business strategy—akin to loyalty Apple builds for its products when kids use them in schools. Pink's success spurred the creation of a separate storefront in some mall stores but not, evidently, a separate cashier stand for customers too young for its "too sexy" images.
On the way home I tweet about the photos, and Peggy Orenstein, author of Cinderella Ate My Daughter, recommends a book, Packaging Girlhood: Rescuing Our Daughters from Marketers' Schemes, by Sharon Lamb and Lyn Mikel Brown. Packaging Girlhood describes the antithesis to the idea that "our world empowers girls" by showing:
a world designed by media and marketing executives that targets children as consumers, channels girls' desires, and entices them into predictable types: 'pretty pink dolls,' 'cute little shoppers,' and 'hott teens'.
Case in point: On Black Friday, a throng of girls nearly stampeded a Pink store in Kansas in search of...what? Bargains, beauty, Justin Bieber? It's depressing. Yet Lamb and Brown implore parents to fight firms wielding business weapons that "gobble up their interesting, feisty daughters and spit them out in pink satin Wonderbras and panties." Not to mention contend with a daughter's curious 12-year-old twin brother who asks—I kid you not—in the same week, "Why do girls want to dress like sluts?" I launch into a mini-dissertation about the images that bombard girls and women, how business goals are to maximize sales, produce shareholder profit, and create jobs (heck yes!) for the economy. Finally, yelling, desperate for a boy to know: "Girls see it everywhere: on TV, in stores, magazines, movies, online. That's why they think it's the definition of 'pretty'!"
Again from the back seat, "But why do girls want to dress like sluts?" Silence. How to convey to him the genius of marketing aligned against the wisdom of feminist thought? How to refrain from weeping at my inability to win this war for my girl, to be her David to Victoria's Secret's Goliath? It's hard enough just to get them to school on time.
Lamb and Brown say the "power of the everyday" damages girls more than the occasional sensational story about plastic surgery, weight-loss obsession, or pop star fetishes. They hold that it is "revolutionary" for parents to help daughters make a habit of seeing and questioning how girlhood is packaged and sold to them. Resist. Soldier on. Thanks, Victoria's Secret: The gift card is bundled with Packaging Girlhood, under the Christmas tree.