Think Twice Before Quitting Your Job to Sell Homemade Jam
The false promise of the stay-at-home mom who makes money from her crafts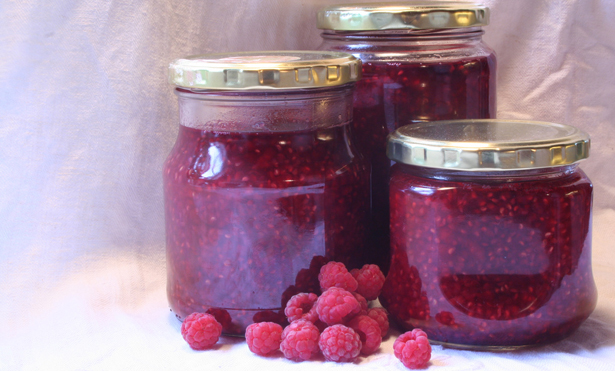 camy west/flickr
"Small business" has always been embraced by politicians, the phrase a lazy stand-in for "good, hard-working, salt-of-the-earth Americans."
But now, in many progressive communities (Austin, Brooklyn, Portland, my hometown of Chapel Hill, NC ), small—very small—businesses have gained a new, distinctly groovy luster. In these parts, people speak of an "artisan economy" of "hyper-local" businesses selling "handmade" goods. In this new artisan economy, running a teeny-tiny business is not just fulfilling, it's morally good. Not only are you pursuing your creative goals and rejecting the rat race, you're also striking a blow against corporate behemoths and all they represent—greed, environmental destruction, the homogenization of culture.
As the idea of an artisan economy gains mainstream purchase, it's being especially promoted as a way for women to find work-life balance. The parenting site Babble published "Top 50 Etsy Parents," in which the crafty moms (for they are mostly moms) gush about how Etsy has allowed them to achieve work-life balance, put family first, spend time on what really matters. There are legions of recently published books with titles such as Handmade to Sell and Etsy Success, whose cover features a picture of a young woman literally balancing a baby on her hip.
But here's the thing these books and articles don't mention: Microenterprise works for a very lucky few. It fails for a vast majority. And, although it may be dressed up in new hipster duds, microenterprise as a solution for work-life balance is nothing new. It's as old as selling eggs on the farmhouse porch. And it doesn't work.
According to studies, less than 40 percent of small businesses are ever profitable. Additionally, the kind of microbusinesses part of the new handmade, artisan economy are generally low-margin and difficult to scale up—you can only make so many $6 cupcakes or $60 handmade scarves.
And while starting a small business from home is especially appealing during a recession, experts say this is the very worst time to strike out on your own. "I would be worried about people who say, 'Oh, I can't find a job, now's a good time for me to earn a little bit of money being self-employed,'" says economist Nancy Folbre. To criticize this new wave of microbusiness boosterism is to court accusations of condescension ("O, the poor wimmins don't know that creative small businesses are HARD!!!") or to be told that "men do it too" (a glance at the bearded artisan chocolate-makers and microbrewers of Brooklyn proves this true).
But there is something worrying about the blind eagerness with which so many people have so deeply embraced the idea of artisan microenterprise as a solution for moms.
On Entrepreneur magazine's "Mompreneur Center," several of the "20 business ideas for moms" are craft related, including "sewing" and "soap-making." This isn't a knock on sewing or soap-making, but they're not exactly money industries. Nor is homemade pie-selling or jam-canning. Yet when the Texas Cottage Food Law, which loosened regulations on home-based baking business, was passed in 2011, it was widely celebrated as a win for hard-working stay-at-home moms-turned-small businesspeople.
The focus on the promise of microenterprise ignores the bigger problem: that regular enterprise is failing women. When your nine-to-five job doesn't give you any paid maternity leave, it might look tempting to say "screw it, I'll just stay at home and start a small business." But that small business doesn't give you maternity leave either. Or a steady paycheck. And artisan businesses, unlike many other types of small businesses, don't really scale up. You can only sell as many scarves as you can knit in a day.
Nearly 15 years ago, anthropologist Tracy Bachrach Ehlers wrote the following, in a paper called Women and the False Promise of Microenterprise:
The promise of microenterprise has been communicated to the public through a deluge of uplifting Horatio Alger-like success stories about women-owned, largely home-based, businesses...The message is that microenterprise holds the key to satisfying work, higher income, and a more balanced intersection between work and home.
The study concludes on a grim note:
We found that despite the potential complementarity between a woman's life and her pink-collar business, most businesses fail to produce the financial and psychological transformations women were anticipating.
These words hold true today. While the rise of Etsy and the proliferation of craft fairs and artisan markets may offer more venues for microenterprise, the fact remains that the crafty home businesses so dewily portrayed in magazines are hardly the solution to work-life woes. We need bigger changes for that: paid maternity leave, more flexible workplaces, more equally shared parenting. Don't quit your day job.