How 'The Mindy Project' Misrepresents Female OB-GYNs
There are plenty of reasons to like Mindy Kaling's sitcom, but thus far, its portrayal of gender dynamics in healthcare hasn't been very realistic.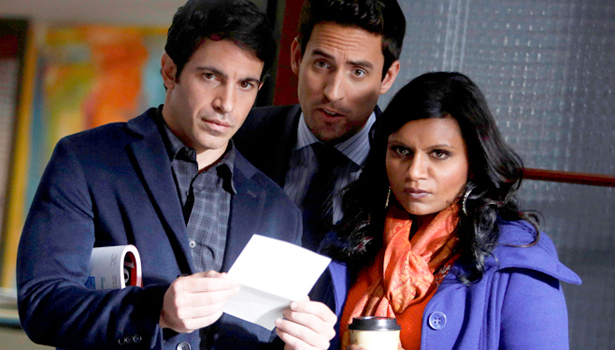 Fox
There's a lot to admire about The Mindy Project. It's the brainchild of Mindy Kaling, the only woman of color to write, create and star in a prime-time sitcom on a major network. Her character, Dr. Mindy Lahiri, is a young OB-GYN in a small practice, a role likely inspired by her mother's profession. Female doctors are also unusual in the current TV landscape: According to an analysis of TV programming between 2006 and 2011, just a third of characters portrayed as doctors or health care administrators on prime time were women.
"I'm half-Indian, half-Filipino. So I just lit up when I saw the promo because I was like, that's me right there. She represents my demographic," said Portland area-based Dr. Stella Dantas, who said she hasn't yet gotten a chance to watch the show yet.
All too often, Dantas said, OB-GYNs are depicted either as delivering babies or giving abortions, with little attention given to the range of care they provide. "I think it's great to have a female OB-GYN to really demystify what our job is and all of the issues we deal with," she said.
How accurately Kaling's show will shine light on this rapidly changing profession, however, remains to be seen. On a recent episode, the head of the practice, Dr. Schulman (Stephen Tobolowsky), abruptly retires, prompting Lahiri and her remaining colleagues, Dr. Danny Castellano (Chris Messina) and Dr. Jeremy Reed (Ed Weeks), to scramble to retain patients. Lahiri manages to save the day, but only after her colleagues reluctantly agree to let her be an equal at the practice.
Being the only female doctor working at an OB-GYN practice is unusual these days. Not only are women making up a third of all physicians—up from just 9.7 percent a generation ago, roughly—three quarters of all new OB-GYNs are women, likely reversing the male two-to-one ratio in the profession within 20 years.
"When I started [in the 1990s], there were two to three women in a group of 16 at the practice. Today you would see the exact reverse," said Dr. Jennifer Gunter. Her specialty clinic in Northern California happens to be staffed entirely by women doctors, even though she hadn't intended to create an all-female practice.
Gunter points out that having more women in the OB-GYN field can be encouraging for young women entering the field looking for mentors. "It's very helpful to have someone you identify with," she said, though she adds that doesn't necessarily mean mentors need to be of the same gender. She hopes the progress in diversity among OB-GYNs can be replicated more broadly in other medical fields. "I think you have gender equality in medicine when you have gender equality across the board."
Though one study showed that gender played a minor role in choosing a physician, a 2010 study of male and female OB-GYNs in clerkships found that not only are men less likely to express interest in gynecology in the first place, they were more likely to report that their gender negatively affected their experience. Patients also more often refused to participate in interviews and physical examinations with a male practitioner. One man in the study complained that the "only small talk was about shopping." It's bizarre, then, that Kaling might choose to portray her show's practice as so male-dominated.
Lahiri, after all, seems to show a special compassion for her patients. She can't turn away an uninsured immigrant, even if it's not good for her career to take on so many uninsured patients; she jokes with a first time mother-to-be to ease tension. The rise of the female OB-GYN might be good for patients, given that research finds "female physicians were more likely to see female patients had longer visit durations, and were more likely to perform female prevention procedures and make some follow-up arrangements and referrals."
Other aspects of the show aren't as realistic. Dr. Meadow Good, a second-year fellow at the University of Texas-Southwest in Dallas, described the pilot episode—which shows Kaling's character getting drunk at a wedding then rushing to the hospital to deliver a baby—in horror. Such a scenario is unrealistic, Good said, because more practices are moving to on-call shifts, rather than requiring each doctor to personally deliver his or her patient's baby. It's a policy that allows better work-life balance.
"There are other people who are going to be on call for you," Good said. "I hope she would accurately portray what's going on. We are humans and like to have fun, but we are professionals."
It's also pretty unrealistic that Kaling chose to cast two men, comedian brothers Mark and Jay Duplass, as the midwife duo who steal her practice's patients and to depict them as incompetent charlatans.
It's true that midwifery is historically a female-dominated vocation and only 0.6 percent of its members are men, as the American College of Nurse-Midwives (ACNM) explained in a 2003 report.
But beyond that, the reality of modern midwifery is dramatically different. Though there are uncertified, direct-entry midwives who are allowed to operate in some states, raising concerns over rising maternal mortality rates, it's far more common to see certified nurse-midwives working closely with an OB-GYN practice to handle low-risk births. Unfortunately, a lot of patients don't understand the difference between the two kinds, likely leading to Kaling's broadly critical depiction of all midwives.
Holly Kennedy, president of the American College of Nurse-Midwives, called the portrayal of midwives on Kaling's show "unfortunate." "That gong by the door," she sighed to me over the phone, indicating the eastern medicine influence in the Duplass characters' office isn't the norm in her profession.
"Certified nurse-midwives and certified midwives work collaboratively with OB-GYNs across all birth settings," Kennedy said. Unfortunately, Kennedy seems practiced at refuting such misinformation. "False perceptions and stereotypes of midwifery are not unique to The Mindy Project."
It's not to say that Mark and Jay Duplass shouldn't portray men as midwives. In fact, ACNM wants to encourage greater diversity in modern midwifery, and said few men report a difference in interactions with patients. But it suggests that Kaling and her writing team are less interested in exploring the potential humor of a real OB-GYN practice than they are in writing roles for colleagues in the male-dominated world of television comedy.
According to data aggregated by Neely Swanson, adjunct professor at the USC School of Cinematic arts, the number of women writing comedy plots was up to 45 percent in 2011, a significant increase over 16 percent in 2010. "For the first time in recent memory, or at least in my reading of plots," Swanson wryly assessed, "women were allowed to be as bad and mediocre as the men and that is the best measure of progress."
Kaling attained success on NBC's The Office surrounded by a staff of mostly male writers, and the episodes that aren't written by her on The Mindy Project are written by two men, Ike Barinholtz (who also plays the practice's ex-con nurse) and David Stassen.
It's also interesting that Kaling, who doesn't come off in her memoir as particularly political, should choose to make her character an obstetrician—a profession that's becoming almost unavoidably politicized. As anti-abortion and anti-contraceptive measures continue to be proposed around the country, some OB-GYNs—like Good—are making marching on Washington as much a part of their jobs as scheduling follow-ups and dispensing prescriptions.
"We're facing unique challenges at a state and national level," Good said. And she should know; Gov. Rick Perry has vowed to outlaw abortion in her state.
"We're doctors and we're people and we're having to assume roles to be health policy advocates," Good said. Now, it's also her job to tell politicians, "Stay out of my exam room."
The Mindy Project has poked a bit of fun at reactionary politics on women's health, including an episode in which Lahiri was accosted by school authorities for handing out condoms to teenage girls at a volleyball practice. It's too early to tell if Kaling will be bold enough take on some of the more controversial issues that are now ever-present her character's profession—the prospect of state-mandated transvaginal ultrasounds, employers who demand to exclude contraception coverage for employees, and abortion.
Kaling not only struggles with the work-life balance so prominently portrayed on her show, but also with the challenge of doing justice to the profession she's chosen for her character.