How Men in South Africa Are Trying to Stop Violence Against Women
The Sonke Gender Justice Network is encouraging young men to embrace new behaviors.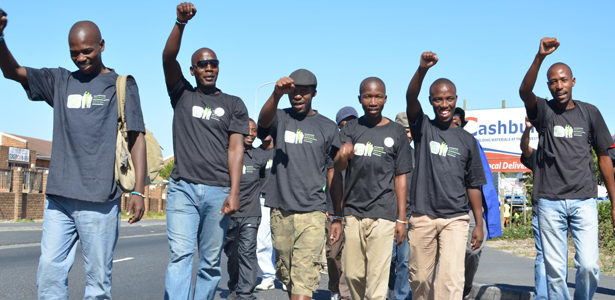 One Man Can
A dozen teen-aged boys sit in plastic chairs alongside opposite walls of the converted mobile trailer, forming not so much a discussion circle as parallel lines of slumped shoulders and restless twitchy legs. They came here to the One Man Can Men's Wellness Center in Gugulethu straight from school, still wearing their uniforms of maroon sweaters with crisp white collars peeking out the V-necks, gray trousers and scuffed black oxfords. Their casual posture belies the careful attention they pay to the man with the flip-chart at the far end of the room. He is talking with them about medical male circumcision.
There is no laughter or uncomfortable squirms, even during a talk accompanied by drawings that illustrate how to use condoms, both male and female. An equation sums up the speaker's main points. "Maximum Protection = Know Your HIV Status + Use Condoms + Get Medically Circumcised." The "medical" designation distinguishes the procedure from the Xhosa manhood initiation some of these boys will undergo. That also involves circumcision, by elders, and not necessarily in a manner that reduces the risk of HIV infection and transmission.
These young men are part of the newly formed Youth Indaba organized by Sonke Gender Justice Network and their One Man Can campaign. Like the U.S.-based organization Men Can Stop Rape, profiled here recently, Sonke (pronounced SOHN-kay) Gender Justice works with men and boys to challenge traditional concepts of masculinity and to prevent gender-based violence. That's the rather clinical sounding term favored internationally for violence directed at women and girls. In South Africa, it's a scourge.
The country is sometimes called the rape capital of the world. Doctors Without Borders has estimated that a woman is raped every 26 seconds there. In an anonymous 2009 survey by South Africa's Medical Research Council (MRC), one in four men admitted to raping a woman; 46 percent of them said they had raped repeatedly. Another MRC study found that a woman is killed by her intimate partner every six hours, the highest rate that has ever been reported in research anywhere in the world. Lesbians have been subjected to "corrective" rape in an attempt to change their sexual orientation. Even the country's current president, Jacob Zuma, was charged with raping a 31-year-old woman in 2005, the daughter of a family friend. He maintained that the sex was consensual, defending his actions because the woman wore a kanga, a traditional wraparound skirt. Zuma told the court this provocative dress indicated her arousal and Zulu culture dictated that a man could not leave a sexually aroused woman unsatisfied. Though he knew the woman was HIV positive, he did not use a condom but said he showered afterward in order to protect himself. Zuma was acquitted of the charges.
Related Story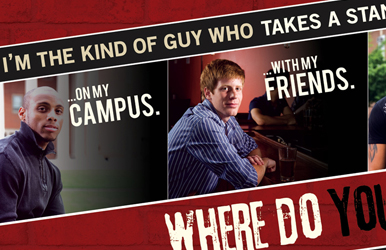 An indaba is a Xhosa and Zulu word for a meeting to raise important issues. The boys who are part of Sonke Gender Justice's Youth Indaba gather biweekly to discuss challenges they face living in Gugulethu, a black township located 10 miles outside Cape Town. Even in post-apartheid South Africa, many communities remain largely segregated by race. The boys began the indaba by talking about some things that had happened since they last met.
Three of them had witnessed the stabbing death of a man. Robberies are on the rise, with knives used as weapons there, too. Gangsterism is also increasing, in schools and on the streets. You have to be careful, they say, to know which corners belong to which gangsters, and where you can and can't walk. Poverty and unemployment remain perpetual problems, yet several boys still see fit to mention them. South Africa, in fact, has the second highest level of income inequality in the world after its neighbor, Namibia.
So what's to be done about all this? Aviwe Mtibe, the trainer leading the discussion, asks. He is several years older, in his mid-20s probably, but looks as youthful as these boys. The group offers suggestions. The government needs to create jobs and provide skills training for the unemployed. Police must arrest gangsters and violent criminals. Mtibe pushes back.
"But what can we do, as young men, as examples, to deal with these issues? We are role models. We want change in our communities? That change can be seen in us."
Young men modeling new behaviors. It's the approach Mtibe will emphasize repeatedly with the Youth Indaba, especially with how they relate to the girls and women in their lives and community.
There are various opinions on why South Africa has such high levels of violence in general, and against women and girls in particular. Patriarchy and intractable cultural assumptions like President Zuma's certainly contribute, though these attitudes are in no way confined to South Africa. Many point to the crippling dehumanization of the apartheid system. The scope of brokenness—in both individuals and society—created by more than 350 years of colonialism and oppression has yet to be fully understood, much less addressed.
For many years, gender-based violence has been seen primarily as a gender issue, to be taken up by South African women activists who are, undoubtedly, formidable. Now Sonke has become a leader in the burgeoning movement to tackle the violence where it generally originates, with men, and usually directed at their intimate partners. At the Gugulethu clinic, this work begins with creating a safe and judgment-free space where men and boys can discuss their health and emotional issues with male nurses and doctors.
"[We] focus mainly on HIV and AIDS prevention and gender-based violence, with the initiative of being able to change men's behaviors so that they care more about their health and their partners," says Nelisiwe Ohajunwa, another One Man Can trainer working in Gugulethu. "In most cases, men are more open to talking about issues of violence [than of health]. The HIV follows into the conversation and that's where we come in with the link to gender-based violence and HIV. Because they are linked."
South Africa has the largest number of people living with HIV in the world, an estimated 5.6 million people. A 2004 study found, "Women who are beaten or dominated by their partners are nearly 50 percent more likely to become infected with HIV than women in non-violent households." Young women in particular suffer these effects. For those South Africans ages 15 to 24 who are infected with HIV, three-quarters are women.
Nearly three-quarters—73 percent—of the admitted perpetrators in the anonymous 2009 MRC study on rape said they carried out their first assault before the age of 20. Thus Sonke's outreach to young people.
"All of them face challenges of HIV, violence, substance abuse, teen pregnancy," Ohajunwa says. "But people tend not to talk about these issues in their own households. They sweep them under the carpet, because of shame and stigma.
"One of the main questions that come up [in Youth Indaba] is, what do we mean when we talk about gender-based violence? So if I have a fight with my girlfriend and I give her a smack, [the boys ask], is that gender-based violence? They want the definition. They also want to know when they are violated as well. Because some of them are hit or bitten by their girlfriends and it's not something they can talk about. But this is a space where they feel they can share these kinds of things."
Here's another disturbing aspect from a country steeped in violence. Some girls and women expect their men to become violent with them, and question their faithfulness—and their manhood—if they do not.
"If you don't somehow get violent with your girl, she thinks that you don't love her," Ohajunwa explains. "You need to prove you're a man. So how do they prevent gender-based violence when they're expected to appear as strong and masculine? How do they practice that change in their own relationships?"
Practicing new ways for men and women to relate is a worldwide challenge. In South Africa, it also remains a matter of life or death.
Kimberly Burge reported from South Africa on a fellowship from the International Reporting Project (IRP).