Edie Windsor, the Unlikely (and Ideal) Face of Same-Sex Marriage
An 83-year-old plaintiff, whose case may finally end the Defense of Marriage Act, looks back at her four-decade-long union to the love of her life.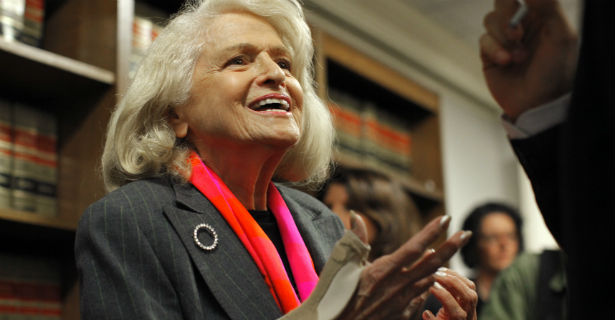 Eduardo Munoz/Reuters
"I know exactly how Thea would feel," Edie Windsor told me on the first weekend of the rest of her life. "Bursting with pride over my case and what we have accomplished." "Thea" is Thea Clara Spyer, the love of Windsor's life; the woman Windsor became engaged to in 1967; the woman Windsor married 40 years later, in Canada, because they could not lawfully marry in their native New York; the woman who died after a long, terrible illness in 2009; the woman whose death meant a $363,000 tax bill to Windsor, a new widow on a fixed income, because federal law does not recognize their union.
On Friday, for better and for worse, for richer and for poorer, Windsor became the face of the nation's same-sex marriage battle when the United States Supreme Court accepted for review the 83-year-old widow's (so far successful) challenge to the Defense of Marriage Act, the Clinton-era federal statute that defines marriage as solely between a man and a woman. The justices agreed to hear her case, styled United States v. Windsor, to decide whether the equal protection clause of the Constitution permits the federal government by statute to deny benefits to same-sex spouses whose marriages are recognized under state law.
Between now and late March, her lawyers will have plenty of opportunity to make their best arguments to the justices--and especially Justice Anthony Kennedy, the court's swing voter, whose support for gay rights over the years, in Romer v. Evans and Lawrence v. Texas especially, gives hope to same-sex marriage proponents. But what would Windsor herself say to the justices if given the chance? "I would want to tell all nine justices about our marriage and how, like any other couple, we loved and cared for each other, through ups and downs (including, of course, Thea's long struggle with multiple sclerosis) over four decades."
Related Story
It's not difficult to imagine the depth and breadth of that conversation--for Windsor has much more in common with the justices than she has with most of the rest of us. She is just seven years older than Justice Antonin Scalia, who has been married for 52 years, and Justice Kennedy, married now for 49 years. She is just four years older than Justice Ruth Bader Ginsburg, who was married to her beloved husband Martin for 56 years before his death in 2010. The good and the bad? In sickness and in health? How in the world are these jurists going to hear Windsor's story and declare that her marriage to Thea wasn't worthy of recognition under law?
Between now and the epic argument in March, between now and the court's landmark ruling in late June, a million words will be written about the legal strengths and weaknesses of Windsor's case. A million more words will be spoken about the court's conservative nature and the political background to the same-sex marriage cases. (The justices also on Friday agreed to hear the Proposition 8 case out of California.) But at the heart of all of this is what it means to be in a committed relationship and to seek to have that relationship recognized by society. The justices will have the last word. But for now Windsor has the floor. She told me:
I actually came home the other day and happened to find on a piece of paper a note that Thea had written to me saying "You did it, honey!" While she had left me that note years ago about something completely different (probably when I quit smoking) I don't think it's an accident that I came across it again just the other day.

None of this is an accident. Not the justices' decision to select Windsor's case from among the many viable challenges to the Defense of Marriage Act cases. Not the lower courts' near-unanimous rejection of the law's factual and legal underpinnings. Not the administration's decision to abandon its defense of Section 3 of the statute, the definitional provision which results in the disparate treatment for widows like Windsor. You did it, honey. What a perfectly normal phrase to describe both the ups and the downs of marriage, a phrase Windsor surely hopes to share aloud in late June if the justices grant her the equal justice she is requesting.