Domestic Violence Can Hurt Victims' Careers, Too
Hurting a spouse or partner can tarnish an entertainer's public image—and so can being hurt by a spouse or partner.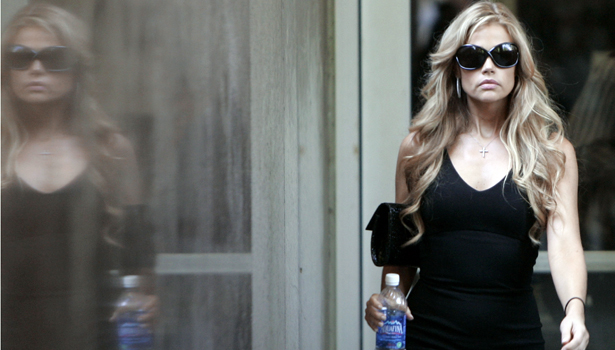 Last week, I took a look at what happens to the careers of entertainers who do what Chris Brown did—that is, get caught abusing a romantic partner. The surprising—and arguably dismaying—conclusion: a good number of domestic batterers have enjoyed long, rewarding careers in entertainment, their reputations remaining intact. (That principle came to mind all too painfully this week when a New York Times obituary for Jovan Belcher drew criticism for calling the NFL player, who shot the mother of his child and then himself over the weekend, a "family man.")
I realized later that there's an even more upsetting, other side to that phenomenon: Abuse can be pretty bad for the careers of famous victims. Some famous victims have seen their career successes decline afterward—whether as a result of the abuse scandal itself or for murkier, more complicated reasons. Others, by contrast, have seen their careers barely affected.
Below are a just few notable instances of domestic abuse inflicted on high-profile entertainers. Sadly, these make up just a tiny portion of the domestic abuse cases that have occurred among prominent entertainers in the past.
---
RIHANNA
In February of 2009, singer Rihanna checked into the Cedars-Sinai hospital in Los Angeles after an altercation with her boyfriend, fellow singer Chris Brown. Brown was found guilty of felony assault and sentenced to five years of probation and more than 1,400 hours of community service.
Brown's songs were pulled from some radio stations; his endorsement deals with Wrigley and the Milk Mustache campaign were suspended; and a 2007 episode of Sesame Street featuring Brown was removed from all future syndicated airings. After Brown and Rihanna reconciled in the wake of the arrest, some speculation swirled that Rihanna could lose endorsement deals as questions about her credibility as a role model arose—and that her record sales could also take a hit. But Rihanna lost no endorsement deals, and when she released the "therapeutic" Rated R nine months later, it was hailed as one of the best pop records of the year. Her next four albums all peaked within the top five slots on the Billboard 200, and she's won five Grammys since.
Earlier this year, the news that she and Brown were collaborating—and, as of late, back together—sparked some disapproving media backlash. Record sales, however, have been unaffected: Unapologetic, released last month, currently sits atop the Billboard 200 albums chart.
---
DENISE RICHARDS
Actress Denise Richards, a onetime Bond girl who made a name for herself in the late 1990s and early 2000s with films like Drop Dead Gorgeous and Wild Things, divorced actor Charlie Sheen in 2006. Richards had already obtained a restraining order, claiming that Sheen had been abusive during their marriage—such as threatening to harm and even kill her, pushing her, and throwing chairs at her. Sheen called those allegations "a heinous document of fiction" intended to defame him.
Tabloids pounced soon afterward when Richards began dating Richie Sambora, the Bon Jovi drummer and the estranged husband (later ex-husband) of her friend Heather Locklear. Richards aimed to "set the record straight" by starring in a reality show called Denise Richards: It's Complicated, starting in 2008. Critics panned it, and the show was canceled after its second season. She then appeared on the eighth season of Dancing with the Stars and appeared on two seasons of Blue Mountain State before it, too, was canceled.
---
MADONNA
In 1987, Sean Penn was arrested for abusing his then-wife Madonna. According to news reports, Penn hit Madonna in the head with a baseball bat.
From what evidence exists today, it seems Penn's domestic-abuse arrest didn't cause much controversy in the press or among fans. The attack allegedly occurred on New Year's Eve, ringing in 1987; by February, Madonna had a No. 1 single on the Hot 100 chart with "Open Your Heart," and by July her Who's That Girl tour was setting new records for concert attendance.
---
CHUCK FINLEY
In 2002, Chuck Finley was a five-time MLB All-Star and, at the time, the only pitcher who had struck out four batters in a single inning more than once. (He did it three times in all.) His wife, actress Tawny Kitaen, was arrested in the spring of 2002 for domestic battery after she allegedly attacked Finley and beat him with a stiletto heel. Finley reportedly suffered abrasions and scrapes (and perhaps some bruised pride, commentators speculated), and sat out his next game with the Anaheim Angels.
Kitaen then accused Finley of domestic violence and drug abuse, and said she had witnessed him abusing drugs, including steroids. The two divorced soon afterward and Finley retired from baseball later in 2002.
---
ROBIN GIVENS
Head of the Class star Robin Givens was 24 when she and boxer Mike Tyson divorced in 1989. Givens had publicly admitted that she was afraid of her husband, then 22; Tyson's erratic moods reportedly resulted in furniture-throwing rampages, and he had chased Givens, her mother, and her mother's publicist through a hotel lobby in Russia on one occasion.
During and after their divorce, Givens briefly dated Brad Pitt—a detail that reemerged in the tabloids again this week.
In the months following, Givens was branded a "gold digger" after it surfaced that she and Tyson had not signed a pre-nuptial agreement; she was even called the Most Hated Woman in America. One disapproving female reader wrote to Ebony magazine, which had just featured Givens on its cover, calling out her "get all you can" attitude and emasculation and public humiliation of Mike Tyson.
Givens posed for Playboy in 1994. In the years afterward, she appeared in several made-for-TV movies, stage plays, and guest TV roles, briefly hosting the talk show Forgive or Forget before it was canceled and appearing on Broadway as Roxie Hart in Chicago for three months. In 2011, Givens starred in two direct-to-DVD features and appeared on three episodes of NBC's Chuck.
---
WHITNEY HOUSTON
Singer Whitney Houston was allegedly hit in the face by her husband, singer Bobby Brown, in 2003—an episode that resulted in a bruised cheek and a cut upper lip. Houston filed for divorce in September 2006.
The domestic-abuse ordeal and the divorce that followed were just two episodes in an especially turbulent period in the singer's career and personal life. Rumors of her drug use had been swirling since the late 1990s, and she reportedly spent time in rehab on more than one occasion. In 2005, she appeared on the Bravo reality show Being Bobby Brown alongside her husband; critics found it alarming and called the series a "freak parade."
Fans and the media continued to criticize her erratic behavior and stage performances until her death earlier this year. But when Houston returned to music with the 2009 album I Look to You, it debuted at No. 1 on the Billboard 200 chart and sold 304,000 copies in its first seven days.