The Wide Poverty Gap Between Women and Men
In 2008, women in the U.S. were more likely than men to be poor at every age.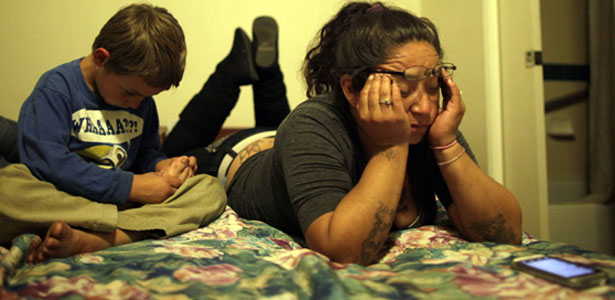 Reuters
When I was United States Ambassador to the Organisation for Economic Co-operation and Development, I asked for the highlights of their cross-country data on women's economic conditions. Inspired by that provocative data, the other members of the OECD and its Secretary General decided to launch a new gender initiative. Over the next few weeks, I'll be sharing data from the gender initiative and other related OECD reports.
---
Risk of relative poverty of men and women by age, OECD average, 2008
Poverty rate of the entire population = 100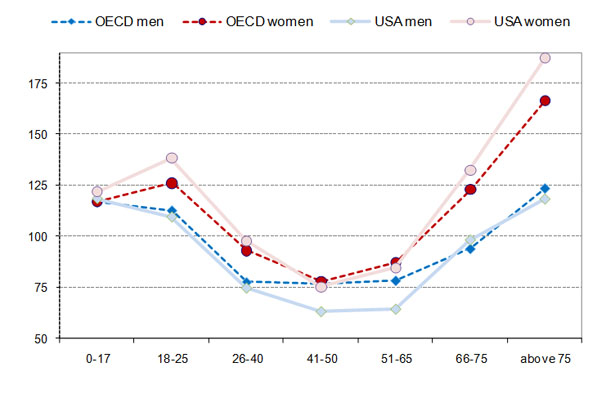 To the extent that "having it all" means women having the same economic security as men, this OECD chart on relative poverty shows it's still an elusive goal.
The data show that across the OECD's 34 developed nations, on average more women were poor than men at every age in 2008, with an even wider average gap in the U.S. The one exception to this trend was in the 41 to 50 age bracket—but that exception only existed for the OECD average. In the United States, the gap still existed for that age range.
The greatest gap was in the oldest age groups, especially in the U.S. This means that women born in the Depression are over 50 percent more likely to be in poverty than men of their same age. And even women in their early twenties face a greater risk of poverty than men.
The gap results from a host of factors including the fact that women earn less than men—resulting from fewer years in the workplace, industry and occupational segregation, wage discrimination, the glass ceiling, and the mommy track—as well as lower earned pensions and Social Security and longer lives.
What can be done to help close the poverty gap? Policies and practices (like paid sick days and increased access to health care) can help improve economic security for all women, including the most vulnerable.