Single People Should Get to Have Weddings, Too
Or some other kind of party that involves gifts, toasts, and lots of friends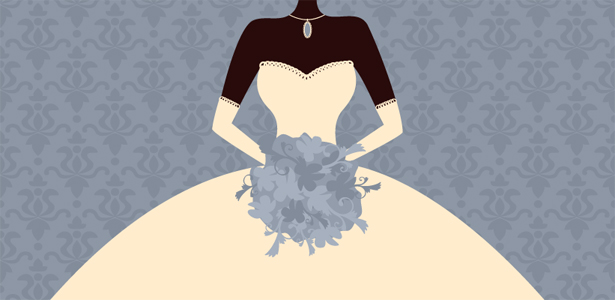 Back in 2003, Sex and the City identified a cruel reality about single life: There's no single-person's equivalent of a wedding—a time when people travel from afar to bring you gifts and toast your life decisions.
Carrie Bradshaw said, "If you are single after graduation, there isn't one occasion when people celebrate you" besides birthdays, which we all enjoy.
Despite a proliferation of single adults, little has changed since that episode aired nearly a decade ago: trips are not planned when we're promoted at work, nor crystal glassware gifted when we buy our first homes. It seems that milestone celebrations are still reserved for couples and families.
It shouldn't be that way, of course. NYU professor Eric Klinenberg wrote Going Solo: The Extraordinary Rise and Surprising Appeal of Living Alone to tell "the story of the biggest modern social change that we've yet to identify: the extraordinary rise of living alone." Marriage rates have reached a record low, and adults are generally marrying and having children later in life. As a result, single people can expect later (and fewer) unions. But societal traditions are lagging behind this shift.
In the 18th edition of her etiquette guide, Emily Post acknowledges that we're seeing "wide diversity in the family constellation" and touches upon the sensitivity of singlehood: "Some people still have trouble realizing that alone doesn't automatically mean lonely or searching for a mate." Post outlines protocols for occasions that celebrate single-parent families and same-sex couples but fails to include suggestions for people who are single and childless.
When will barometers of celebration reflect the growing number of singletons?
I decided to pose that question to Hallmark, which seems to have a greeting card for every imaginable occasion. Jaci Twidwell, Hallmark's publicity manager, told me, "We don't have any new greeting cards specific to milestones in a single adult's life. But we do have cards for occasions that might be celebrated with a little more energy by a single person who doesn't have things like wedding anniversaries to celebrate. New Home, New Job or New Aunt would be examples."
This answer hints at an underlying judgment: commemorations of the individual are placeholders for more significant achievements in life. Our worth, it seems, is still measured by the people we marry and the children we bear, despite the fact that an increasing number of adults choose to live alone.
Travel giants feature themed vacations, but few incorporate trips for the solo traveler. Expedia offers romantic, adventure, gay, and green vacations, so I asked whether the company planned to tack on trips for the solitary tourist. A rep from the company responded, "Expedia doesn't have any data or anecdotal information to share with regards to single/solo travelers."
Still, there are some signs of hope. Smaller companies and those offering customizable products are more adept at courting single clients. Abercrombie and Kent caters to solitary travelers with "Solo Vacations," sending guided groups of globetrotters all over the world. Other outfitters, like New York City-based Absolute Travel, believe that "exploring the world on your own brings freedom, reflection, and flexibility".
Some entities exclusively serve single travelers. Singles Travel International matches roommates and, when possible, persuades lodgings to waive single traveler supplements. For 20 years, its affiliate, A Single Gourmet, has provided independent foodies the chance to dine with new friends.
Several cookbooks, including The Pleasure of Cooking for One and Serve Yourself, cater to solitary chefs, and a growing number of grocery stores offer portions for one. The Onion spoofed lonely diners with "Stouffers to Include Suicide Prevention Tips on Single Serve Microwaveable Meals." Whether zapping a Lean Cuisine or chopping veggies, adult singletons will invariably note an uptick in television shows featuring single professionals (The Mindy Project and New Girl) and modern family units (Modern Family, The New Normal, and Ben & Kate). Self-help books and love coaches are becoming more popular, too, as I explored in my last piece for The Sexes, "What I Learned from Hiring a Love Coach."
While it's clear that some companies are capitalizing on increasingly single demographics, singletons wanting to feel celebrated will have to initiate festivities themselves. You might take your cues from Parks & Recreation's Tom Haverford—who hits the spa on "Treat Yourself" Day—though his fête doesn't revolve around specific life achievements.
What about borrowing from coming-of-age traditions? As children, we receive gold stars for good behavior in school and celebrate increasing maturity with bar and bat mitzvahs, debutante balls, and graduation parties.
When I approached 30 as a single woman, I decided to host a quinceañera-themed party in San Antonio, which I aptly titled "La Quinceañera Doble." My parents, not having subsidized a wedding, offered to cover some of the expenses, and friends flew in from around the country. Although I felt a tad silly for organizing a destination birthday, the upshot was that my parents and I covered nearly all of the costs (which were nominal compared to a wedding), and no one suffered the indignity of having to wear matching chiffon gowns.