Same-Sex Marriage Wins on the Ballot for the First Time in American History
Maine, Washington, and Maryland voted to legalize gay unions, while Minnesota struck down a measure that would have outlawed them.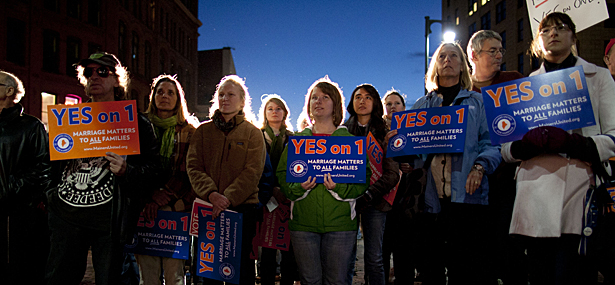 AP
It was a pretty good night for marriage equality.
In this year's general election, four states' ballots offered voters an opportunity to weigh in on marriage rights for same-sex couples. In three states, voters held the power to legalize same-sex marriage: Maryland voters chose between adopting or rejecting a new law permitting same-sex marriage, Maine voted on whether to overturn or ratify a 2009 measure that prohibited same-sex marriages, and Washington's vote was between endorsing or precluding a law similar to Maryland's that would make same-sex marriage legal and available. Minnesota, meanwhile, voted on whether to adopt a constitutional definition of marriage as a union between one man and one woman.
Last night's election marks the first time in American history that a measure to legalize gay marriage has been passed by a popular vote. Prior to the election, the states (and District of Columbia) where same-sex marriage was legal had been made so by the actions of lawmakers and courts; voters, in all 32 times that measures to enable same-sex marriage had been offered on a state ballot, had voted them down.
That streak is broken.
---
Maine Question 1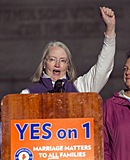 Ballot language: "Do you want to allow the State of Maine to issue marriage licenses to same-sex couples?"
How Maine voted:According to the Huffington Post's nifty interactive gay-marriage vote tracker, Maine voters reversed a 2009 referendum by a margin of 53 to 47 percent (with 75 percent of precincts reporting results).
What that means for same-sex couples in Maine: As The Atlantic Wire's Alexander Abad-Santos reports, 30 days from now, on Dec. 7, 2012, same-sex partners can start getting married in the state of Maine.
---
Maryland Question 6
Ballot language: "[The same-sex civil marriage referendum] establishes that Maryland's civil marriage laws allow gay and lesbian couples to obtain a civil marriage license, provided they are not otherwise prohibited from marrying; protects clergy from having to perform any particular marriage ceremony in violation of their religious beliefs; affirms that each religious faith has exclusive control over its own theological doctrine regarding who may marry within that faith; and provides that religious organizations and certain related entities are not required to provide goods, services, or benefits to an individual related to the celebration or promotion of marriage in violation of their religious beliefs."
How Maryland voted: According to Reuters, Maryland passed the measure 52 to 48 percent, with 93 percent of precincts reporting as of early Wednesday morning.
What that means for same-sex couples in Maryland: Maryland's new marriage equality will take effect on January 1.
---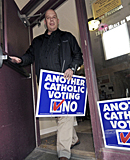 Minnesota Amendment 1
Ballot language: "Shall the Minnesota Constitution be amended to provide that only a union of one man and one woman shall be valid or recognized as a marriage in Minnesota?
How Minnesota voted: With 90 percent of the votes counted, Minnesota voted against the Constitutional amendment to ban same-sex marriage. But only by the slimmest of margins, with a 51-percent majority.
What that means for same-sex couples in Minnesota: Same-sex marriage isn't banned or outlawed in Minnesota, but it's still impossible for a same-sex couple to attain a marriage license. According to the Duluth News Tribune, "A state law remains on the books banning gay marriage, and it would take an act of the Legislature or the courts to change that."
---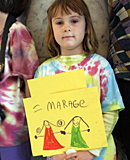 Washington Referendum 74
Ballot language: "The legislature passed Engrossed Substitute Senate Bill 6239 concerning marriage for same-sex couples, modified domestic-partnership law, and religious freedom, and voters have filed a sufficient referendum petition on this bill.
"This bill would allow same-sex couples to marry, preserve domestic partnerships only for seniors, and preserve the right of clergy or religious organizations to refuse to perform, recognize, or accommodate any marriage ceremony."
How Washington voted:As of the early-morning hours on Wednesday, Washington's voters were leaning toward legalizing gay marriage by a margin of 52 to 48, with 61 percent of polls reporting results, according to Reuters.
What that means for same-sex couples in Washington state: Dec. 6, 2012, is about to become a popular wedding anniversary in Washington: A month from election day, same-sex couples will be able to marry there.
---
Meanwhile, LGBT-equality victories abounded elsewhere, too. Spain's highest court voted to uphold the legality of same-sex marriages nationwide, and Rep. Tammy Baldwin (D-Wis.) became the first openly gay senator in United States history.