More Women in Foreign Policy Could Change the World
Women add a crucial diversity of perspective on tricky strategy problems.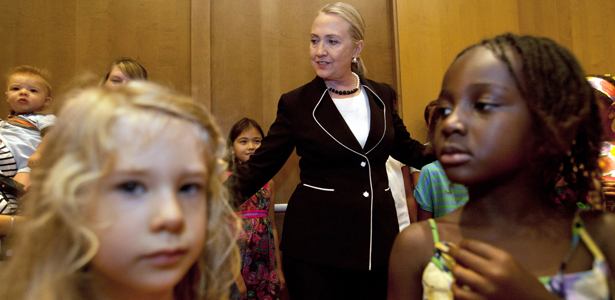 Jacquelyn Martin/Reuters
Many people have asked me over the past six months if I see a link between my views on the importance of women in leadership roles and my views on foreign policy. I have tried to answer that question in a short piece called "Why Family Is a Foreign Policy Issue," published in the Global Thinkers Issue of Foreign Policy. Here's an excerpt:
The connection is there, and it's a very important one: If more women could juggle work and family successfully enough to allow them to remain on high-powered foreign-policy career tracks, more women would be available for top foreign-policy jobs. And that would change the world far more than you think, from giving peace talks a better chance to making us better able to mobilize international coalitions to reordering what issues governments even choose to work on.

My decision to talk in such specific gender terms is still deeply uncomfortable for many. Foreign policy is a very male world. The women who have made it are a small and close club, all committed to advancing the careers of younger women and worried that even engaging in this conversation could make it harder to break those glass ceilings. Some argue that as long as some women can juggle high-powered careers and kids at the same time, others should just follow their example and get on with the work. Others argue that my analysis shouldn't be so globalized because it is based on my own unique situation, suggesting that I should have moved my family to Washington.

Perhaps. But the larger issue is not about me. It's about the numbers.