Did Inflammatory Remarks About Rape and Abortion Doom GOP Candidates?
Candidates who sparked controversy during campaign season didn't fare so well in this election.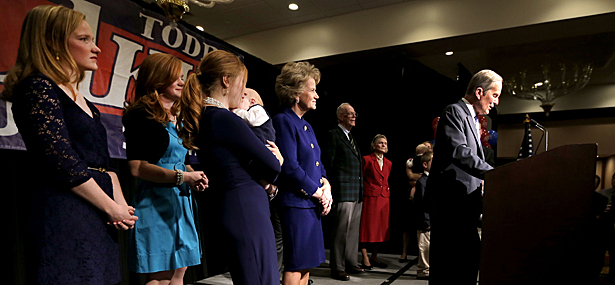 AP Images
The campaign season of 2012 was littered with gaffes by politicians. A number of pro-life candidates made some very public, roundly rebuked remarks about rape and a woman's right to abortion—and drew the ire of voters of both genders and on both sides of the political spectrum. And while at first it seemed that some of these candidates would be able to survive their unpopular remarks, now that the results are in, it's clear that nearly all of them did not.
---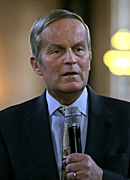 Todd Akin (Republican; U.S. Representative for Missouri's 2nd congressional district, running for U.S. Senate seat)
The remark:
"If it's a legitimate rape, the female body has ways to try to shut that whole thing down."
The result: A month after his infamous rape comment, Akin was still leading some polls by as much as five points. Last night, though, he lost the Senate race to Democratic incumbent Claire McCaskill. McCaskill led Akin 55 percent to 39 percent.
---
Richard Mourdock (Republican; Indiana State Treasurer, running for U.S. Senate seat)
The remark:
"I believe that life begins at conception. The only exception I have to have an abortion is in that case of the life of the mother. I just struggled with it myself for a long time, but I came to realize life is that gift from God—that I think even if life begins in that horrible situation of rape, that it is something that God intended to happen."
The result: With 70 percent of precincts reporting, ABC News called the race for conservative Democrat Joe Donnelly, the congressman from Indiana's District 2.
---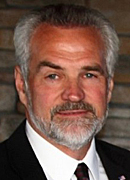 Roger Rivard (Republican; Wisconsin State Assembly—District 75, running for re-election)
The remark: Rivard maintained that the Milwaukee Journal Sentinel had taken his quotes out of context when he said, "Some girls rape easy." His full explanation, offered later on:
"He also told me one thing, 'If you do (have premarital sex), just remember, consensual sex can turn into rape in an awful hurry,'" Rivard said. "Because all of a sudden a young lady gets pregnant and the parents are madder than a wet hen and she's not going to say, 'Oh, yeah, I was part of the program.' All that she has to say or the parents have to say is it was rape because she's underage. And he just said, 'Remember, Roger, if you go down that road, some girls,' he said, 'they rape so easy.' "What the whole genesis of it was, it was advice to me, telling me, 'If you're going to go down that road, you may have consensual sex that night and then the next morning it may be rape.' So the way he said it was, 'Just remember, Roger, some girls, they rape so easy. It may be rape the next morning.'"
The result: It's close: According to a Leader-Telegram article updated near midnight, Rivard trailed Smith 12,832 votes to 12,921 with 96 percent of the precincts reporting.
---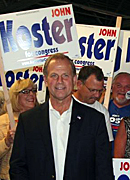 John Koster (Republican; Snohomish County councilman, running for U.S. House of Representatives seat from Washington—District 1)
The remark:
"Incest is so rare, I mean it's so rare. But the rape thing, you know, I know a woman who was raped and kept the child, gave it up for adoption and doesn't regret it. In fact, she's a big pro-life proponent. But, on the rape thing it's like, how does putting more violence onto a woman's body and taking the life of an innocent child that's a consequence of this crime, how does that make it better?"
The result: Democrat Suzan DelBene enjoyed an "unexpectedly decisive win," according to the Seattle Times, with 54 percent of the vote on her side.