A lot of women and men are dissatisfied with hook-up culture. Here's a way to encourage an alternative.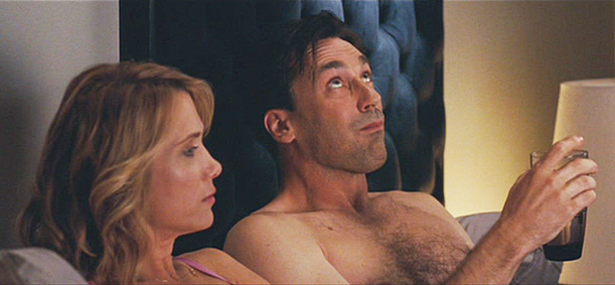 Universal Pictures
In the spring of 2008, when I was a junior in college, I was sitting in the student center, waiting to meet up with a friend—let's call her Nicole—for coffee. Nicole was a freshman girl who had graduated from an elite northeastern high school at the top of her class. She came to school hoping to study economics. In the nine months that had passed since she first stepped foot on campus, she had become a different person. She talked less. She stopped exercising. And she started walking around with her eyes to the ground. The lively girl I had known in the fall, who reminded me of so many freshman girls I had met as editor of a campus publication and vice president of my sorority, had recently been placed on suicide watch by the university health clinic.
What had happened?
Not long after she arrived on campus in September, Nicole had started hooking up with a guy who belonged to one of the more popular fraternities on campus. As she explained to me over coffee that day, one night in the fall, she got drunk and ended up having sex with this guy in his dingy frat room, which was littered with empty cans of Keystone Light and pizza boxes. She woke up the next morning to find a used condom tangled up in the sheets. She couldn't remember exactly what had happened that night, but she put the pieces together. She smiled, looked at the frat brother, and lay back down. Eventually, she put her clothes on and walked back to her dorm. Mission accomplished: She was no longer a virgin.
This was a routine she repeated for months. Every weekend night, and on some weekday nights, she would drink so heavily that she could remember only patches of what happened the night before and then would have sex with the same fraternity brother. One night, she was talking with someone else at the frat when the brother interrupted her and led her upstairs to have sex. On another occasion, they had sex at the frat, but Nicole was too drunk to find her clothes afterward, so she started walking around the house naked, to the amusement of all of the other brothers. She was too drunk to care. Eventually, everything went dark. Next weekend, she returned to the frat.
On that spring day, as Nicole told me these stories, she didn't make eye contact with me.
When I asked Nicole if she was still hooking up with the same frat boy, she shook her head. She explained that the entire time she was having sex with him he never once spoke to her or acknowledged her outside of his fraternity's basement. Not in the library, not in the dining hall, not at the bookstore.
"One time, I waved at him in front of the food court and said hi, but he just ignored me."
"Was he with anyone?" I asked—as though that would make a difference.
"A bunch of his friends."
I later told Nicole's story to a close guy friend. "What a jerk, right?" My friend, also a frat brother, objected: "After the first time, it starts becoming the girl's fault, too." Nicole and the frat brother were just hooking up, after all—what didn't I get?
***
In her Atlantic article "Boys on the Side" (September 2012), Hanna Rosin argues that the social progress of women depends on the hook-up culture. Women in their 20s and 30s are, for the first time, more successful than their male peers. These alpha females not only outnumber men on college campuses, they have also overtaken men as the majority of the work force. This would not have been possible without sexual liberation, which has let women delay marriage and child-rearing to pursue their educational and career ambitions without worrying about the emotional burdens of a relationship. Women are better off in part because of the hook-up culture, the argument goes.
But are they really?
On most college campuses, the hook-up culture is the norm; there is little to no dating. Various academic studies have found that anywhere between 65 to 75 percent of undergraduates nationwide have participated in the hook-up culture. Part of the reason the culture is so widespread is, as Rosin correctly notes, because women are choosing to have casual sex. But in another respect, they don't have a choice. Women make the hook-up culture possible, but men are the beneficiaries of it.
The balance of power in the hook-up culture lies with the men, an issue that has become more pronounced as women outnumber men on campuses, creating a surplus of girls and a scarcity of guys. According to a 2010 report by the American Council on Education, 57 percent of all undergraduates are female. Robert Epstein, a professor of psychology at Harvard and an expert in relationships, said in an interview with me that the more women there are on campus, the more prevalent the hook-up culture is: "You have a situation in which relationships are bound to fail and men keep switching off from one woman to the next," he told me. What motivation do men have to ask women out on a date when sex is so widely and easily available?
The feminist sociologist Lisa Wade, based at Occidental College, who did a qualitative study of 44 of her freshman students (33 of them women), found that most of them were "overwhelmingly disappointed with the sex they were having in hook ups. This was true of both men and women, but was felt more intensely by women." College women today, as Wade points out, feel "disempowered instead of empowered by sexual encounters. They didn't feel like equals on the sexual playground, more like jungle gyms." According to a 2010 study by Carolyn Bradshaw of James Madison University, only 2 percent of women strongly prefer the hook-up culture to a dating culture.
Miriam Grossman, author of the 2006 book Unprotected, reports that women long for emotional involvement with their partner twice as often as men following a hook up; 91 percent of women experience regret; 80 percent of women wish the hook-up hadn't happened; and 34 percent of women hope the hook-up develops into a relationship. NYU sociologist Paula England, whom Rosin cites, says that 66 percent of women and 58 percent of men want their hook up to develop into "something more."
When it doesn't, problems arise. A 2010 psychology study out of Florida State University found that students who have casual sex experience more physical and mental health problems, defined as eating disorders, alcohol use, stress, depression, suicidal feelings, than those who are in committed long-term relationships. Put bluntly, the ethos of the culture is: "Hook up now; get therapy later," as one of my fellow students, writing in the campus newspaper her sophomore year, declared.
Rosin admits that the hook-up culture is not satisfying to all college women, who eventually want relationships, not just a string of meaningless sexual encounters. But overturning the hook-up culture comes at too great a price, says Rosin: "The hookup culture is too bound up with everything that's fabulous about being a young woman in 2012—the freedom, the confidence, the knowledge that you can always depend on yourself."
As a young woman in 2012—and as a feminist—I think that the hook-up culture has the opposite effect as that described by Rosin. Sexual liberation may be indispensable to female progress, but the hook-up culture is not empowering for all women. This isn't to say that early marriage or abstinence is the solution. But these are not the only alternatives to the hook-up culture, either. There is a middle way: meaningful sex in the context of a non-marital relationship.
In other words, the solution is a dating culture, which still allows women to delay marriage and pursue their careers, and also lets them have those intimate relationships with men that they don't want to delay. "I've tired of hookup culture's dictatorial reign over modern courtship. It doesn't feel so free when it doesn't feel like an intentional choice," writes Tracy Clark-Flory in Salon. Clark-Flory, who spent her 20s hooking up, has discovered that courtship is not such a bad deal: "I'm a feminist, but I really like flowers. Next time, I'm getting him some," she says, referring to a guy who asked her out on a date and brought her a bouquet. While Clark-Flory is not interested in getting rid of the hook-up culture, she wishes that traditional courtship were more of an option for young women and men. As she writes, "I'm an outspoken defender of casual sexual culture, but there are times—like when encountering more traditional courtship—that it seems less about a pursuit of pleasure than an avoidance of actual intimacy."
The problem today is that it's not clear how to get a dating culture now that the hook-up culture is the entrenched norm. Should women ask the guys they like out on dates? Should they wait for men to ask them out?
***
Curious about how campus authorities view the hook-up culture, I spoke to a woman who works at the Center for Women and Gender at Dartmouth (where I went to college) and acts as an advisor to female students. Her official line is that the point of hooking up is "for both people to get something out of it. If it's to get off, then that's great. . . . If it's to work some issue out—like sexual assault—then that's great. It's basically to get pleasure and enjoyment out of it . . . the hook-up culture is good for experimentation, and what someone does for experimentation is up to them."
I ask her, "What role does love play?"
She said, "I don't think [love is] necessary. Yeah, you know—it's nice. But if you're talking about sex and the hook-up culture, it's not needed. The point of the hook-up culture is not to get attached—no strings attached."
"Is that possible?"
"I know people who think it is. My personal experience—no." Then she added apologetically, "but I might be different. The point of sex is to get something out of it. For me, hooking up was not the best way to do it, if you're asking me personally." She added: "When I have that kind of a bond with somebody, I'm not capable of not thinking 'I don't want him to be with somebody else.'"
She concluded on a different note: "Women need to take some responsibility—they're allowing themselves to be used. It can lead to sexual assault."
Hooking up, in fact, shares the defining feature of a sexual assault: using another person for your own sexual gratification, without any regard as to what that person wants or how he or she feels. The philosopher Immanuel Kant—who warns against using another person as a mere means to some end—was closer to the truth than many of today's sexual health experts when he wrote that sex "taken by itself ... is a degradation of human nature."
While sex necessarily involves another person, in the hook-up culture, it is predicated on the disregard of another person. "If all you are is your sexual nature," a male student tells me, "you're not a human anymore. You have no dignity." If you only think of your hook-up buddy as a sexual object, then you have deprived that person of dignity, too.
***
Is it possible to move beyond the hook-up culture? Not back to 1950s-style courtship, parietal rules, and early marriage—but forward, to sex founded on friendship, dating, and relationships?
Most of the women I spoke to have resigned themselves to the fact that the hook-up culture is here to stay. They don't see the social and cultural landscape of college campuses changing anytime soon.
One friend tells me that the girls on campus would prefer a culture of dating to one of hooking up, but they would never admit it or ask for it. If girls demanded dating before hooking up, guys would be unmoved, she explained. "There are always going to be other girls for them to hook up with so we'll just get left behind."
These women are looking at the problem the wrong way, I think. They need to realize that, in spite of campus sex ratios and prevailing cultural trends, they hold the power when it comes to the hook up culture. They hold the power when it comes to sex.
This was the insight of Lysistrata, the shrewd heroine of Aristophanes' marvelous play by the same name. Lysistrata was able to diagnose a problem in her society and to take actions and overcome obstacles to solve it.
In the heat of the Peloponnesian War, Lysistrata gathered the women of various Greek city-states at a meeting and proposed that they withhold sex from their husbands until these men end the war. The women, though reluctant at first, agree. Throughout the play, though they desire sex just like the men do, they resist the temptation to break their oath with Lysistrata. The Athenian and Spartan men eventually become so desperate for sex that they begin peace talks. The women's strategy works.
Lysistrata, a tough and independent woman, understood how the sexual marketplace works, and harnessed that knowledge to get what she wanted. Many men want sex with women. As Lysistrata knew, women have the power to say yes—or no (assuming men respect their wishes, of course. There are far too many examples of times men disregard women's "no"s). They set and execute the terms to which the men surrender.
Today's American women have reached a stage where they can be sexually free, and also selective and strategic in how they deploy their sexuality. But many of them are missing this critical second piece.
If women refused to spend time with men who disrespect women, if they refused to hook up with guys who don't acknowledge them the next day—then they could begin to resurrect a culture where dating and romance, not casual sex, are the norm.
The question is, will they?
---
Editor's note: Two Dartmouth administrators have responded to this story here.