What does it mean for working fathers?
AP Images
I had dinner recently with a group of Princeton undergraduates. The student who introduced me announced that I would be prepared to talk about anything that was on their minds: the presidential debates, foreign policy, work and family. A number of students asked foreign policy questions, and then a young woman asked me about the responses I have received to my Atlantic cover story from this past summer, "Why Women Still Can't Have It All." I answered, and several other young women followed up. After ten minutes or so, I saw that the roughly 50 percent guys in the room had gone completely silent. When I commented on the suddenly one-sided nature of the conversation, one young man volunteered that he "had been raised in a strong feminist household" and considered himself to be fully supportive of male-female equality, but he was reluctant to say anything for fear he would be misunderstood. A number of the other guys around the table nodded in agreement.
Related Story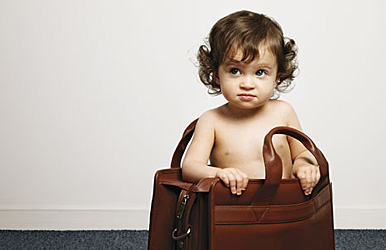 That male silence is widespread, at least in public. Roughly 15 to 20 percent of the responses to my article that I have personally received have been from men. Many are from fathers who are very unhappy with the choices their daughters face. Others are from young men who want to be able to spend more time with their children and be fully equal parenting partners with their working wives but feel they don't have those options either. Indeed, a number of men have written to bemoan the strong gender stereotyping that they encounter, whereby a guy who wants to take paternity leave, flex-time, defer a promotion because the job up has too much travel, or simply needs to leave at 6 every night to pick up his kid from daycare, is regarded as insufficiently committed to his work or else just "not one of the guys." As Joan Williams and I wrote in a Labor Day op-ed for the San Francisco Chronicle, men are beginning to sue over this type of gender discrimination. Another man, a former member of the Special Forces, wrote me asking if my husband would write about his experience over the course of our marriage, to "prove that he is both a caregiver and an alpha male." I am more convinced than ever that the only way to make the kind of change we need to allow workers to build, provide, and care for strong families is to change conditions and cultural mores for men as well as women. But men have to join the conversation—publicly, candidly, and loudly.
A few men have ventured forth to have their say; their contributions have been illuminating. Just last week Ken Gordon wrote a great piece asking why he is not identified as a "working dad," even though he works from 5 a.m. until 10 p.m. juggling the responsibilities of parenthood and work in the same way his wife does. He sees the label "working mom" and he says, rightly, that working dads deserve the same recognition. I found his position fascinating because I have been mulling from a different perspective why we don't talk about "working fathers" the way we talk about "working mothers." As I see it, we need the adjective "working" when we talk about mothers because our deep assumption is still that "mothers" are in the home. If they are not in the home we need a special adjective to make that clear. Conversely, as Gordon recognizes, "fathers" are by definition in the workplace, so adding "working" would be superfluous.