Women's Economic Dominance: Is It Really Inevitable?
Predominantly female occupations are projected to grow in the coming years—but the expansion won't create all that many jobs.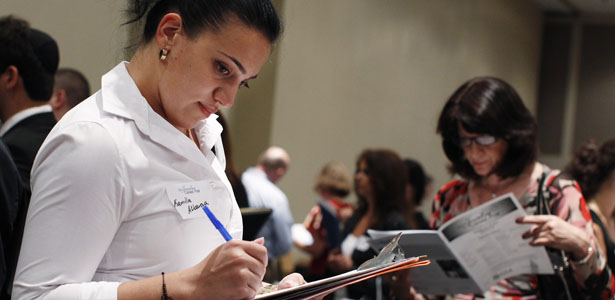 Reuters
Both Liza Mundy (The Richer Sex) and Hanna Rosin (The End of Men) argue that the transition to a postindustrial, service- and knowledge-based economy—in conjunction with declining gender discrimination—are leading inevitably to women's economic dominance. I have critiqued those stories in a series of posts on my site Family Inequality.
But there is one piece of Mundy and Rosin's argument I haven't questioned until now. It is so intuitively appealing that I assumed it was true: The demands of the economy are shifting dramatically in women's favor. Brains have superseded brawn and social skills have become increasingly important, they both claim (and I accepted without thinking much about it) which all favors women over men.
Mundy and Rosin make frequent references to a set of projections from the Bureau of Labor Statistics (BLS), showing that the occupations with the largest expected growth are dominated by women rather than men. But that description is, it turns out, misleading.
Occupations Projected
First, here is how Mundy and Rosin use the BLS numbers. Mundy writes:
Projections made by the U.S. Bureau of Labor Statistics show that women's occupations will be favored in the next decade. ... All in all, of the ten jobs with the largest projected job growth—nurses, home health aides, customer service reps, food preparation and serving workers, home care aides, retail sales, office clerks, accountants and auditors, nursing units, and postsecondary teachers—nine are majority female.
Rosin uses similar statistics, which have been repeated in reviews like this one in the Chicago Tribune, this one in the Globe and Mail, and blogs like this one at the World Bank. She writes (in a passage approvingly quoted by David Brooks):
The recession merely revealed—and accelerated—a profound economic shift that has been going on for at least 30 years, and in some respects even longer.... Of the fifteen job categories projected to grow the most in the United States over the next decade, twelve are occupied primarily by women.
Okay, here's the first moment I should have paused. Women are almost half the labor force. So if occupations are "majority female" or "dominated" by women, how different are they from average? Does this really mean the occupational structure really strongly shifting in women's favor?
The BLS projections are detailed here. They include hundreds of occupations, but they also summarize this pattern for 22 "major occupation groups," which range in size from 1 million to 23 million workers. I added in the gender composition of each group to show the relationship between gender composition and projected growth.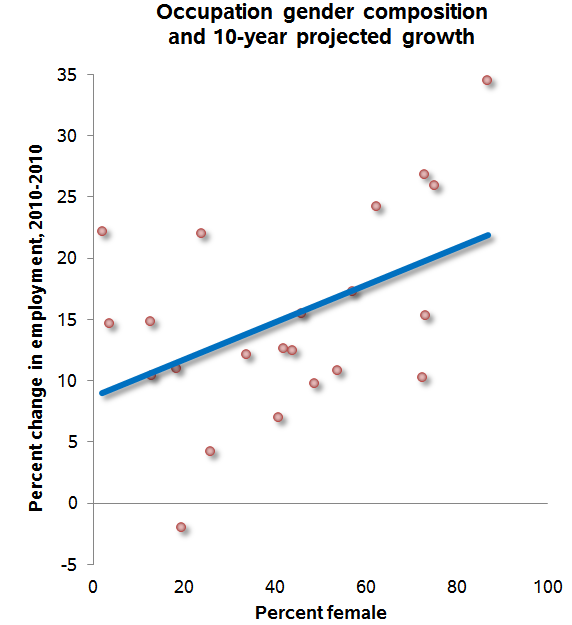 As you can see, the female-dominated occupations are projected to grow fastest. For dramatic effect, one might point to the top-right point: healthcare support occupations are 87 percent female and projected to grow 35 percent over the decade. On the other hand there are production occupations: 26 percent female and aiming for a paltry four percent growth. But that would be cherry-picking examples. What the sophisticated reader really wants to know is the overall relationship between gender and job growth. And that is not what it appears.
Here is the same graph, but with the occupation groups shown in proportion to thethe number of workers they represent, and the trendline redrawn to reflect their disparate weights.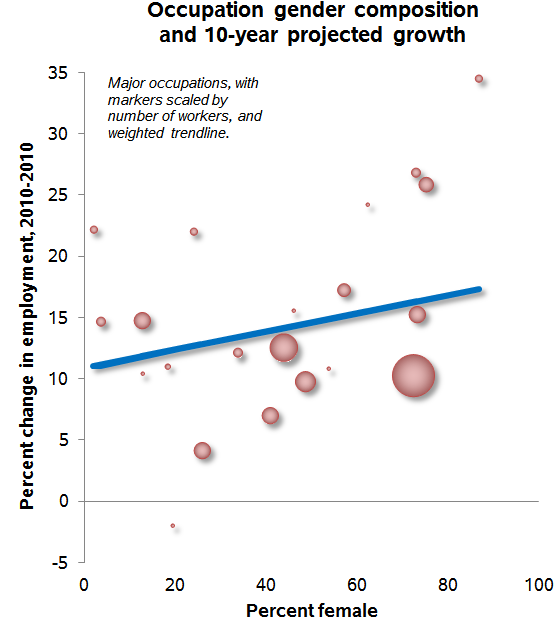 Now the picture is much different. That giant dot on the lower right is 23 million office and administrative support workers—72 percent female and growing slowly. And near the middle are three large occupation groups that are 40 to 50 percent female, also growing slowly (sales, food preparation and serving, and management). The gender action is all in the occupations that employ a smaller number of people. The big story about growth and gender composition of major occupation groups is not true. (In technical terms, the slope of that line in the first figure is reduced by half when we account for the size of the dots. And in fact the slope would be cut in half again if we just dropped the healthcare support occupations point, which exerts outsized influence as an outlier.)
So how do Mundy and Rosin come up with the lists of occupations projected to grow the most? The top 10 growing occupations (at the detailed level) are mostly female-dominated. But those occupations made up just 15 percent of the workforce in 2010, and are projected to make up only 17 percent by 2020. The top 15 are projected to increase from 22 percent to just 23 percent of the workforce. The growth in these jobs just doesn't represent that much of a change for the entire economy.
If occupations aren't really shifting in women's directions anymore, we shouldn't be surprised. In 2001, analyzing occupational trends of the 20th century, David Cotter, Joan Hermsen and Reeve Vanneman concluded:
Change in the occupational structure is not responsible for the continued growth in women's labor force participation after 1970. That is, it is not the growth of traditionally female occupations that is driving the continuing growth in women's labor force participation rates in the 1970s and 1980s.
Rather, it was—and still is—the growth of integrated middle-class occupations, and women moving into new occupations, that provide the impetus for women's increased labor force share. Hard as it is to believe, the overall shift toward traditionally female-typed occupations largely ended by the 1970s. Yes, there are more nurses and home health aides today than there were then, but there are also fewer maids and domestic servants. And although blue-collar manufacturing jobs have continued to decline, truck-driving and construction have not. (I extended their trend through 2010 to check whether this is still true. Women's share of the labor force would have increased from 38 percent in 1970 only to 41 percent in 2010 based on occupational shifts alone, if the gender composition of each occupation hadn't changed. That means about 70 percent of the increase in women's share of the labor force came from occupations becoming more integrated instead of occupations growing and shrinking.)
Industrial Strength
In other places in her book, Rosin presses the ongoing structural change in the economy in terms of industries (what firms make) instead of occupations (what workers do). Here she is on slightly firmer ground. She writes:
Since 2000, the manufacturing economy has lost almost 6 million jobs... During the same period, meanwhile, health and education have added about the same number of jobs. But those sectors continue to be heavily dominated by women, while the men concentrate themselves more than ever in industries—construction, transportation, and utilities—that are fading away.
In one respect here, Rosin is exaggerating: She is referring to 4.5 million as "about the same number" as 5.7 million. And construction, transportation, and utilities, rather than "fading away," in fact are together projected to produce 2.7 million new jobs from 2010 to 2020, a 26 percent increase.
But she nevertheless makes a true and important point: Those masculinist industries are growing slower than education and health services, which are projected to add 6.5 jobs, a 33 percent increase. During the next decade, BLS projects education and health will grow from 15 percent to 17 percent of the workforce. But outside of that group, there is no relationship between gender and projected growth. Here is the chart: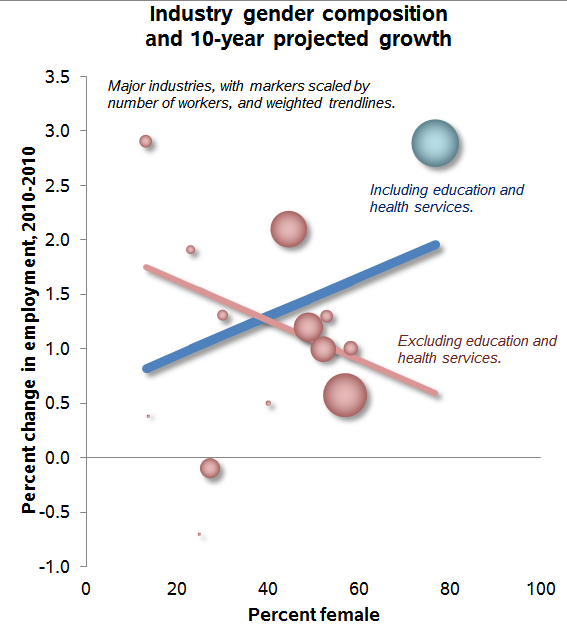 The blue line shows the relationship with education and health services included—big dots out on the edges have a huge influence on the trend. If you exclude that you get the pink line. Manufacturing is shrinking, but it's already only nine percent of workers, and shrinking to eight percent by 2020. Most of the employment growth is in the integrated industries: retail trade, professional and business services, leisure and hospitality, and government—which affect men's and women's employment. Health and education growth are a big part of our expected future, but they're not the whole economy.
Conclusion
Overall, you might be surprised to learn—I know I was—that women are projected to increase their share of the labor force from 46.7 percent in 2010 only to 47.0 percent in 2020. That's it: less than one percent. How can that be? So many people are so attached to this narrative of women's rapid advance that they haven't noticed there has been no advance in the last 17 years: Women have occupied between 46 percent and 47 percent of the labor force every year between 1994 and 2011.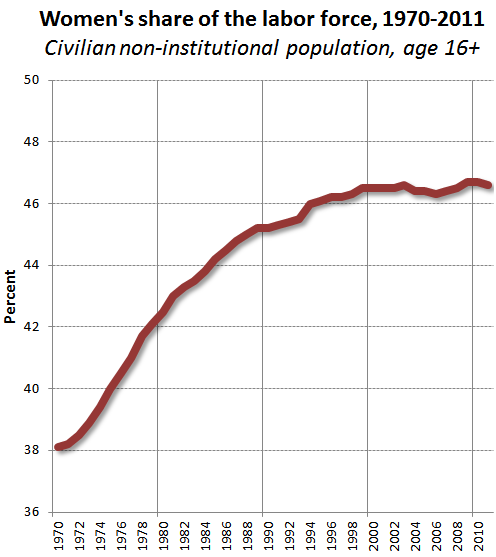 This stagnation itself complicates a big part of Rosin's and Mundy's narratives. The continuous—and fast—pace of change is why they argue that we are heading not just toward equality but beyond it, to female domination. As Rosin writes:
Yes, the United States and many other countries still have a gender wage gap. Yes, women still do most of the childcare. And yes, the upper reaches of power are still dominated by men. But given the sheer velocity of the economic and other forces at work, these circumstances are much more likely the last artifacts of a vanishing age rather than a permanent figuration.
And, after several paragraphs of statistics comparing the present mostly to the 1950s, 1960s and 1970s, Mundy concludes: "Given these trends, it is only a matter of time before a majority of working wives outearn their husbands."
But the reality is that it is not only a matter of time. The ostensibly gender-neutral processes of economic transformation are not the source of women's progress they once were. And that's the real danger in their stories: creating the impression that women's progress is inevitable and unstoppable.