Net-Zero Homes Aren't Just for Millionaires
A Colorado initiative is betting that the cheapest housing will also be the greenest.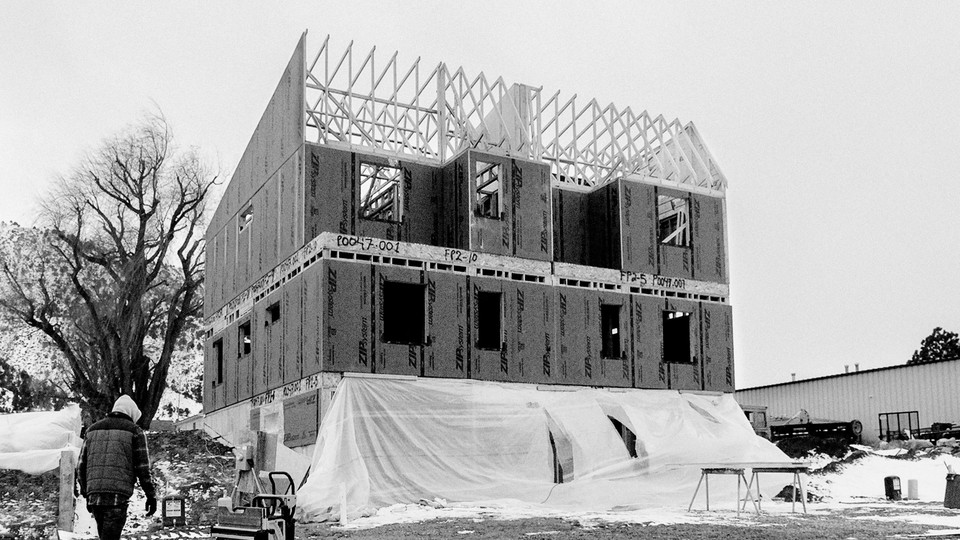 This article was originally published by High Country News.
Fourteen-year-old Callie Lawson is living with a broken bedroom door perpetually ajar, leaking privacy. A teenager's nightmare. That's just one of the many repairs needed for her family's aging mobile home—repairs that most craftsmen, unaccustomed to working on factory-built structures, either don't know how to fix or are unwilling to tackle. Jeff, Callie's father, is losing patience, too, with the rent hikes on the trailer lot and the leaky roof he can't afford to mend. Meanwhile, Callie's mother, Kim, yearns for the sort of home that's been out of reach since she was a child: "I'm 52, and I've never lived in a stick-frame house."
The housing crisis in western Colorado's greater Roaring Fork Valley, where the Lawsons live, is like a stubborn virus that gets worse with each passing year. The region is bookended on one side by the relatively affordable "down-valley" cities of Glenwood Springs and Rifle, and on the other end by Aspen, where the median home value is roughly $3 million. Even the average down-valley home is now fetching more than half a million dollars.
But now Roaring Fork residents—including the Lawsons—are getting some relief. The local branch of Habitat for Humanity is constructing Wapiti Commons, a 20-unit development slated for completion next summer. The project boasts units that are not only affordable but also net-zero: The development will produce as much energy with its solar panels as its efficient appliances consume, which will make utility bills cheaper. This is no custom-built one-off; it's part of Habitat's plan to show that sustainability can be standard, not just a luxury add-on. Habitat sees Wapiti and its sister site, Basalt Vista, as templates of what's to come. The first homes will be finished this spring.
The West's resort and public-lands gateway communities have long struggled with housing shortages. The scarcity intensified—and spread to once-affordable areas—during the pandemic. Brian Rossbert is an executive director for Housing Colorado, a nonprofit policy group. Rossbert, who grew up near a ski resort, observed firsthand how the crisis became amplified in the mountains. "People are getting pushed further and further from their place of work, while a lot of the housing stock is taken up by second-home owners and short-term rentals," he explains. The space available for building is also limited in the thin, ribbonlike tracts between the mountain ranges.
The strain is felt across industries and demographics. Service workers struggle to make ends meet in the Roaring Fork Valley, and schools are hard-pressed to retain staff. Only 8 percent of area seniors said they could find quality affordable housing, according to a 2018 survey. Wapiti, which will include eight dedicated units for older residents in Rifle starting at $185,000, was conceived with those local tensions in mind. Jeff Lawson's daily 20-minute commute to his job as a child-welfare manager in Rifle, for example, will shrink to biking distance. But housing security is the development's key selling point. Prioritizing ownership is important, says Gail Schwartz, Habitat's Roaring Fork president: "To keep people you want to stay in your community, long-term housing is critical for what it does emotionally."
Making that vision a reality wasn't easy. The first step involved partnering with the local government. For instance, in exchange for city land and $100,000 in waived permitting fees, Rifle received a dedicated unit for one of its employees. These deals offset part of, but not all of, what Schwartz calls the "gap"—the $125,000-a-unit shortfall that stems from selling units far below market rate. The rest came from state and federal grants, corporate donations, and other partnerships underwriting the initial research and development for Habitat's net-zero designs.
All of this has produced a working model for Habitat's future developments. However, the best place to see the fruits of this labor—Habitat's investment in technology, the interminable grant writing—will be in the wallets of Wapiti's eventual residents. A unit's average monthly energy bill is anticipated to run about $14 a month, thanks to the energy-saving design.
Whether solutions put a dent in the Mountain West's housing crisis or simply chip at its edges will largely hinge on the region's ability to scale interventions to the scope of the problem. Only one state in the Mountain West is supplying more than 50 units of affordable housing for every 100 residents in need, according to a 2022 report by the National Low Income Housing Coalition; Colorado supplies 29 units for every 100, and it is far from the worst.
Schwartz believes that a lasting solution requires more than singular housing developments, which can often take years to realize. The Roaring Fork chapter is betting on mass production: specifically, a modular-home factory in Rifle to produce 200 net-zero houses a year made from recycled steel that is rolled into sheets and punched into ready-made components, which are then "assembled like an Erector Set," Schwartz says. Habitat is currently raising funds for a venture that would occupy a reclaimed uranium mill, pending surveys on the site's safety.
Colorado's affordable-housing deficit now exceeds 225,000 units, according to Rossbert, and despite the best efforts of nonprofit developers such as Habitat, it continues to grow. That may change with the passage of a ballot measure last November that will dedicate 0.1 percent of annual income-tax revenue—by one estimate $300 million a year— to affordable-housing construction, along with a raft of other measures, including accelerated permitting and down-payment assistance. "This legislation is monumental," Rossbert says. "We're talking about moving from being able to produce thousands of units to tens of thousands of units a year." Schwartz hopes other developers will follow Habitat's lead. "They will have funds that can support communities to do more projects like Wapiti," she says.
The Lawsons, however, won't have to wait that long, just until this fall. "I'll have a home for my family, for Kim, for my kids," Jeff Lawson says. "I'm looking forward to that."