3 Different Futures for the Johnson & Johnson Vaccine
A pause is just that—a pause—in which health officials can reevaluate the data at hand.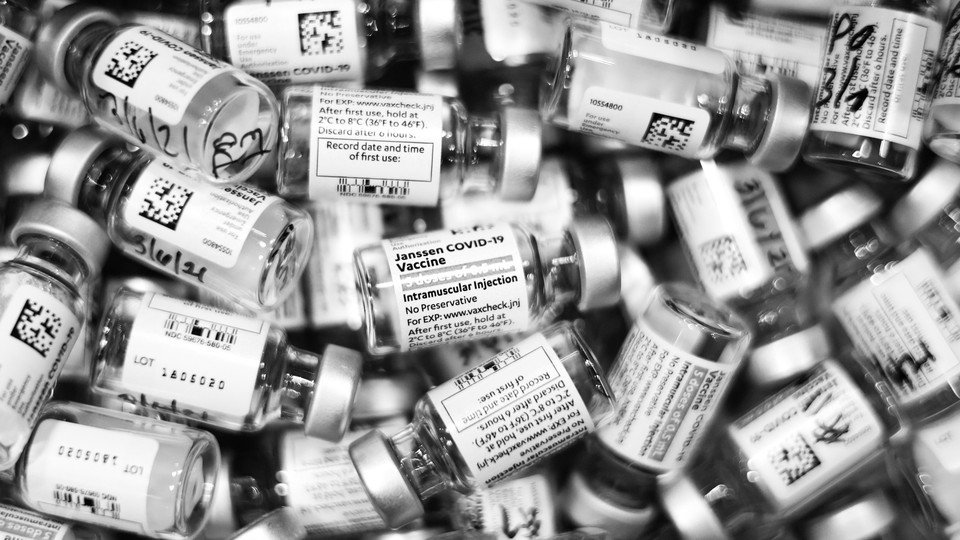 The Johnson & Johnson vaccine has entered regulatory purgatory. This morning, the CDC and FDA jointly recommended, "out of an abundance of caution," a nationwide halt to the single shot's rollout. The two agencies are investigating a rare blood-clotting disorder: In the six cases reported so far, all in the United States, women ages 18 to 48 developed an unusual type of blood clot within about two weeks of receiving the company's inoculation.
Experts haven't yet conclusively determined whether J&J's vaccine is directly causing these strange clots, or how frequently the condition might be occurring, because they're relying largely on people reporting their health conditions to federal agencies. Roughly 7 million doses of the vaccine have been administered so far in the United States; among them were about 1 million women under the age of 50. "I think it's reasonable to say it is a rare event, but I don't think we should go into false precision in this kind of situation," Saad Omer, a vaccine expert at Yale, told me. "Our numerators and denominators are still emerging."
Though the pause isn't mandatory, most states have decided to temporarily pull the J&J vaccine and replace it with shots made by Moderna and Pfizer-BioNTech—neither of which has been associated with clots—when possible. The announcement has, within a matter of hours, trapped past and future recipients of J&J's jabs in an uneasy limbo.
Still, this particular in-between place has an exit, and the situation is in many respects more reassuring than not. I talked with 12 people today, including one who had recently received the J&J shot and several others who had originally intended to. They all struck a similar note: The pause is a reflection, they told me, of federal regulation in action—responding to even the tiniest hint of a safety issue, in case it blossoms into something serious. In similar situations, other vaccines have been subject to the same scrutiny; it's not that uncommon for products to hit roadblocks after initial clearance. "I'm somewhat concerned, but I'm not freaking out," Omer said. With the right monitoring systems in place, investigations like this can and should happen, with transparency. "This is the system working as intended," Natalie Dean, a biostatistician at the University of Florida who studies vaccine trials, told me. "We're paying close attention to even these exceedingly rare outcomes."
People who have already gotten the J&J vaccine absolutely shouldn't panic, especially if more than a month has passed since they received their dose. So far, the incidents documented seem to be occurring with the first couple of weeks post-vaccination. The CDC and FDA recommend that recent recipients should contact their health-care provider if they develop severe headaches, abdominal pain, leg pain, or shortness of breath within three weeks of their injection. (Those worrisome symptoms shouldn't be confused with the mild headaches, aches, and other flulike symptoms that commonly arise as side effects within the first couple of days of any COVID-19 vaccine.) Adverse effects also don't detract from a vaccine's effectiveness at preventing COVID-19, so there's no need to seek out another vaccine to supplant J&J's.
Angela Rasmussen, a virologist affiliated with Georgetown University, told me she received J&J's vaccine eight days ago, which puts her squarely in this sensitive window. She also falls within the age range of the women who reported post-vaccination clotting. She'll be on the lookout for any unusual symptoms, but is "keeping it all in perspective," she said. Even if experts do determine that the vaccines are at the root of these clots, they are probably very, very rare. "If I thought I was going to get a blood clot, I would also buy a lottery ticket," Rasmussen told me.
Blood-clotting disorders, should they ultimately be tied to this vaccine, won't necessarily end Johnson & Johnson's current efforts at COVID-19 immunization. Certain types of estrogen-containing oral contraceptives and hormone therapies carry similar concerns, but have yet to be pulled from the market. (Rasmussen told me that those potential side effects didn't stop her from using oral birth control for the better part of 20 years.)
The clots reported after J&J immunization—called cerebral venous sinus thromboses—are in an unusual class. A very similar clotting problem has been reported after injections of AstraZeneca's COVID-19 vaccine, which strongly resembles the J&J shot in formulation; several European countries have restricted the AstraZeneca shot to use in older adults only. One benefit of publicizing the potential problem with J&J right now is that federal health officials can alert doctors to the right treatments. They have advised against deploying heparin, one of the most common blood thinners prescribed for clots, in these patients, because it has the potential to exacerbate this specific condition. Luckily, an entire arsenal of alternative treatments exists. "It's really important to know what to be looking for right now," Céline Gounder, an infectious-disease physician at Bellevue Hospital in New York, where some patients have been receiving the J&J vaccine upon discharge, told me.
For people still waiting to get vaccinated, the pause could introduce some temporary, regional speed bumps into the rollout. But Johnson & Johnson shots already made up a minority of the injections being doled out to Americans, and supply has sputtered because of a recent factory snafu that compromised up to 15 million doses. Many people who were signed up for these shots in the near future should be able to switch to an mRNA-based alternative. (I was signed up to get a J&J shot this week; I'll be getting Pfizer instead.) The CDC and FDA are also expected to issue updates within the next few days, leaving open the possibility that vaccines will continue largely on schedule thereafter.
The forecast further out is murky. A panel of experts must now determine whether the vaccine and these clots are conclusively linked. This will involve comparing the rate at which blood clots occur shortly after a J&J vaccination to their incidence in the general, uninoculated population. These cases could still be chalked up to coincidence, or possibly to an unidentified underlying condition that afflicted all six women. Clinical trials found the J&J vaccine to be safe as well as effective; that verdict could certainly hold after this new round of federal vetting. Pauses, Omer told me, aren't revocations or excoriations of a product. Instead, they make space for experts to suss out a situation and revise the playbook as needed.
"Hopefully one outcome would be that we develop a better understanding of this issue, and who's specifically at risk," Dean told me.
If researchers establish that there is a risk relationship, they'll next need to determine its extent, and weigh it against the relative risk of remaining unvaccinated. Since the start of the pandemic, the coronavirus has killed nearly 3 million people around the globe, and saddled many thousands of others with lasting, debilitating symptoms. Contracting the coronavirus, too, has been linked to blood clots, which appear, by some estimates, in about 20 percent of COVID-19 patients, and 31 percent of patients who end up in intensive care. Several experts told me that they'd need to see many, many more clotting events to even consider pulling an otherwise highly successful and effective vaccine from the global market, especially while many countries struggle to acquire, store, and administer vaccines.
A Johnson & Johnson recall would be "a disaster," Rasmussen told me. "We need all the doses we can get."
Strictly by the numbers, the United States could get by without Johnson & Johnson. Hopefully, it won't have to. Federal regulators could follow the lead of their counterparts in Europe, who have recommended alternatives to the AstraZeneca vaccine for younger people; they could also add a cautionary clause specifically for cisgender women and certain transgender or intersex people who might be at higher risk.
Johnson & Johnson's vaccine still has immense appeal. Unlike its two-dose Moderna and Pfizer counterparts, it's a one-and-done shot—a potentially big boon for people who can't easily travel to and from inoculation sites, or otherwise access the injections. Vials can also be stored at refrigerator temperatures for months, making the shots easier to ship to parts of the world with few resources. "We were really counting on these to help vaccinate the world," Gounder told me, referring to J&J, AstraZeneca, and other shots with similar recipes.
Based on what we know so far, the future of the J&J vaccine can fork in at least three different directions. In one, the vaccine flames out; unless many, many more cases come to light soon, this seems unlikely. Either of the other two—in which officials end the pause and return the nation to its regularly scheduled vaccine programming, with or without restrictions on who gets J&J next—are more likely. No matter the outcome, though, today's announcement won't quickly be forgotten. Pauses in clinical trials, sprinkled through the past year, have already stoked vaccine hesitancy, skepticism, and outright denialism in many circles. The Johnson & Johnson vaccine, previously stigmatized for being "less effective," now risks a second label: "less safe." It's on the precipice of becoming our country's grody vaccine; maybe it's already toppled over the edge. An altered reputation in the U.S. will reverberate throughout the world, and set back the global struggle to contain the coronavirus.
If the J&J vaccine does return with the FDA's blessing, we'll need to rehabilitate it with clear and nuanced messaging, Gounder and many others told me. A vaccine can be excellent. A vaccine can also carry risks. Both can be true; both have been true, for other shots we've used. In this case, the gamble could be very small—and still be well worth it.
---
The Atlantic's COVID-19 coverage is supported by a grant from the Chan Zuckerberg Initiative.