The Weekly Planet: Why Celebrities Are Agog Over This Tiny Climate Think Tank
A one-of-a-kind Washington nonprofit has become a hit with musicians selling crypto-art.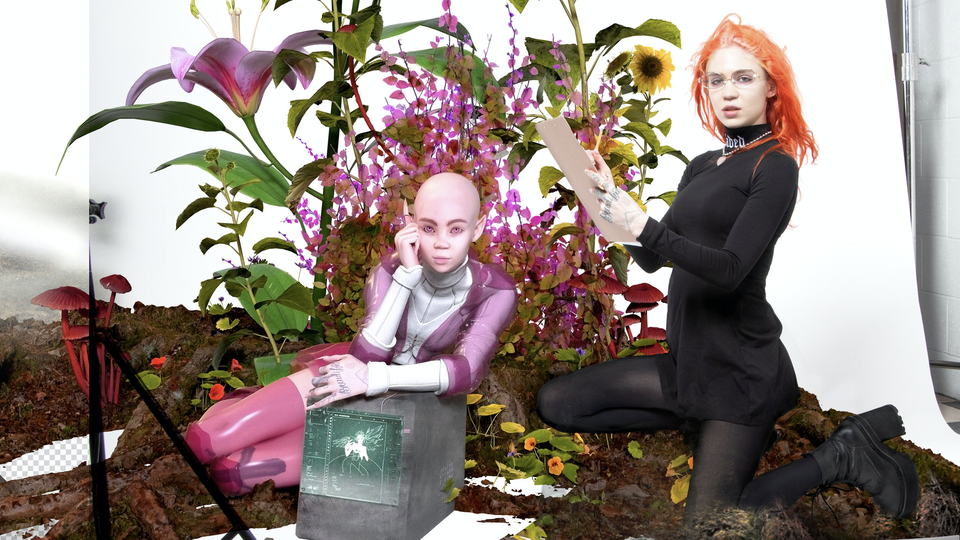 Updated at 5:26 p.m. on April 2, 2021.
Every week, our lead climate reporter brings you the big ideas, expert analysis, and vital guidance that will help you flourish on a changing planet. Sign up to get The Weekly Planet, our guide to living through climate change, in your inbox.
---
The think tank Carbon180 is, as far as I know, the only American nonprofit dedicated to studying the removal of carbon-dioxide pollution from the atmosphere. It is not a very large organization. When such things are possible, its 15 employees are headquartered in a renovated concert hall turned co-working space in Washington, D.C., a building notable as the site of the first Beatles concert in the United States.
Beyond this coincidence, Carbon180 has "no preexisting relationships with famous people," Noah Deich, its president and co-founder, told me last week.
Yet famous people have recently started to cultivate relationships with Carbon180. In the past few weeks, a growing list of celebrities have named Carbon180 as a beneficiary of their auction of "nonfungible tokens," or NFTs, despite neither Deich nor the group seeking out their backing.
To give some sense of the scale: The experimental-pop musician Grimes, who has pledged a portion of her NFT sales to Carbon180, sold $6 million worth of digital-art NFTs last month—which is more than double Carbon180's annual budget of $2.7 million. So Deich is delighted by the sudden support (even if it's not yet clear what exact portion of these proceeds will be donated, or when that transfer might happen). Yet the gusher is also somewhat astonishing to watch. It points to the new and sometimes contradictory nexus of celebrity and energy in our newly climate-concerned popular culture.
But let's back up. Sometime between Pfizer's successful vaccine trial last fall and Meghan Markle's synod with Oprah this winter, the NFT craze began. An NFT is a type of digital financial asset similar to the cryptocurrencies bitcoin or ether. Like bitcoin, an NFT uses blockchain technology (that is, fancy math) to create a unique digital signature. But unlike bitcoin, an NFT then uses that signature not as a stand-in for physical currency, but as a stand-in for a piece of digital art, such as a sound file, an image, or an animated GIF.
An NFT is like a certificate of authenticity you might see in a late-night infomercial, except financialized and sold on a market. So, for instance, anyone can download the actual JPEG image file underlying the NFT from the digital artist Beeple, which sold for $69 million last week, but only one person can claim to "own" it.
In this way, you might think of NFTs as an attempt to hallucinate scarcity where no scarcity exists. The economic historian Karl Polanyi once labeled some types of financial assets—such as real estate and labor—as "fictitious commodities," because the markets for them do not exist without government intervention. (Perpetual land ownership, for instance, makes sense only within the context of a government that will enforce the perpetuity.) NFTs are an attempt to create fictitious commodities out of art, music, and culture.
Yet doing so involves actual commodities: oil, natural gas, and electricity. Cryptoassets require constantly seething computation, which itself uses an enormous amount of energy. According to the website Digiconomist, the Ethereum network—the platform on which many NFTs are based—uses about as much electricity as Bahrain. The technology's evangelists argue that, because NFTs and cryptocurrencies run on electricity, which can be generated by solar or wind power, cryptoassets are not inherently destructive to the climate. A zero-carbon electricity system could generate climate-friendly NFTs, they contend. This argument admits that NFTs might not be ideal for the climate right now. These environmental concerns are part of what's motivating the donations to Carbon180.
The think tank's involvement began not with digital art but with physical art. Last year, Grimes sold physical art on Ebay and pledged some of the proceeds to Carbon180. Grimes is no stranger to outré climate topics: Her album last year, Miss Anthropocene, loosely told the tale of an "anthropomorphic goddess of climate change." Also, her boyfriend is Elon Musk.
In late February, Grimes sold 10 NFTs of her "WarNymph" visual art and again pledged to donate some proceeds to Carbon180. The tokens fetched a combined $6 million. More musicians followed. Last week, the singer-songwriter Halsey—you might recognize "Closer," her 2016 No. 1 hit with the Chainsmokers—announced an NFT sale of her artwork and named Carbon180 as a beneficiary. One of her tokens earned $82,500.
A few days later, the electronic duo Odesza and the artist Japanese Dad also promised future proceeds of their NFT sales to Carbon180. One of their tokens brought in $88,888.88.
These sales form only a small part of what The Hollywood Reporter calls "Hollywood's cash grab," but for Carbon180, they signal a potential transformation. In a few short weeks, a torrential global river of money sprang from NFTs; in a few short days, a few celebrities diked it and drained off a rivulet of cash to a 15-employee nonprofit in Washington. Much of this has happened without Deich knowing exactly what is going on. "If a year ago you would've told me that Odesza and Japanese Dad are pledging a portion of their NFT sales to support our fundraising efforts, I would've said, '… What?'" he said. "That sentence does not make sense."
So far, none of the checks has hit Carbon180's account. But in theory, this support could transform the group. Though larger and larger amounts of money now pour into climate philanthropy, carbon removal has often gone overlooked. From 2015 to 2019, grantmakers gave an annual average of more than $1.1 billion to climate mitigation causes worldwide, according to the ClimateWorks Foundation, which collects data about the field—but only 2 percent of that funding went to carbon removal.*
Carbon180 does not issue conventional carbon offsets, but advocates for pro-carbon-removal policies. The celebrities may or may not understand this. "It's often not clear how to get in touch with them," Deich said.
Halsey and Grimes, through their spokespeople, declined to comment for this story. Harrison Mills and Clayton Knight, the two members of Odesza, said they appreciated Carbon180's work to "create a society in which we're ultimately in a place of carbon depletion."
None of the musicians specified how much they might eventually give to Carbon180.
Deich finds it somewhat … amusing. The strident conversation around NFTs misses that all computing, and to a lesser extent all economic activity, damages the climate, he said. "If we had this conversation about every activity that we engaged in with a similar carbon footprint to NFTs, we would have solved climate change by now."
Zane Cooper, a researcher at the University of Pennsylvania who studies blockchain technologies, agrees. He has watched energy companies and cryptocurrency miners nudge closer together: A natural-gas power plant in upstate New York now powers an on-site data center that mines $50,000 in bitcoin a day.
Yet this is to some degree how the entire computing system works, Cooper told me: The energy powering all networked computation is fossil-fuel-ridden and harmful to the climate. What makes bitcoin different, he told me, is that it uses all that energy for a single purpose: doing fancy math. "Bitcoin reveals a fundamental truth about the relationship between computing and energy," he said, which is that most global computing still causes carbon pollution. "If bitcoin went away tomorrow, it wouldn't solve the problem everyone is angry about."
Deich is waiting to see how much celebrities actually send before Carbon180 makes plans for the future. But a sudden surge of money pumping into institutions that are far more meager than realized … well, it feels kind of familiar, he said. "Honestly, it's not a terrible metaphor for addressing global climate change and decarbonizing the economy in the next 15 years," he said.
As popular culture comes to understand how inextricable it is from the energy system, this story might be repeated many times over. Especially during the climate-tech boom that seems to be coming.
---
Someone Else's Weather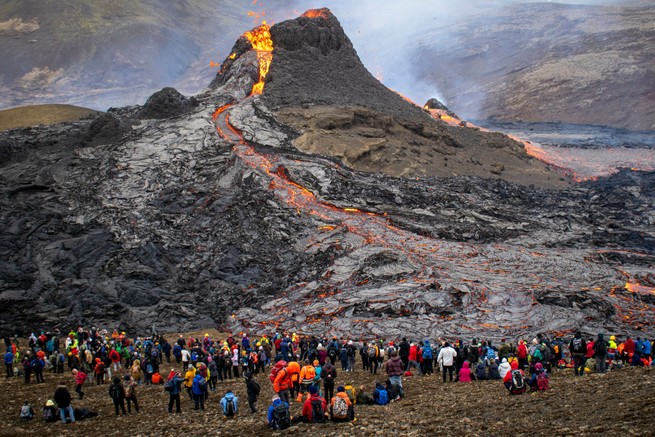 Normally, weather comes from the sky; it can also come from the ground. I'm not sure whether we have Icelandic readers, but last week residents of Reykjavik got to see the eruption of the nearby Mount Fagradalsfjall. The eruption was well predicted because it was preceded by about 50,000 earthquakes, which sounds like a made-up number. So far Fagradalsfjall's eruption has not caused the kind of global disruption to air travel seen in 2010, when the subglacial volcano Eyjafjallajökull spewed volcanic ash into the high atmosphere.
Have you seen Fagradalsfjall from Iceland? Have you seen weather in your neck of the woods? Let me know. Every week, I feature a weather photo from a reader or professional in this part of the newsletter, because the climate is someone else's weather. If you would like to submit one, please email weeklyplanet@theatlantic.com.
---
3 More Things
1. The world's best-selling electric vehicle in January and February was a tiny, drivable cube called the Hong Guang Mini EV. It looks kind of like a Chevy Spark, which makes sense: It's the product of a partnership between General Motors and two Chinese firms. A new model retails in China for the equivalent of $4,500.
2. The University of Chicago's Energy Policy Institute—where, full disclosure, I am a visiting fellow in journalism—has released a book of climate proposals for the Biden administration. I think readers of this newsletter may be especially interested in its chapters on how to decarbonize the U.S. electricity grid.
3. Climate-bill watch: White House staff will likely propose their plan for a multitrillion-dollar infrastructure-and-climate package to Joe Biden this week, The New York Times reports. The package will include "nearly $1 trillion" for roads, bridges, rail lines, electric-vehicle charging stations, and other construction projects; it would also aim to develop some strategic high-tech industries domestically, including electric-vehicle sales.
Let me be polite and say that the strategy for the package still seems to be taking shape. The White House wants to tax the rich to pay for its plan and lure Republicans to support it—an unlikely combination. Perhaps the most revealing clue I've seen to what senior Democratic policy makers are thinking was an op-ed in the Financial Times yesterday by Peter Orszag, a mainstream macroeconomist and former Obama budget czar. At the White House a decade ago, Orszag sought to shrink the federal budget deficit. So I was struck by his declarations this week that the U.S. should prioritize climate investments—"even if they are deficit financed."
"Climate change is irreversible; the world will never be the same. But fiscal risk is not," he continued. "In this unusual moment, the priority should be protecting the globe rather than the budget."
This kind of statement, from the centrist de la centrist, would have been unimaginable a decade ago. But of course, the only guarantee of the status quo is that one day, it will change.
---
Thanks for reading. To get The Weekly Planet in your inbox, sign up here.
---
* This article previously misstated that grantmakers gave more than $1.1 billion to climate mitigation causes between 2015 and 2019. In fact, their giving averaged that amount each year.