There's Nothing Historic About Biden's NASA Pick
After 62 years, the space agency will have to wait a little longer for its first female leader.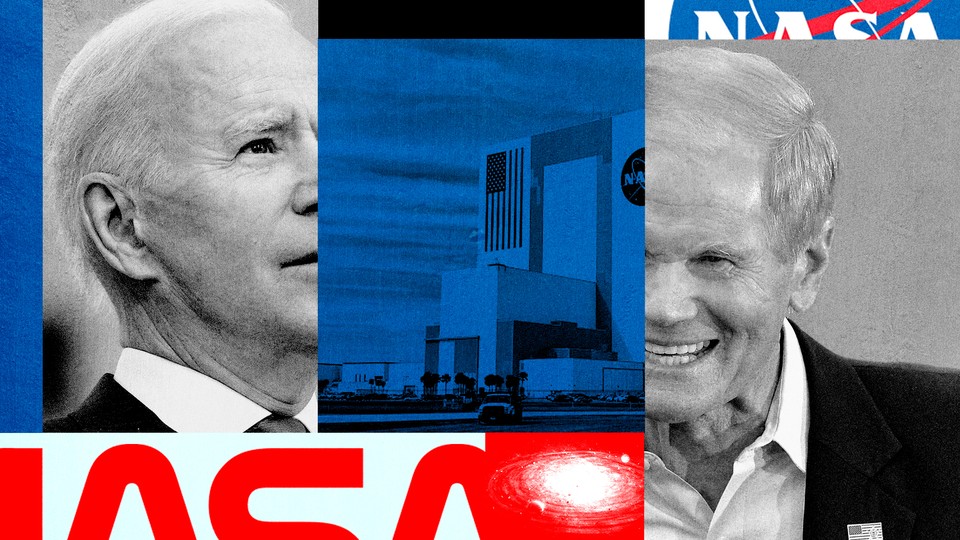 Since the Apollo era, when every astronaut was white, and a man, NASA has worked to expand its vision of who participates in space exploration. Women used to sew spacesuits; now they wear them. Women, especially Black women, once weren't credited for their contributions; now they serve in the agency's upper echelons. President Joe Biden could have chosen the first woman to lead NASA in its 62-year history. Many people in the space community expected him to do exactly that.
He did not.
The Biden administration announced today that it intends to nominate Bill Nelson, a former senator from Florida, as the next NASA administrator. Nelson, who spent 30 years in Congress, flew on the space shuttle Columbia in 1986 alongside NASA astronauts, the last successful mission before the Challenger disaster. At the time, Nelson was a congressman representing Florida's Space Coast who sat on the House committee in charge of NASA's budget.
Nelson, 78, is not a surprise pick. He had been rumored to be the top contender for the job for several weeks. Biden and Nelson are friends who served in the Senate together, and the president probably thinks of his former colleague when he thinks of space policy. "Almost from the day that Nelson arrived in the Senate [in 2001], other senators deferred to him because he had flown on the space shuttle," John Logsdon, a historian who has written about the American space program, told me. Nelson was also one of Biden's earliest supporters in his latest White House run.
But the selection is surprising in another way. For weeks, rumors had circulated that the Biden administration might nominate a woman. Biden's transition team for NASA had discussed potential candidates—all women—but didn't pass on the names to Biden's inner circle, according to a person familiar with the transition staff's deliberations, who requested anonymity to discuss a private matter. One of those women, Pam Melroy, a former NASA astronaut who flew three shuttle missions, is widely considered to be the administration's pick for deputy administrator under Nelson. The White House did not respond to a request for comment on the nomination and the selection process.
Nelson is certainly qualified for the job. Though, in theory, Nelson already objected to his own nomination during the confirmation hearings for NASA's previous administrator, Jim Bridenstine, a congressman from Oklahoma who had no space experience except for a stint as the director of Tulsa's Air and Space Museum. Nelson said that "the head of NASA ought to be a space professional, not a politician." Nelson did not respond to a request for an interview.
Still, picking a woman seemed like an obvious move for a president who has said that he wants an administration that "looks like America" and has filled its ranks with historic firsts—the first Black defense secretary, the first Native American to lead the Interior Department, the first openly gay person to hold any Cabinet post. Biden's former boss Barack Obama appointed the first Black NASA administrator, Charlie Bolden, a retired astronaut who flew on the space shuttle four times. Biden has appointed more women to his Cabinet than Obama did. And just last month, NASA renamed its Washington, D.C., headquarters in honor of Mary Jackson, the first Black female engineer at NASA. As suited as Nelson is for the role, the White House missed a chance to make a trailblazing choice.
---
Turning NASA into something other than a boys' club has been a slow and bumpy process. In the 1970s, when the agency began to welcome women into roles once reserved for men, it sometimes misunderstood them. In 1983, as Sally Ride prepared to become the first American woman in space, NASA engineers asked her how many tampons they should pack for her one-week flight. "Is 100 the right number?" they asked. When the shuttle returned, a NASA official greeted the crew on the tarmac at Cape Canaveral, ready with a bouquet of flowers for Ride but not any of the men on the mission.
At the end of that decade, the term human spaceflight began to replace manned spaceflight in public NASA announcements. In 1992, Mae Jemison became the first Black American woman in space. She had grown up seeing astronauts on television as a young girl, wondering Where were the women, or anyone, of color? "I just thought, Well, would the aliens actually think this is all there is to humanity?" Jemison told me in a 2017 interview.
Today, although NASA's workforce is still mostly white and male, the agency employs more women than ever before as astronauts, engineers, scientists, and other workers. Of the 18 astronauts the agency has selected to train specifically for a future moon mission, half are women, including several women of color. Three of NASA's four new flight directors, announced last month, are women. More women than in the past are in senior roles at NASA and at the private space companies that contribute to the agency's missions. Last year, Kathy Lueders became the first woman to lead the agency's human-spaceflight program, which is in charge of all astronaut missions, including flights with SpaceX, itself steered by a woman, Gwynne Shotwell. In the past decade, many longtime NASA contractors, including Northrop Grumman, Lockheed Martin, and Boeing's space division, have been led by women.
After Biden won the election, the prospect of a woman running NASA seemed almost inevitable to many in the space community. Potential candidates included Ellen Stofan, a former NASA chief scientist who is now the director of the Smithsonian's National Air and Space Museum; Wanda Sigur, a former vice president at Lockheed Martin who began her career there as an engineer; Wanda Austin, a former president of the Aerospace Corporation with a doctorate in systems engineering; and Laurie Leshin, a scientist who serves as president of the Worcester Polytechnic Institute, in Massachusetts.
These women are eminently qualified to run NASA, but the administrator gig has no hard-and-fast rules about résumés. Dan Goldin, who served mainly under Bill Clinton, was an engineer who worked on classified space programs. Sean O'Keefe, who was appointed by George W. Bush, was fresh from the Office of Management and Budget; Mike Griffin, who took over during Bush's second term, was a physicist and aerospace engineer. Bolden, Obama's pick, was a Marine with no political experience.
While Nelson received training for his spaceflight experience in 1986, he flew on the space shuttle as a tourist, and returned to the halls of Congress after he touched down. The magnificent sight of Earth from orbit has stayed with Nelson over the years. "That impression has informed a great deal of my public service," he told me in an interview last year. Nelson's remark about Bridenstine's qualifications is bound to come up during his own confirmation hearings. But it's unlikely to amount to more than an awkward sound bite, not something that will sink his confirmation vote in a Senate controlled by the president's party.
If confirmed, Nelson will carry out Biden's space-policy plans. The administration has expressed support for former President Donald Trump's Artemis program, named for Apollo's sister, which will take a new generation of astronauts to the surface of the moon—including the first woman. Trump wanted astronauts to reach the moon by 2024, the end of what he imagined would be his second term, but Biden is expected to set a later, more realistic deadline.
Beyond that, Biden's ambitions for the American space effort are murky. The president didn't discuss space policy on the campaign trail, instead focusing on the many other, and more dire, matters on this planet. As vice president, his mentions of moonshots usually referred to making advances in cancer research. Nelson opposed the Obama administration's approach to space, which involved the cancellation of a big human-spaceflight program and a focus on bolstering commercial efforts, which eventually led to SpaceX launching astronauts on NASA's behalf. Nelson now supports commercial endeavors, but he is also a longtime champion of an in-house NASA rocket, the Space Launch System, which has been plagued by cost overruns and schedule delays, but completed a significant engine test yesterday and is expected to fly for the first time in November.
When Biden moved into the White House, his administration asked NASA for a moon rock from the Apollo missions that he could display in the Oval Office. But a moon rock isn't a crystal ball for a president's space policy. That will come later, in a John F. Kennedy–style speech that every president gives about the nation's next steps in space travel and exploration. Biden will wax poetic about America's achievements, past and future. But in terms of his pick for who should lead the charge, there's nothing historic about it.