The Weekly Planet: Why Biden Is Buying 645,000 New Cars
The president's most interesting climate proposal yet hasn't appeared in an executive order.
Every Tuesday, our lead climate reporter brings you the big ideas, expert analysis, and vital guidance that will help you flourish on a changing planet. Sign up to get The Weekly Planet, our guide to living through climate change, in your inbox.
---
The U.S. federal government owns 645,047 motor vehicles, according to its most recent report on the matter. This fleet is, for the most part, a menagerie of trucks: construction vehicles, Ford F-150s, armored vans that sit next to NASA launchpads so astronauts can quickly flee in case of an emergency. Many of those trucks—about a third of the federal fleet—are the white, cube-like U.S. Postal Service vans. Another third are passenger cars. The government owns a lot of vehicles.
Since he took office six days ago, President Joe Biden has recommitted the United States to the Paris Agreement and canceled the Keystone XL pipeline. More policy is expected this week. But his most interesting climate actions so far haven't taken the form of executive orders or really appeared in writing at all. Yet they offer a clearer view of Biden's approach to climate change—and its aspiration to reshape the American economy—than anything we've seen so far.
His plan for the federal fleet, in particular, encapsulates Biden-era climate policy in its ambition and limits. He debuted the initiative yesterday while signing an executive order pledging that the government would buy more American-made goods.
"The federal government also owns an enormous fleet of vehicles, which we're going to replace with clean electric vehicles made right here in America, by American workers," he said. This initiative will create 1 million electric-automaking jobs, he claimed. (That's a big goal: At the end of last year, about 930,000 Americans worked in automaking, according to the Bureau of Labor Statistics.)
This is, in a certain light, a sensible consumer decision—you could even call it pedestrian. By going electric, Biden's government is making the same choice that hundreds of thousands of Americans have already made. Electric vehicles have cheaper fuel costs, and lower lifetime-maintenance costs, than gas vehicles, according to AAA. The government will spend less over time to run an electric fleet.
Yet this type of policy isn't meant to reflect the present-day market so much as influence the country's future political economy. It rewards two of Biden's strategic constituencies: unions in the Upper Midwest and young climate advocates. It is practicable: Democrats can accomplish it using only their narrow congressional majorities and Biden's authority as chief of the executive branch.
And it's our first glimpse of Democrats' new, souped-up approach to procurement policy, the catchall name for any action that uses the government's power as a purchaser to create new markets and mainstream new technologies. You might see it as a climate version of Operation Warp Speed—the federal program that bought hundreds of millions of COVID-19 vaccine doses in advance—but procurement policy predates the pandemic. Fifty years ago, the government used its procurement power to nurse the fledgling microprocessor industry into maturity.
The policy, again, doesn't exist in writing yet, so we don't know how quickly or comprehensively it will be implemented. Will Biden replace federal gas-burning vehicles earlier than otherwise planned? Will the changeover take four years or 14? These details will shape how much electric automakers notice and benefit from the policy. Only about 1.6 million plug-in electric vehicles have been sold in the U.S. ever; in 2019, for instance, fewer than a quarter million EVs were sold. If Biden were to replace, say, the entire federal fleet over five years, the government would buy about 129,000 new cars every year—a huge total, equivalent to about a quarter of Tesla's worldwide production last year. But if the fleet isn't fully replaced until 2035, the policy will make a much smaller dent.
It is limited in other ways. The federal fleet, although it is truly enormous, pales in comparison with the American private fleet. (It would fill up less than half of the parking spaces in Des Moines, Iowa.) In 2019, the most recent year for which data are available, the federal fleet consumed the equivalent of 386 million gallons of gasoline, emitting about 3.4 million tons of carbon dioxide. But the country as a whole used 142 billion gallons of gasoline that year. The federal fleet was responsible for about a 20th of 1 percent of U.S. carbon emissions in 2019. Every ounce of carbon reduction matters, but this policy will succeed or fail based on whether it accelerates electric-car adoption nationwide—not on whether it has a noticeable effect on American carbon emissions.
At least … I'm pretty sure that's the right way to think about it. I'm still figuring out how to judge the Biden administration. One of the tics of my profession is that when a presidential administration turns over, so do we. I mean this literally, in a personnel sense—the networks appoint new White House reporters—but also in a broader and more conceptual sense. Mainstream American journalism always has an adversarial relationship with the presidency, but the content and context of our rivalry change. Finding the bounds of that new relationship takes time.
I'll admit that, in some ways, covering the Trump administration was pleasantly straightforward. I believe, and The Atlantic believes, that (1) climate change is real and (2) dealing with it will require federal action. Many senior Trump officials were foggy on the first axiom and hostile to the second. Their policy reflected it. As a reporter, I just had to find out what they were doing, consider whether it did anything about climate change, and then publish my conclusions. Easy!
Biden is trickier: His administration seems intent on actually doing things. It has already outpaced Donald Trump's standard. So what new standard should it meet? The goal of international climate policy might be atmospheric stabilization, but that exceeds the ambit of any one country or president.
For now, my lodestar is net zero by 2050, which Biden has laid out as a national goal. According to a recent landmark study from the ZERO Lab at Princeton, meeting that goal in the U.S. would require, by 2030, closing virtually all coal plants, expanding the power grid by 60 percent, and making sure that at least half of all new cars sold are EVs. That 2030 goal is close enough in time for us to have a sense of how much work remains to be done. And it shows why, for Biden's federal-fleet plan to get results, it must happen quickly. Turning over the federal fleet by 2035, for instance, is not enough.
---
Someone Else's Weather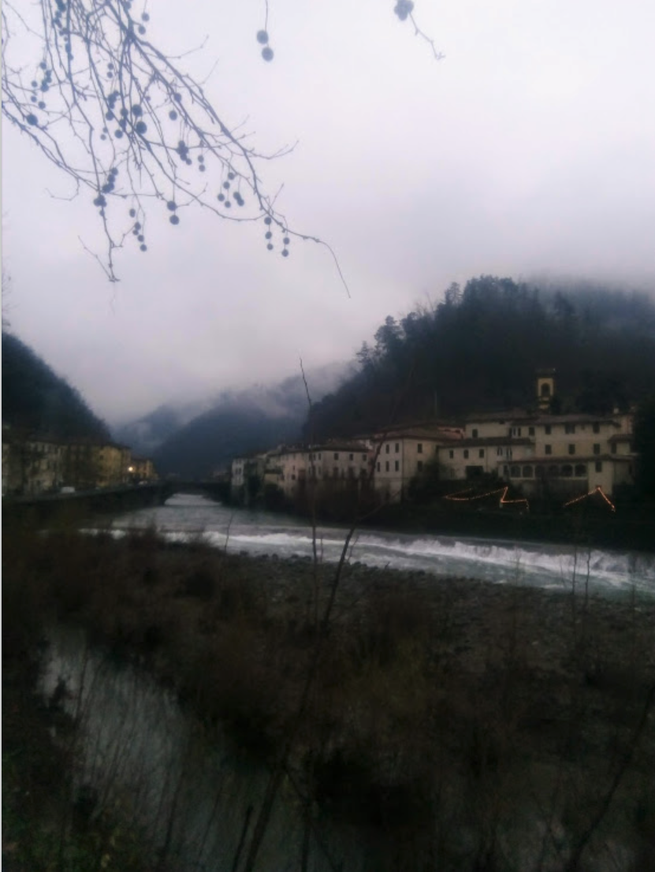 Our reader Karen Buczynski-Lee captured this swollen river coursing through Bagni Di Lucca, a town of 6,100 in Tuscany, earlier this month.
Every week, I feature a weather photo from a reader or professional in this part of the newsletter, because the climate is someone else's weather. If you would like to submit one, please email weeklyplanet@theatlantic.com.
---
3 Hazy Things
1. How hard will it be to—as I wrote above—retire virtually every coal plant by 2030? Harder than you might think, if you know only about the coal industry's public collapse. The country's 50 most fossil-fuel-intensive utilities plan to retire only a quarter of their coal power by the end of this decade, according to a new Sierra Club report. Even though many of these utilities claim to have net-zero-by-2050 goals, their renewable plans are insufficient to meet future demand: On average, their planned solar and wind construction amounts to only a fifth of their existing coal and natural-gas capacity. In a recent edition, I wrote that power has faded as the leading cause of U.S. emissions, but don't mistake that for complacency: There are a lot of coal plants in the country and we are not doing enough to replace them.

Because all utility stories are local, the Sierra Club report lets you see whether your utility's net-zero plan meets its standard. (For those of us who live in the Northeast or mid-Atlantic, none of our utilities merited inclusion in the report.)
2. A lot has happened in the electric-car world recently! Tesla's stock price went up so much that Elon Musk became the world's richest person. Yoinks. Tesla was also added to the S&P 500, and immediately became the fifth-largest company in that index, worth more than Disney and Netflix combined. In the past month, too, General Motors unveiled a new ad campaign touting its "all-electric future"—completing the company's big ol' flip-flop on EVs since the election. Before November, GM supported Trump's fuel-efficiency rollback and was suing the state of California to block its EV policy. (Ford, however, took California's side from the beginning and opposed the rollback.) Now GM says it's all in on Biden's vision.

Corporate vacillation aside, I will confess a professional interest in these new GM ads. They trumpet the arrival of "Generation E," which stands for "Everybody In" and also, presumably, "Electric." "We emit optimism, not exhaust," a youthful voice blurts at one point, over a montage of tanned Millennials and retirees in suspiciously good shape. But the ad's lead pitchman is no Millennial at all. He's a magazine writer—just like me! It's Malcolm Gladwell, the podcast host and staff writer for The New Yorker.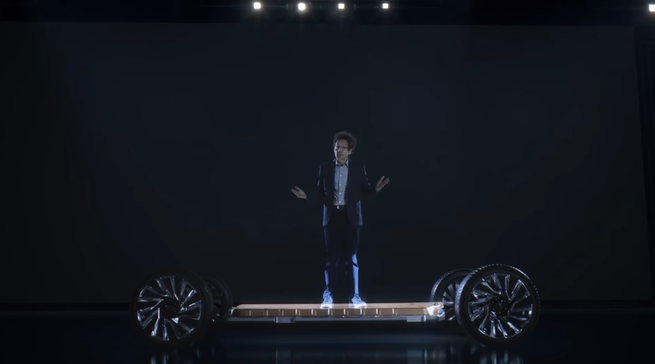 "Change," Gladwell utters on a black stage. "You can resist it and be left behind—or embrace it and move forward."
A GM ad is a bit of a surprising spot for Gladwell to appear, since he wrote, in 2010, about the company's government bailout. "Who really rescued General Motors?" he asked then, ruling in favor of career GM executives who were later fired by the Obama administration. How fortunate, then, that Gladwell can now interview the new career GM executives at his leisure—and have the results, no less, distributed by GM itself. (Coincidentally, a month before he wrote the GM story, he wrote a story asking "why we pay our stars so much money.")
Anyway: an odd choice! Sometimes journalists do become professional spokespeople—there aren't many ways to get a raise in this industry—but they usually have to leave journalism first to do so. In a statement, a spokesperson for The New Yorker told me: "We have no plans for him to write about the auto industry." She passed on my interview request to Gladwell, but he didn't get back to me.
3. When you look at satellite imagery on Google Maps, the camera lens is usually at a 90-degree angle to the ground. This Wes Anderson–like view gives satellite photography its particular bluntness. It makes Earth look dimensionless, if not flat.
In the past few years, technicians have gotten much better at capturing Earth from oblique angles—using satellites, for instance, to look through the Grand Canyon rather than at it. I wrote about one of the first such images—of Denver—a few years ago. Now the technique has become far more common. In a new Medium post, the data-visualization expert Rob Simmon collects some of the best oblique photos taken so far.
---
Thanks for reading. Did someone forward you this newsletter? Sign up here.