The Weekly Planet: What 2020's Bizarre Economy Taught Us About Climate Change
U.S. carbon pollution hasn't been this low in decades—that's the bad news.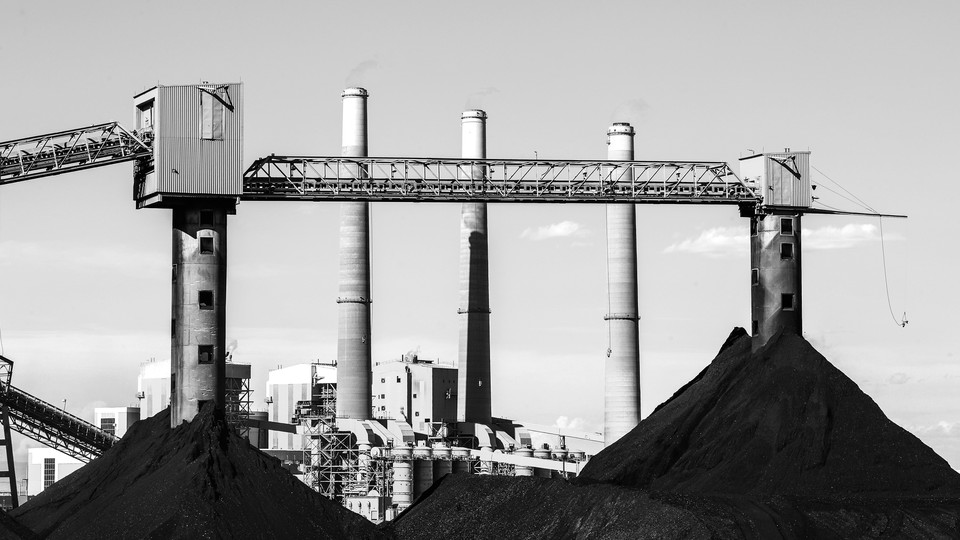 Every Tuesday, our lead climate reporter brings you the big ideas, expert analysis, and vital guidance that will help you flourish on a changing planet. Sign up to get The Weekly Planet, our guide to living through climate change, in your inbox.
---
Hello! Many things have happened since we last spoke. The most significant of them, for our purposes, was probably that Democrats won the Georgia runoffs, giving the party a Senate majority. Democrats have achieved a governing trifecta—winning control of the House, the Senate, and the presidency—only twice since the advent of modern American climate politics in 1988¹; each time, they have tried and failed to pass legislation to reduce carbon pollution. This is their third opportunity.
But I say probably because this development was not, somehow, last week's biggest news. On Wednesday, a partially armed mob incited by President Donald Trump attacked Congress with the goal of overturning the presidential election. The insurrectionists killed a Capitol Police officer and injured more than 50 other officers. They erected a gallows near the Capitol building and chanted "Hang Mike Pence." It was a humiliating day to be an American, and everything we know suggests that it was supposed to be worse.
A rupture in the constitutional system might seem outside the scope of this newsletter, but in fact this riot involved—in extremely pedestrian ways—some of the same industries that we talk about here. The march that led to last week's riot was partially organized and promoted by a group called the Rule of Law Defense Fund. The fund was listed on the march's website; in a robocall, a spokesperson for the fund invited Americans to "march to the Capitol building" and "stop the steal."
While the Rule of Law Defense Fund does not have to disclose its supporters, it has a long and cozy connection with the energy industry. And we do know who some of its donors are. From 2014 to 2016, the Edison Electric Institute, the trade association for investor-owned electric utilities, gave $50,000 to the fund. More recently, a nonprofit wholly funded by American Electric Power gave the fund $150,000. Most Americans get their electricity from a power company that belongs to EEI or from American Electric Power itself, which is one of the country's largest utilities.
As I said: These connections are extremely pedestrian. But they capture the tedious way that clout is exercised by the utility industry—the way that pennies skimmed off electric bills become a financial force. In the U.S., we have no control over our local utility: If you want electricity, you have to pay your power bill. So if your utility indirectly contributes to the Rule of Law Defense Fund, you have no choice—you do too.
In a statement, EEI told me that it strongly condemned last week's insurrection, which it called "a violent and deadly attempt to damage our democracy." American Electric Power also condemned the "violence that happened at the U.S. Capitol" and called for unity. A spokesperson said that the utility never made "direct contributions" to the Rule of Law Defense Fund. The nonprofit that did make those donations is a "separate organization," she said.
Both EEI and American Electric Power said they would pause all political contributions for the time being.
Utilities' support of the Rule of Law Defense Fund isn't surprising: Giving to the group presumably served their interests. The fund is an offshoot of the Republican Attorneys General Association, and it was run by Scott Pruitt until 2016, when Trump nominated him to lead the Environmental Protection Agency. You may remember his aggressively anti-climate agenda at the EPA, but Pruitt was an anti-environmental warrior during his time as Oklahoma attorney general too.
Utilities did not want to be restricted by EPA regulations such as the Obama administration's rule limiting mercury emissions from coal plants, even though mercury is a neurotoxin that stunts brain development in children. Pruitt and his fellow AGs were willing to help them fight such rules. Surely some partisan jockeying over environmental regulations is understandable, even normal. But over time the sense of what was normal shifted, and last week the Rule of Law Defense Fund helped organize an attack on the rule of law.
I don't think utility lobbyists ever thought that they would need to distance themselves from an insurrection. But that's the point. The Republican Party is a powerful governing institution. It shapes policy and politics in every city and state; companies can't help but interact with it. You might even say the GOP forms a pillar of the unwritten U.S. Constitution, the set of norms and rules that assume two large parties will vie for power while respecting the sanctity of the law. Trying to overturn a presidential election runs afoul of this rulebook, as does fomenting a mob attack on Congress. So while Congress and our constitutional order may have survived last week's attack, the fact that a group of Republican attorneys general were implicated in the insurrection shows how deeply this unwritten Constitution has failed, and the Republican Party with it.
This would be a hard problem to contend with by itself. Unfortunately we also have to deal with climate change at the same time.
---
3 Lessons From a Very Strange Year for Carbon Pollution
So, 2020 was kind of a weird year—for you and also, as it happens, for the U.S. energy system. Today, the Rhodium Group, an energy-analysis firm, released its estimate of U.S. greenhouse-gas pollution in 2020. Experts expected that emissions would decline—the pandemic brought the world to a standstill for weeks and then months—but it wasn't clear just how much they would fall.
Turns out: pretty far. In 2020, American greenhouse-gas pollution fell 10.3 percent, a staggering decline and the largest year-over-year drop since World War II.
But the nature of this drop was not cheering. In climate policy, carbon emissions can drop for "the good reason"—the energy system has decarbonized, allowing us to grow the economy without increasing carbon pollution—or for "the bad reason"—the economy has itself collapsed. In 2020, emissions fell almost entirely for the bad reason. "Economic pain is not the right way to reduce emissions going forward," Kate Larsen, who leads climate research at the Rhodium Group, told me. "We can't let that happen again."
There are two benchmarks in American emissions accounting: 2005, when U.S. carbon pollution peaked, and 1990, when the United Nations published its first climate report. Last year, U.S. emissions fell to about 21 percent below their 2005 level and—for the first time this century—below their 1990 level. (That means emissions were lower last year than they have ever been in my lifetime.)
This is a larger annual drop than anyone expected to see not only in 2020, but in any year in the 2020s. "I don't think any of our current policy projections had us reaching 1990 levels before 2030 or at any point in the future, really," Larsen said. At about this point last year, Rhodium projected that—barring the passage of major new climate laws—emissions would "decline over the next couple of years and then flatline above 1990 levels indefinitely," she said.
Instead, the pandemic happened, and emissions fell below 1990 levels in a matter of months. But that tumble downhill only showed how much further we still have to hike: For all the economic upheaval, the U.S. did not reach the goal that, in accordance with the Paris Agreement, it's meant to hit just four years from now, in 2025.
The math only gets harder for more ambitious targets. President-elect Joe Biden has said that the U.S. should aim to zero out its carbon emissions by 2050. That scale of reduction obviously couldn't happen in a single year, so analysts have tried to estimate a glide path for getting there. Larsen's rule of thumb is that by 2030, the U.S. would need to cut emissions to about 40 percent below their historic peak to stay on track.
But last year, amid the pandemic, the U.S. managed a cut of only 21 percent. So the U.S. would need to double 2020's cuts in less than a decade if we hope to stay on track for net zero.
In other words: "We will need emissions reductions of this scale … for many years to come, and we need to do it differently than we did in 2020," Larsen said.
Across the economy, the sheer strangeness of the pandemic economy held other climate lessons. Here are three takeaways from 2020 emissions that might help you think about climate change:
1. The good news in a bad report: Coal is crumbling
Generally, emissions declined last year because the economy crumbled. The one exception to that trend is the power sector. Electricity demand declined by only about 2 percent: We used the same amount of electricity as we would in a normal year; we just used it all at home. Yet greenhouse-gas pollution from the power sector fell by 10.3 percent.
Coal's ongoing decline explains this shift. In 2019, the American coal industry entered a free fall, with coal use dropping 18 percent. Last year, the plunge continued, and coal use fell by almost 19 percent. Renewables and gas made up the difference.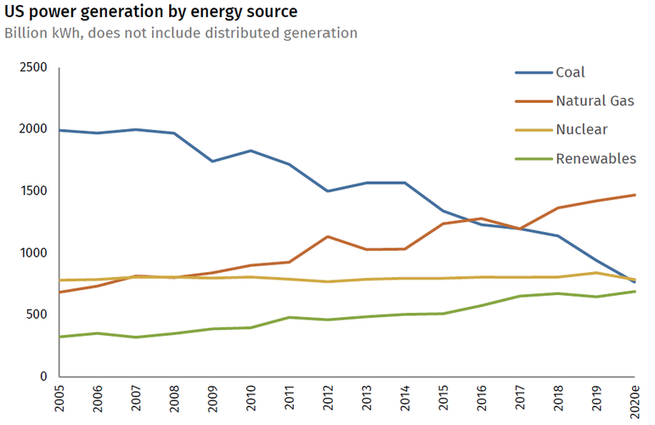 In the past decade, most of the power sector's emissions declines have come from the coal-to-gas switch. This can make climate advocates nervous, because the climate cannot sustain an indefinite build-out of natural-gas infrastructure. Gas is, after all, still a fossil fuel, and even though it is a cleaner fuel source than coal, its production releases the hyper-heat-trapping pollutant methane.
2. Transportation was gutted by the pandemic
The rest of the 2020 energy system looked more like the transportation sector, which bore the brunt of the pandemic. Transportation emissions fell nearly 15 percent as gasoline and jet-fuel consumption plummeted. Diesel, however, didn't fall nearly as far, and by December it had returned to its 2019 level.
Larsen sees a lesson in this divergence: Diesel tends to be used to transport goods, so it's a proxy for economic consumption more widely. But jet fuel and gasoline are used for personal travel. "Rather than the economy shutting down, we still made things and we still moved things around," she said. "This was really about making people stay in one place."
Many of 2020's emissions drops were due to the springtime shutdowns—in most cases, and to Larsen's surprise, transportation activity had rebounded by the end of the year. Vehicle miles traveled, a metric that tracks how much Americans are driving their personal cars and trucks, reached its low point in April and May, then bounded partway back: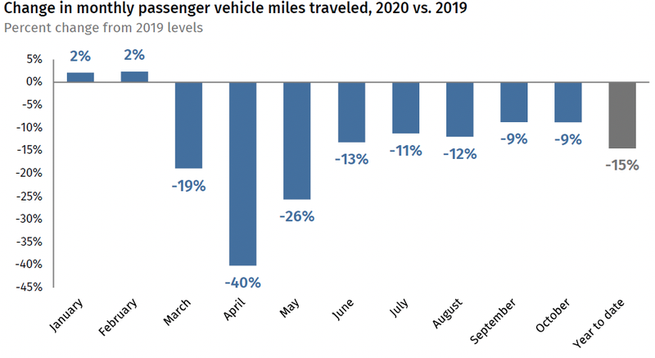 In May, too, jet-fuel demand dropped by 68 percent compared with the year before. But by December it had made up nearly half of that gap.
3. The future is in industry
In 2015 and every year prior, the electricity sector emitted more carbon pollution than any other part of the economy. Since 2016, it has been in second place, and the transportation sector has held the No. 1 spot. But starting next year, Rhodium projects, it will fall to third place. Both transportation and the industrial sector will generate more carbon pollution than the electricity sector.
This represents a massive change in how the U.S. energy system works, and it has taken place in half a decade.
It also means that people concerned about the climate should probably get more familiar with how the industrial sector works. It is the next great problem to solve. About a quarter of industrial emissions come from plastic and petrochemical production, Laren said, while oil and gas drilling account for about a fifth of emissions. Refining, cement production, iron- and steelmaking, and mining also contribute.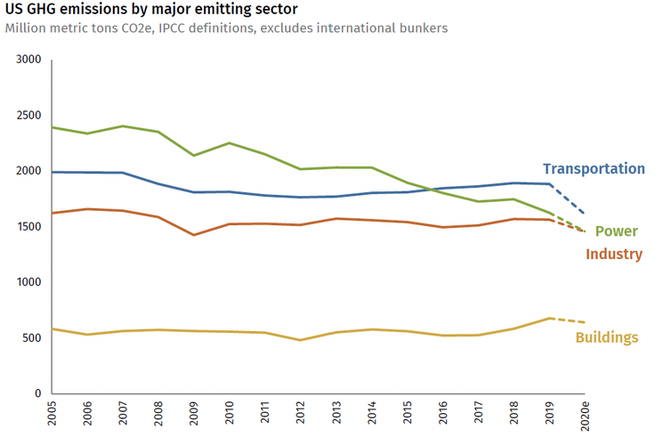 Above all else, we should focus on a broad lesson about 2020. In the spring, Americans conducted an unprecedented and unintentional experiment in reducing carbon emissions. They did not drive to work or travel for fun; they stayed at home. The world grew quieter, the air cleaner. Wildlife moved back into urban spaces. And carbon emissions decreased. In April and May, emissions were 20 percent lower than they had been a year prior.
But that behavioral change was not enough to meet even the least ambitious of America's long-term climate goals. This extraordinary and painful trial should provide the final proof, I think, that climate change simply cannot be solved by changing our personal behavior. We have to change systems, and the only way to do that is to develop and deploy technologies that will enable economic prosperity without carbon pollution.
---
Someone Else's Weather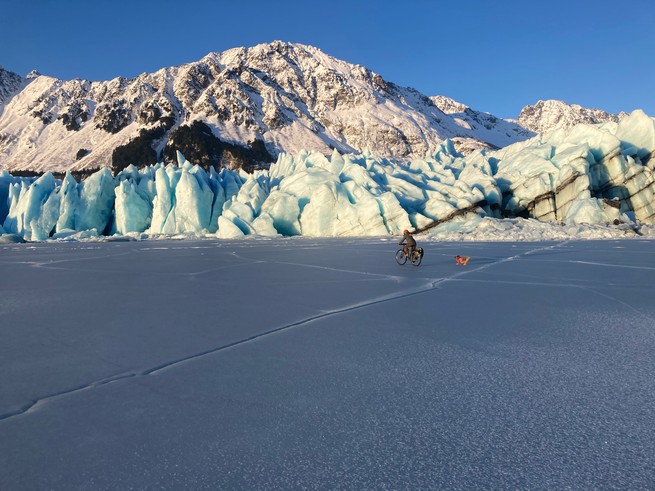 Rachel Ertz shares these incredible photos of Sheridan Lake in Cordova, Alaska, a town of about 2,100 in the south-central region of the state. "Recent heavy rainfall followed up by a drop in temperature lent the lake ice a clean, zambonied appearance," she said. "Half of the community came out to skate and enjoy a rare moment of apricity in the fleeting winter sun!"
Apricity—I had to look it up—means "the warmth of the sun in winter." Arctic photography and a new word: We are so lucky. I should add that Cordova, Alaska, played an important role in environmental history. It is near to where the Exxon Valdez oil tanker ran aground in 1989, spilling 11 million tons of crude and triggering one of the worst environmental disasters in modern memory.
Every week, I feature a weather photo from a reader or professional in this part of the newsletter, because the climate is someone else's weather. If you would like to submit one, please email weeklyplanet@theatlantic.com.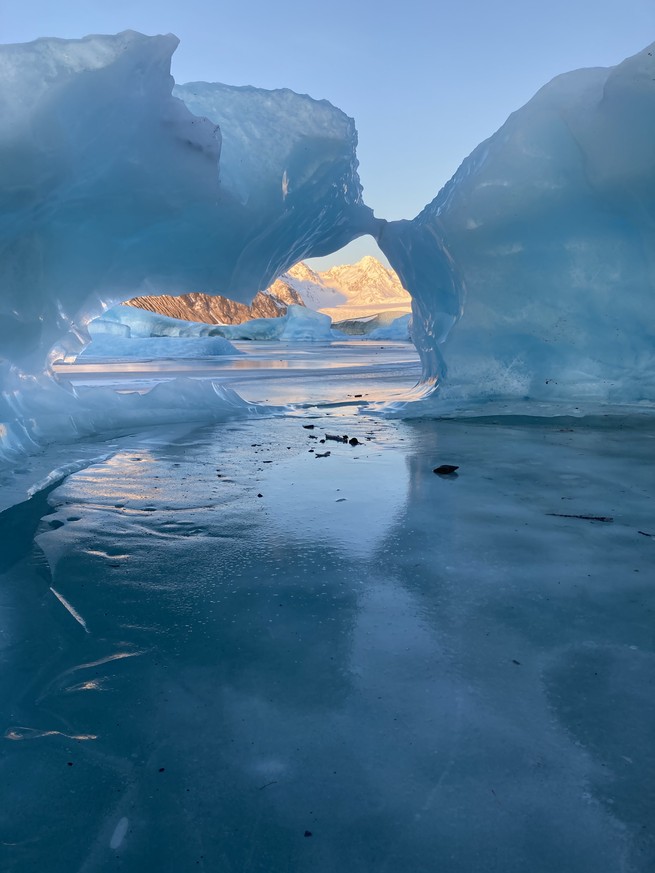 ---
Thanks for reading. Did someone forward you this newsletter? Sign up here.
1. I tend to think modern climate politics began in the U.S. when James Hansen, then NASA's chief climate scientist, warned a Senate panel that "the greenhouse effect is here" on June 23, 1988. The UN Intergovernmental Panel on Climate Change was established the same year.