Mark Kelly's Secret Weapon
The newly elected senator from Arizona joins an exclusive club of astronauts turned politicians.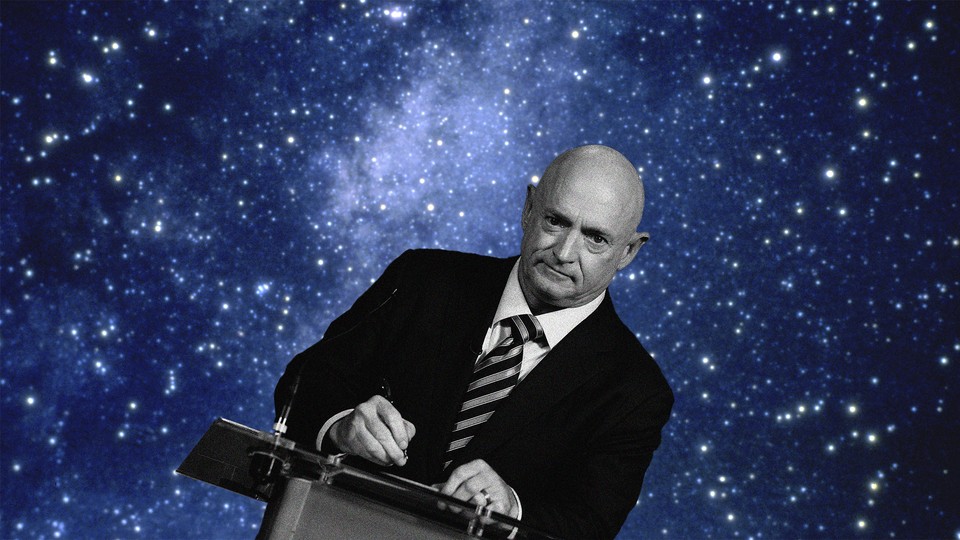 In November 1969, Barry Goldwater, the Republican senator from Arizona, told reporters that he probably wouldn't seek reelection. Once the Republican Party's pick for president, Goldwater would leave big shoes to fill. And he already had a successor in mind: Frank Borman, an astronaut who, a year earlier, had flown to the moon and back on Apollo 8. Borman, who grew up in Arizona, wasn't interested, and anyway, Goldwater ended up running again. But now, decades later, Congress is getting its Arizona astronaut.
Mark Kelly will join the Senate after defeating Senator Martha McSally in one of the most high-profile Senate races in the country. Kelly worked at NASA for 15 years, flying to space four times before retiring from the agency in 2011. Several years later, he was a test subject with his identical twin, Scott Kelly—an astronaut himself—in a NASA study on the effects of space travel on the human body. The Kelly brothers aren't household names like Neil and Buzz, but they're probably the most recognizable astronauts of the past decade.
A first-time candidate, Kelly had a lot going for him to help him win on a night when many other Democratic Senate challengers didn't. Kelly is a retired Navy captain and pilot who flew combat missions in the Gulf War—credentials that resonate in a state that elected decorated veterans such as John McCain. He is married to Gabby Giffords, the former representative from Arizona who was shot in the head in 2011, and he has since boosted gun-control policies alongside her. He raised enormous sums of money, and his opponent tied herself to Trump in a state that seemed to swing away from him.
"Mark was the best candidate that the Democrats recruited to run for a U.S. Senate spot," Chuck Coughlin, a longtime GOP strategist in Arizona, told me. And Kelly's trips to space might have helped. "It's still a glamorous thing to be an astronaut," Coughlin said.
Whether they're Democrats or Republicans, when astronauts run for Congress, many of them win. Of the at least seven astronauts who switched out their spacesuits for real suits—counting Kelly—four have won. (Jack Swigert, an Apollo 13 astronaut, won a House seat in Colorado in 1982 but died of cancer a week before his term began.) Astronauts seem to do well when they go for political office, even though nothing about traveling to space makes them more suited for Capitol Hill than a teacher or a lawyer. But the public views astronauts as fundamentally different. Astronauts are embedded in the American consciousness as heroes, even celebrities—the career that countless kids say they'd like to have. Even before he opens his mouth on the campaign trail, the astronaut has already charmed his listeners.
---
Kelly had a captive audience in Arizona, where the electorate skews older. Many people there have some memories of the Apollo era and its afterglow, and of the cadre of brave astronauts who explored the moon. In his campaign, Kelly leaned into his astronaut identity, putting spaceflight imagery on his yard signs and merchandise and frequently describing his Senate bid as a "mission." His time at NASA, he said, would make him a good lawmaker. "I can bring that experience, solving difficult technical problems using science and data and math," he said in an interview last year.
Since NASA's earliest days, political leaders in both parties have courted astronauts to run for office, sensing that their astronaut experience and military background—two jobs that invoke patriotic duty—would be a natural draw for voters. "Too many of these 'join us' invitations gave me the feeling I'd be a dancing bear, living off my astronaut fame for the rest of my life," Borman, the Apollo 8 astronaut, wrote in his 1988 autobiography. "It was a hazard all astronauts faced."
Instead of mounting a Senate run, Borman became NASA's liaison to the White House, compiling a list of names of astronauts who had "potentially promising political futures." One of them was John Glenn, the first American to orbit the Earth—and the first astronaut elected to Congress, as a Democrat in Ohio, in 1974. During his first run at a congressional seat, a decade earlier, Glenn had faced criticism about his political inexperience and apparent opportunism. "Some veteran legislators closely connected with the space program saw an undesirable precedent in astronauts' capitalizing on their public fame to enter political roles," the St. Petersburg Times reported in 1964. (Glenn went on to serve for 25 years in the Senate.)
Today, that criticism can feel downright quaint. Political experience is not necessary to win office, even the highest office in the land, and in fact, when the go-to message is to change how Washington works, it may help to have an identity separate from politics, and offer a perspective from well beyond the Beltway—like some 260 miles above Earth. "When you're up in space looking down at the round blue ball we call Earth," Kelly tweeted in September, "it becomes pretty clear that we're all in this together. And that's how politics should be: working together to solve problems and improve people's lives." (Kelly's campaign did not respond to a request for comment on this story.)
Sometimes playing the astronaut card is seen as such a leg up that a candidate's opponents try to undercut it. Jose Hernandez, a retired NASA astronaut, ran for a House seat in California in 2012, at former President Barack Obama's urging. During the primary, a Republican-aligned law firm filed a suit challenging Hernandez's job description on the ballot, arguing that he shouldn't be characterized as an astronaut, because that was no longer one of his "principal professions." Hernandez believed that the lawsuit was an attempt to strip the Democrat of the positive associations of astronauts. "Me being an astronaut, a.k.a. American hero, contradicted their negative stereotyping of me in the race," Hernandez, who lost the race to Jeff Denham, told me. "They didn't want the 62-year-old grandma who goes to the booth, doesn't know who they're voting for—they see 'Jeff Denham, farmer' and 'Jose Hernandez, astronaut' … because of the tendency of the grandma to say, 'Oh, he must be okay, because he's an astronaut.'"
Even after Glenn paved the way, astronaut politicians have sometimes seen their job used against them. "A number of the astronauts were criticized for not being attuned to local issues," Teasel Muir-Harmony, a historian and curator at the Smithsonian National Air and Space Museum, says. After Jack Schmitt, an Apollo astronaut, arrived on Capitol Hill as a senator from New Mexico in 1977, his fellow lawmakers nicknamed him "Moonrock," for both the perception that he was out of touch with Americans and his abrasive personality. During Schmitt's reelection campaign, which he lost, his Democratic opponent released a devastating ad asking voters, "What on Earth has he done for you lately?" Muir-Harmony told me that similar criticisms were levied against Jack Lousma, who ran for Senate in Michigan as a Republican in 1984 and lost. But perhaps what dinged his campaign most was the attack ad that aired in the heart of America's auto industry, featuring a clip of Lousma saying he owned a Toyota. (In fact, he said, it was his son's car.)
---
Moon jokes and car gaffes aside, astronauts are still revered, and most people would likely jump at the chance to experience their world—even politicians. In 1986, Bill Nelson, then a representative from Florida, flew to space in a rare case of the politician turned astronaut. He took off in January 1986, when the space shuttles were making so many trips into orbit that NASA started inviting non-astronauts along, an exciting reality that was shattered later that month by the Challenger disaster. The view of Earth from orbit—a delicate blue marble suspended in darkness, without a state line or national border in sight beneath its wispy clouds—stayed with Nelson. "That impression has informed a great deal of my public service," Nelson told me. Nelson, who went to space while serving in the House, spent 18 years in the Senate—and he touted his spaceflight experience in every reelection campaign.
Mark Kelly went to space for the last time in 2011 while his wife recovered from the shooting. These days, NASA astronauts ride into orbit on Russian or SpaceX rockets instead of shuttles, but there still may be other prospective politicians in the agency's astronaut corps. "On Capitol Hill there was uneasy speculation that Glenn might not be the last astronaut to turn politician," the St. Petersburg Times reported back in 1964. The same year that Kelly, the newest addition to the club, was born.