The Weekly Planet: 5 Ways to Think About Biden and Climate Change
He could have the best chance to fight carbon pollution of any American leader in a decade.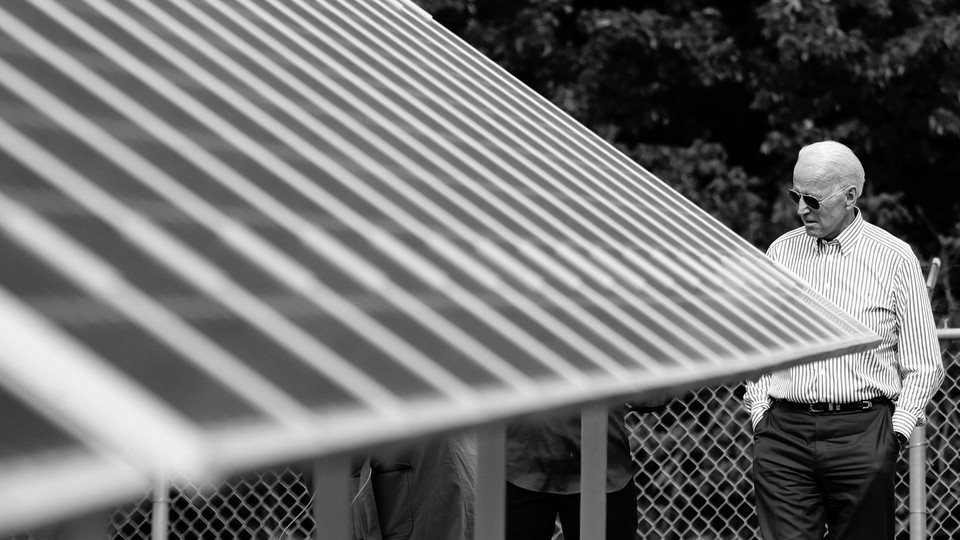 Every Tuesday morning, our lead climate reporter brings you the big ideas, expert analysis, and vital guidance that will help you flourish on a changing planet. Sign up to get The Weekly Planet, our guide to living through climate change, in your inbox.
---
The election of Joe Biden as the 46th president of the United States is not only the biggest climate news in half a decade—it's some of the best.
I mean that not as a statement of political opinion but of obvious fact. President Donald Trump's policies accelerated global warming; his officials boxed out climate experts at nearly every opportunity; and he personally seemed to revel in making climate change worse. He still seems to savor it: Yesterday, Trump fired the head of the federal climate-science research program.
Biden, meanwhile, has identified climate change as one of the four great crises America faces. And he has said that decarbonization—the elimination of carbon pollution from the economy—must be central to how the country recovers from the coronavirus recession.
Beyond that, though, we don't know much yet about Biden's priorities. We don't know whom he will appoint or what goals he will prioritize in office. We're somewhere between the poetry of campaigning and the prose of governance—in other words, we're in a listicle.
So in that spirit, here are five ways I am thinking about climate change in a Biden presidency:
1. There is plenty that Biden can do. So much, in fact, that I'm hesitant to list any of it here. He's already committed to rejoining the Paris Agreement on his first day, a symbolic move but an important one globally.
But what's more consequential is that Biden will take the reins of an administrative state whose lead policy makers are desperate to do something about climate change. In the past year, a handful of economic regulators—such as the Commodity Futures Trading Commission, which regulates complex financial products—have proposed policies that would fight global warming and hasten the energy transition. Of course, Trump didn't touch them. But Biden could.
2. Which is all to say: The Environmental Protection Agency and the Department of Energy are not the sole agencies that matter. The staff at the Department of Commerce, the Federal Reserve, the Federal Energy Regulatory Commission, and a Chef Boyardee's worth of financial regulators have flirted with climate policy under Trump. Under a Biden administration, those agencies will be unleashed.
3. Look to see who works in Biden's White House.
There's already a lot of focus on whom Biden will pick to lead some of the energy and environment agencies. (Mary Nichols, the chief air-pollution regulator in California, is reportedly a leading candidate to run the EPA.) But it matters less whom Biden picks to advise the agencies than whom Biden seeks out for advice. In the Obama administration, the obstacles to climate action did not arise, in large part, from appointed energy or environmental officials. They came instead from Barack Obama's political advisers, economic experts, and internal White House office directors.
Rahm Emanuel, Obama's first chief of staff, was so skeptical of climate change as a winning issue that he once chastised Obama's energy secretary for discussing rising sea levels with the press. Emanuel also cut big-ticket green items from the 2009 stimulus bill because he was skeptical they could be sold to the public.
And it was the economist Larry Summers who, as head of Obama's National Economic Council, shot down a national power grid and opposed spending more than a tenth of the 2009 stimulus on renewable energy.
4. So much depends on the Senate.
Right now, Democrats hold only 48 seats in the Senate. Their only apparent chance to take over the upper chamber before 2022 will come on January 5, when Georgia will hold runoff elections for its two Senate seats.
If Democrats take the Senate that day, then Biden will have the best chance to fight climate change of any American leader in a decade. Many of his climate proposals, such as his $2 trillion recovery package, will be politically feasible only with a Democratic Senate. Controlling the Senate is also his only path to appointing Supreme Court justices.
But if Democrats fail to win the Georgia runoffs, then the question becomes how much, exactly, Senate Majority Leader Mitch McConnell will allow Biden to accomplish. McConnell blocked many of President Obama's appointees, but we can only speculate as to how he will treat Biden. Maybe he will horse-trade with Biden on the budget, exchanging infrastructure investment for tax cuts.
Or—more likely—he could decline to confirm Biden's Cabinet secretaries. Or he could suddenly demand budget cuts, despite swelling the federal deficit for the past few years. (As I and others have written, there is little financial or political reason to worry about the deficit right now—if anything, the American economy would benefit from higher deficits.)
5. The energy transition will be won or lost.
In any case, the question is how much Senate Republicans will respond to the economic threat posed by a global energy transition.
Here's a parable. Modern solar panels were invented in the United States in the 1950s. For decades, American companies owned 95 percent of the global solar market. But then they lost their advantage in the 1980s—and, today, Chinese firms dominate the fast-growing market, while U.S. firms control a fraction of their market share.
That same story could now play out in the global auto market. The Chinese government has invested billions in electric-vehicle development, and most of the world's most successful EV makers are Chinese. (The sole American exception is, of course, Tesla.) China hopes to leverage its dominance in electric cars to take a greater share of the global auto market, much as the United States did in the mid-20th century with internal-combustion engines.
If American automakers want to catch up, they will require federal assistance and industrial policy—federal planning and investment designed to boost whole industries over the long term. So too will American companies in other transitioning industries, such as carbon-neutral steel, wind-turbine manufacturing, and hydrogen. This kind of government leadership isn't historically unusual—arguably, industrial policy is what helped develop America—but it is certainly out of vogue.
Are Republicans willing to indulge in it? Will politicians learn the industrial lessons of the coronavirus pandemic—when America so lacked manufacturing capacity that it could not secure the number of face masks, protective gear, and tests it needed?
And if so, what kind of EV-focused stimulus is possible—and how much would McConnell agree to? The answer could determine whether the U.S. plans for the future or meanders into it.
---
Someone Else's Weather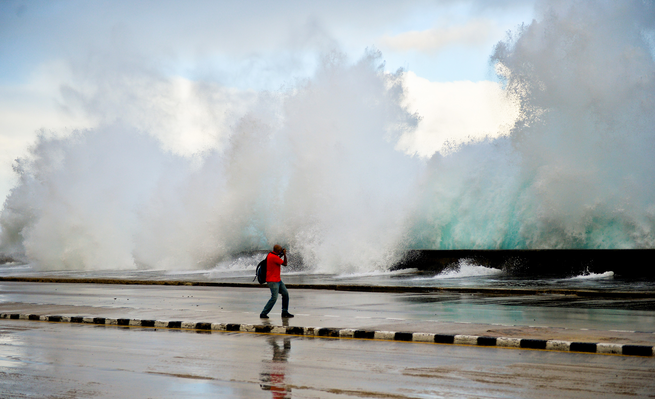 Tropical Storm Eta made landfall on Sunday in Cuba before hitting the Florida Keys. Eta is the 28th named storm of the Atlantic hurricane season; last night, Subtropical Storm Theta formed in the Atlantic, meaning that the 2020 season has now broken 2005's record for the most named storms in the Atlantic basin.
Every week, I hope to feature a weather photo from a reader or professional in this part of the newsletter, because the climate is someone else's weather. If you would like to submit one, please email weeklyplanet@theatlantic.com.
---
When We Last Spoke…
In last week's edition, I wrote about three down-ballot races that could shape American climate policy. Now that the votes are in, I don't have much good news to report:
In Texas, the Democrat Chrysta Castañeda lost her race to become one of three oil-and-gas commissioners. Republicans will extend their 25-year streak of unified control over that agency.

In Arizona, Democrats also failed to win a majority on the five-seat Corporate Commission, which oversees utilities, pipelines, and business law in the state. One of the winning Republican candidates, Jim O'Connor, has cast doubt on the existence of climate change and questioned the value of clean-electricity mandates. He and the other two GOP commissioners may now repeal clean-electricity mandates passed last month.

Finally, in Minnesota, the statehouse will remain divided: Republicans have maintained their edge in the state Senate—though a few races may go to a recount. We're unlikely to see significant statewide climate legislation out of Minneapolis for the next two years.
---
3 Quizzical Things
1. Be wary of anyone offering lessons about the election: We simply don't have enough information about it yet. Many states are still counting mail-in ballots, and we won't understand how each demographic voted until the weighted exit polls come out in a few months. But we can look at geographical trends—and one of the biggest so far is that Biden underperformed in heavily Latino areas of southern Texas. The whole Rio Grande Valley, in fact, normally a Democratic stronghold, seems to have swung to the right over the past few years: Was it partly because of the sheer number of oil-industry jobs in the region?
2. Historically, renewable-energy companies have been so cash-strapped that they haven't gotten involved in political fundraising. But that changed this year, Emily Atkin reports in her newsletter, Heated. She finds that climate- and renewable-focused fundraisers raised at least $20.2 million for the Biden campaign.
3. And this is what climate change looks like: More and more of California is burning every year, and it's becoming a problem for home insurers. The state has again blocked home insurers from dropping policies that are more risky because of climate change. But this will not disarm the unfired gun (one of many to worry about) on the Golden State's mantel: Because mortgages last for 30 years but require home insurance, but home-insurance policies must be renewed every year, the state is staring down a future where up to a fifth of its real-estate stock becomes potentially unsalable.
But here's some reasonably good news: California's dry season ended this week, with much of the state seeing rain, snow, or hail. The arrival of wet weather ends the worst fire season, as measured by acres burned, in the state's modern history.
---
Thanks for reading. Did someone forward you this newsletter? Sign up here.