America Is Being Pummeled by Disasters
Hurricane Laura, the strongest storm on record to strike Louisiana, is yet another calamity on top of wildfires, wind storms, and the pandemic.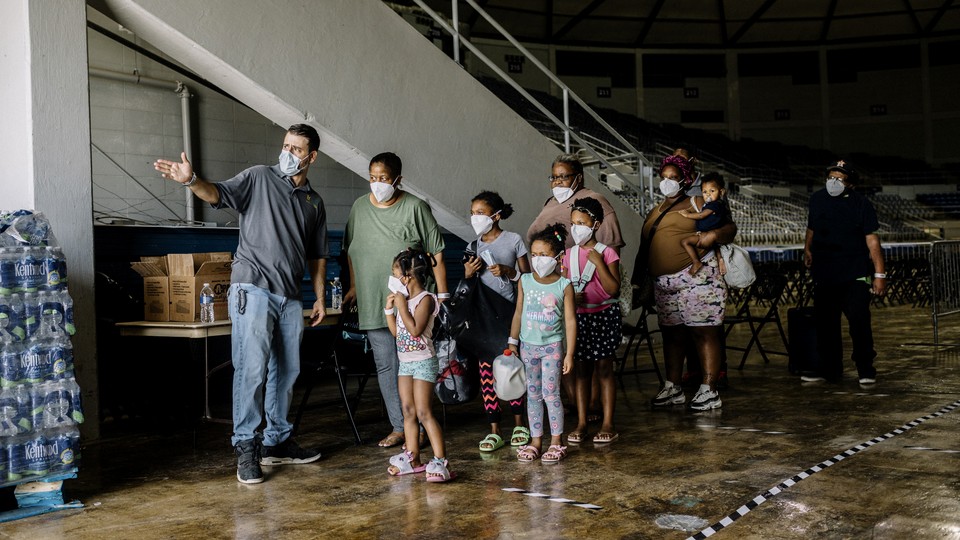 In the United States, disaster tends to strike in the late summer and fall, when hurricanes come ashore, wildfires rage across the West, and droughts reach their maxima. Beyond our borders, these months are the time of Amazon wildfires, of sweltering heat waves, of great urban floods. For some years now, I've covered climate change, which means covering the day-to-day convulsions of the Earth system, and quickly it became clear to me that August, September, and October make up the season of disaster. How long, I have started to wonder, until our collective sense of time begins to match that reality? How long until the fall isn't when "life starts all over again," but when life starts to fall apart?
Then came this week. Overnight, Hurricane Laura made landfall in Louisiana as a powerful Category 4 storm, the strongest hurricane ever to strike the state. While the cyclone's storm surge does not, at writing, seem as bad as feared, the storm was a monster, subjecting cities to unrelenting tornado-force winds and prompting the evacuation of tens of thousands of people. Laura did not arrive alone. Since mid-August, wildfires have blazed through California and the Mountain West, choking the air with toxic smoke and forcing people from San Francisco to Denver to check the air quality before they leave the house. In the Golden State, those fires were caused by the twin misfortunes of an intense heat wave that desiccated forests and a subsequent "lightning siege" that ignited them. The heat wave would have been threatening by itself: Eleven days ago, it prompted a mid-day reading of 130 degrees Fahrenheit in Death Valley, the hottest temperature ever reliably measured on Earth. For comparison: At 122 degrees Fahrenheit, flesh starts to cook.
All those disasters followed an early-August derecho, or straight-line windstorm, in Iowa that subjected the eastern half of the state to sustained winds of 70 miles per hour, destroying homes, power lines, and grain silos; it wrecked so many corn and soybean fields that Iowa's projected annual crop yield was cut in half.
This series of disasters struck while the country is facing the fastest and deepest economic downturn since the Great Depression, which has stripped tens of millions of their jobs and doubled demand for food banks in some places. The disasters hit after all congressional aid for the recession expired. And they happened while the country is paralyzed by the worst pandemic in a century. In normal times, a natural disaster sometimes leaves behind a sense of collective resolve, even purposeful joy, among those who survived it—"a paradise built in hell," as the writer Rebecca Solnit has put it—but such a utopia is far harder to construct when infection stalks the land. On the same day Laura made landfall, the U.S. reported 1,249 deaths from COVID-19, according to the COVID Tracking Project at The Atlantic. If that many people died in a storm, it would be a national calamity, but the coronavirus has been with us for so many months, and our leaders have so callously refused to grieve with us, that the virus's daily reaping has become a background statistic.
A hurricane, a season of fire, poisoned air, skin-boiling heat, treacherous winds, ruined crops, a time of poverty and disease—is this our lot? Is this our future? It seems facile to point out the role climate change has played in intensifying these disasters. Almost unnoticed among the calamities last month: July 2020 was the hottest July ever recorded in the Northern Hemisphere. In our warmed climate, Category 4 storms like Laura are more common, and they are likely to bring more rainfall. Climate change leads to hotter days and longer heat waves. And the type of fires that have raged in California this month—summertime forest fires—consume eight times more acreage now than they did in the 1970s. What's more, the area they burn increases exponentially in relation to climate change, so every degree of warming induces much larger fires than the degree before it.
Hurricanes often sweep up the Gulf Coast, a landscape defined for much of its length by the metal tubing and intermittent prosperity of the petrochemical industry. Laura made landfall near the heart of that business: Its eye came within 50 miles of the Motiva refinery in Port Arthur, Texas, the largest refinery in North America. Close to 30 percent of the coast's refineries shut down as the hurricane neared. Those facilities form the intestines of the global economic system, the place where fossilized sunlight is transformed into moldable plastic, toxic chemicals, and liquid energy. The gasoline that enlivens car engines, the jet fuel that takes planes to the sky, the plastic spork that rides in your takeout bag—it may have been born somewhere along that coastline. It's still unclear how much damage this industry took. It's still unclear how much damage it's done. And our season of disasters is not close to being over.