A Pandemic Journey That Puts Odysseus to Shame
One scientist started in the Arctic Ocean and ended up crossing the Russia-Finland border on a folding bicycle procured in Germany.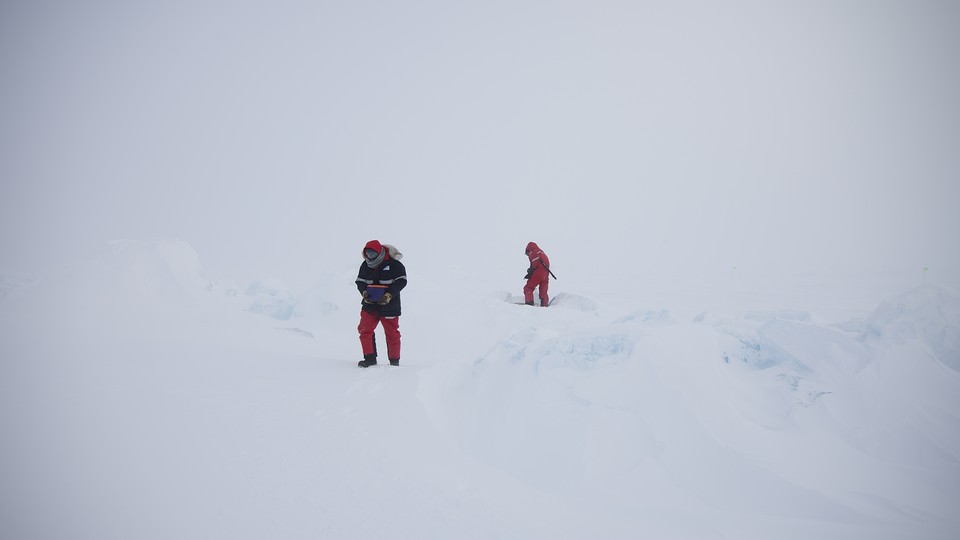 Shortly after he arrived on the RV Polarstern at the end of February, Alexey Niubom learned he would not be going home as planned. The 32-year-old engineer from St. Petersburg, Russia, was among roughly 100 crew members staffing the third leg of a yearlong Arctic research campaign aboard the German icebreaker. From the outset, the trip unfolded like a Jules Verne novel, beginning with a four-and-a-half-week journey toward the North Pole aboard another icebreaker—this one Russian—that almost had to turn around because fuel was running low. Now they were drifting across the central Arctic Ocean at the mercy of the winds, the ocean currents, and the sea ice that the Polarstern was intentionally frozen into last October.
The original plan was for Niubom's team to stay aboard the ship until April. Then transport aircraft were supposed to arrive from the Norwegian archipelago of Svalbard, land on a makeshift sea-ice runway, drop off a fourth crew rotation, and bring the leg-three team back to land.
In March, Norway suspended foreign travel because of the pandemic.
Under the best conditions, keeping this expedition running for a full year would have been a masterpiece of organization. The Multidisciplinary drifting Observatory for the Study of Arctic Climate, or MOSAiC, involves roughly 500 scientists and support staff rotating on and off the Polarstern for several months at a time in order to maintain the experiments and the high-tech research camps that surround the icebreaker like a frozen fiefdom, collecting data on the weather, ice, oceans, and ecosystems of the central Arctic. MOSAiC is the largest Arctic research campaign in history, and to stay on track as the coronavirus pandemic began disrupting global travel, "we had to change pretty much all of logistics," says Markus Rex, the expedition lead. "In mid-March, it became clear that none of our plans will work under the conditions of the pandemic."
Niubom wouldn't set foot on land again until the middle of June. By that point, after nearly five months at sea, he would have done almost anything to get back to his wife and his young daughter in St. Petersburg as quickly as possible. He just didn't expect that would mean biking into Russia from Finland on a folding bicycle he had procured in Germany.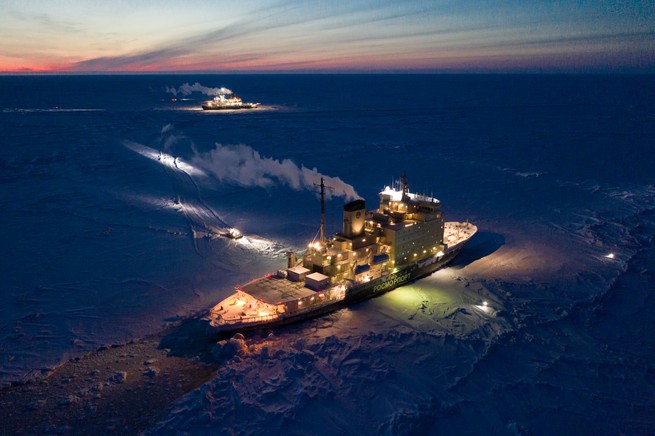 ---
An employee of the Arctic and Antarctic Research Institute in St. Petersburg, Niubom joined MOSAiC to run a seismic system for monitoring tremors in sea ice, and to assist with other ice-related projects. Like most members of the third crew rotation, when he learned he was going to be helping out aboard the Polarstern considerably longer than expected, he took the news in stride.
"In the Arctic, you cannot plan everything as you would like; here you are a hostage to the situation," Niubom wrote me in an email. And as the pandemic worsened around the world, he tried to see the upside in his situation: "We're going without masks and gloves with no fear. We are the only ones in the world who would hold football matches, though on ice." (For this very international team, football, naturally, meant soccer.)
Most people who sign up for polar expeditions do so, in part, because they love working in extreme environments—the more unknown, the better. Taneil Uttal, who led MOSAiC's atmospheric-research team from mid-December through February, chose a winter shift because she "thought it would be the most interesting, unknown, and extreme" leg of the trip. (Normally, she works as a scientist at the National Oceanic and Atmospheric Administration in Boulder, Colorado.) Being part of MOSAiC's winter crew meant working outside on days as cold as –50 degrees Fahrenheit and knowing what to do when polar bears wander into your research camp; it meant working six and a half days a week on a monochromatic moonscape where the sun never rose. People did all that and more: "They would come home and have dinner, and then go skiing and walking on the ice," she says. "We would have bonfires out on the ice, parties out on the ice. People just loved being out on the ice."
MOSAiC researchers were prepared to face isolation and harsh conditions. But tossing out years of painstakingly choreographed logistics and keeping their scientific work going amidst a global pandemic presented a new level of challenge. And although Niubom and his colleagues were steeled to stay aboard the Polarstern as long as was necessary, they also had families to return to, families that needed their support more than ever. "Day by day, the awareness of this problem became clearer, and something had to change," Niubom said.
The pandemic made this hard. At first it seemed like Niubom's crew might be able to travel home aboard a Swedish icebreaker scheduled to resupply the Polarstern in June. Then, Swedish travel restrictions kicked in, and that vessel was forced to cancel its journey north. After weeks of unsuccessfully attempting to charter icebreaker after icebreaker, MOSAiC's coordinators drew up an alternate plan: The Polarstern would break free of the ice and travel hundreds of miles south in order to link up with a pair of German vessels. Instead of taking place in mid-April, this maritime crew swap would occur in May.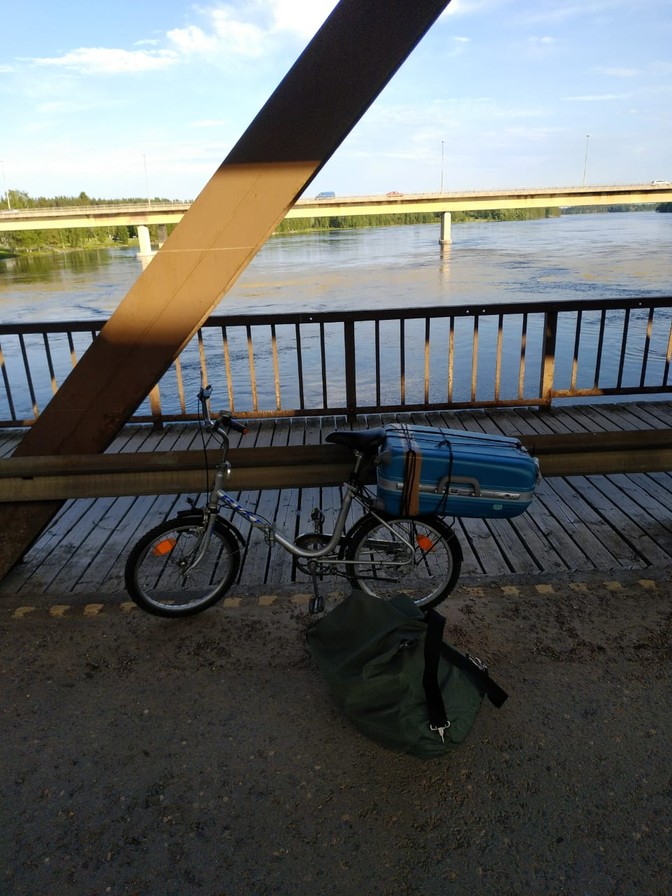 Even that far into spring, when the darkness and the bitter cold of winter had given way to milder weather and endless sunlight, the ship encountered thick sea ice on its journey south, delaying its arrival by about a week. In early June, it finally managed to break through the southern ice edge and link up with the RV Sonne and the RV Maria S. Merian in waters off the coast of Svalbard, where the swap took place.
Once free of the ice, each crew member still had to find a way home. After the ships made port in the German city of Bremerhaven, many participants would need to fly halfway around the world, at a time when global travel remained severely disrupted. Niubom's situation was particularly challenging: The Sonne and the Merian were due to arrive in Germany on June 15, but there were no flights from Germany to Russia until the end of the month. A direct flight "would mean for Alexey waiting for two weeks in a hotel in Bremerhaven," says the MOSAiC coordinator Elena Tschertkowa-Paulenz, who was helping many participants work through travel issues. "He was not amused about such a scenario."
But Tschertkowa-Paulenz was able to find flights from Germany to Finland, and St. Petersburg isn't that far from the Finnish border. All trains and buses across the border were suspended, but when Tschertkowa-Paulenz called the Finnish border police, she learned that it would be possible for Niubom to cross in a personal vehicle. Finally, the two devised a plan: Niubom would fly into Helsinki, take a train to the Finnish border town of Imatra, and bike into Russia, which was less than 10 miles away.
---
The central Arctic Ocean is one of the least understood environments on Earth, and a key goal of MOSAiC is to capture the first-ever year-round data set on it. Ultimately, the troves of information scientists are collecting will be used to answer fundamental questions about the Arctic and improve global climate models.
Extricating the Polarstern from the ice pack it had been drifting with for months and making the glacially slow trek toward open water meant sacrificing some of that data. All told, the ship's southward detour resulted in a roughly three-week gap in MOSAiC's yearlong records, says Rex, the expedition leader. Although this will "absolutely have an impact" on the science, considering the alternative, Rex sees that impact as "very mild."
"Other expeditions, pretty much all the other activities I know, had to be canceled because of the corona pandemic," he says. "We are still up and running."
Indeed, as the challenges mounted for MOSAiC, many scientists had to scrap their fieldwork plans altogether. Numerous spring and summer research cruises were delayed by the pandemic; NASA suspended several Earth-science airborne campaigns. Countless researchers abandoned plans to do spring and summer fieldwork abroad as their institutions issued travel restrictions and as countries closed their borders. Many have refocused their efforts on work that can be done remotely.
"The pandemic has already reshaped my research pretty significantly," says Sarah Cooley, a postdoctoral fellow at Stanford University who studies Arctic hydrology. Although Cooley had intended to spend most of April and May in northwest Greenland interviewing locals about changing sea-ice conditions, instead she has spent the past few months in California, working on a completely different project using satellite data. The Cambridge University volcanologist Lis Gallant and her colleagues had to cancel plans to travel to Chile, where they were going to start a project on local perceptions of natural hazards. Her team is now chatting with researchers there about enlisting grad students to lay the groundwork. Likewise, the Columbia University anthropologist Lisa Ilboudo-Nébié and the climate scientist Weston Anderson are in the process of hiring a field assistant to start the work they now can't, interviewing pastoralists in Senegal for a study on water resources and food security.
Given struggles such as these, and the myriad field expeditions that have been suspended indefinitely because of the coronavirus, MOSAiC's persistence is a testament to the enormous effort that went into staging the expedition in the first place. "It's really jaw-dropping that MOSAiC is still running," says Uttal, the NOAA scientist.
The logistical gymnastics its administrators have pulled off to get participants home underscore that. The MOSAiC coordinator Tschertkowa-Paulenz says that under normal circumstances, her logistics department would be involved only in arranging travel to the Polarstern. "But during corona time, nearly everything was extraordinary," she says.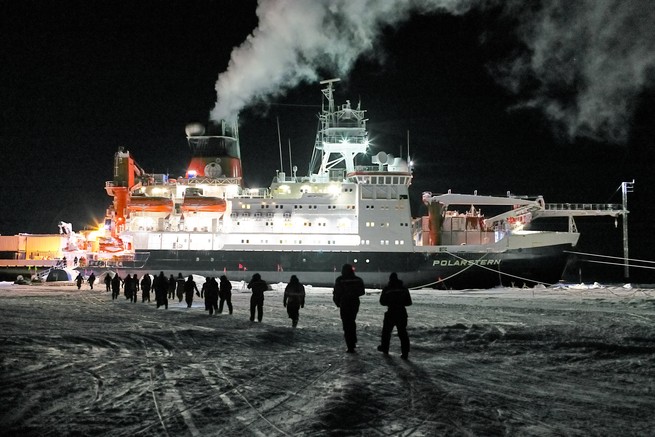 ---

To get Niubom home, Tschertkowa-Paulenz went on eBay to search for a folding bike that he could pack in his airport luggage. She managed to find one at a "reasonable price," she says, in Bad Bederkesa, a town not far from Bremerhaven. On the evening of June 12, Tschertkowa-Paulenz drove to Bad Bederkesa and bought the bike from a girl named Isabelle. "As I told her that I need this bicycle to cross the border, I think she thought I am making jokes," Tschertkowa-Paulenz says.
The day Niubom arrived at Bremerhaven, Tschertkowa-Paulenz met him at a train station to hand it off and wished him luck on his adventure.
His first challenge was flying from Germany to Finland, already a surreal experience during pandemic times but especially so for someone who had just spent five months on a boat. ("I looked like a dog that was released for a walk for the first time in five months," he said.) At the airport, he had to check the folding bike in a special case as an extra piece of luggage, which wound up costing about as much as the bike itself. And although Niubom said the bike was in "excellent condition" when he packed it, by the time he opened that case in Finland, its front and rear lights had been broken.
Still, he was determined to ride the bicycle into Russia if he could. But by the time he arrived in Imatra that evening, the sun was going down. His 50-pound luggage was bigger than the trunk of the diminutive two-wheeler, and despite his best efforts to tie it down, the luggage fell off en route and had to be re-attached. Between what he was carrying and his own weight, Niubom worried the bike frame would snap in half.
On top of all that, he was traversing unfamiliar countryside on roads that were being repaired, and his phone wasn't connected to the internet.
"I had to stop people on the street and ask for directions to Russia," Niubom said. "It was getting dark, and I was afraid that I would be left in the woods with a broken bike without food and be bitten by mosquitoes."
The folding bike held out. After an hour and a half, he arrived at the border, which consisted of little more than a road barrier and customs officers. On the Russian side, however, Niubom was detained by a woman from the public-health department who didn't approve of his plan to order a taxi the rest of the way home. Someone had to pick him up in person, she insisted. He had to sit on a chair, waiting, for about four hours, all the while getting devoured by mosquitoes.
"Finally," Tschertkowa-Paulenz says, "the border police and the serious lady [gave up] and ordered a taxi for Alexey on themselves." Niubom arrived home at 3:30 in the morning, exhausted but overjoyed to see his family. He was particularly happy that his 2-year-old daughter still seemed to recognize him.
Given everything he went through this year, I was curious to know whether Niubom would sign up for an expedition like MOSAiC again. "No, suddenly there will be a new virus," he joked. But he recognizes how fortunate he was to participate. Few of us, after all, will ever step foot on an ice-covered ocean, much less live and work on one for months as the sun creeps over the horizon and the world awakens from a long polar night.
"When I learned from the news that thousands of Russian citizens could not return from abroad, I realized that it would not be a bad option to continue working on the ship," Niubom said. "But in the end, I decided to risk trying to return. Those who don't take risks don't drink champagne."