America Isn't Testing for the Most Alarming Coronavirus Cases
In many states, testing rules are so strict that doctors may not notice a community outbreak until it's too late.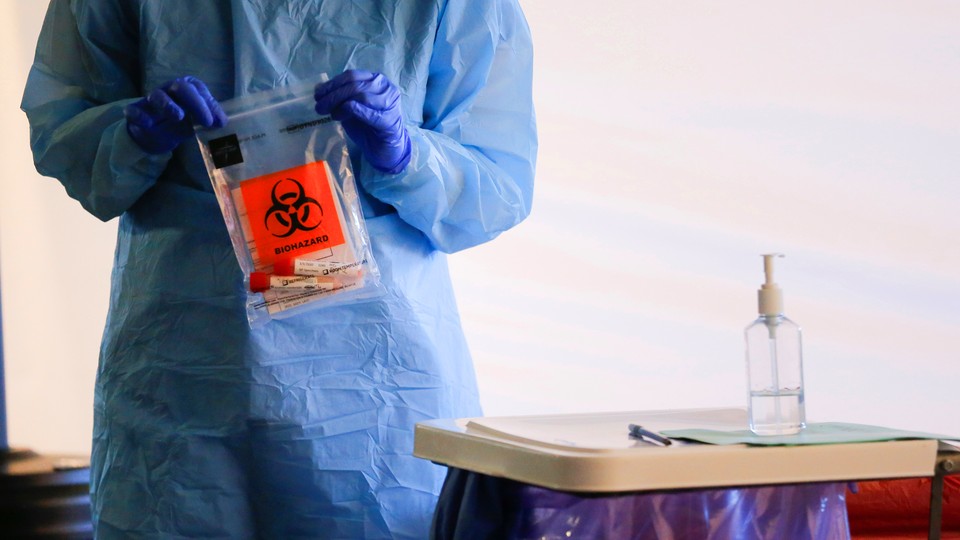 Morgan Thornberry, a 38-year-old organizer in San Diego, went to an urgent-care clinic earlier this week with a fever, a dry cough, and nausea. The symptoms had started the week before, on the day she was released from the hospital for an unrelated stay.
She went to the clinic with the same question as, it seemed, everyone else: Was she sick with COVID-19, the disease caused by the new coronavirus? The six people behind her in line were all wearing surgical masks.
She still doesn't know. Though tests showed she was negative for influenza and strep throat, the clinic doctor said he could not test her for COVID-19. "The doctor said he wanted to test me, but the San Diego County Department of Health criteria wouldn't allow him to," Thornberry told me.
For more than a week, federal officials have promised that tests for the new coronavirus would soon be widely available. "Anyone who wants a test can get a test," President Donald Trump said during a visit to the Centers for Disease Control and Prevention last week. (Secretary Alex Azar, who leads the Department of Health and Human Services, later clarified that a doctor or public-health official would need to approve and prescribe it.) And leaders at both the CDC and the Food and Drug Administration say they have loosened once-stringent rules that allowed only Americans who had traveled abroad to get tested.
But the majority of Americans still cannot get tested, as interviews with doctors, patients, and dozens of state public-health officials reveal. While the most stringent federal guidelines are gone, a chaotic patchwork of rules now governs who can and cannot get a COVID-19 test. In many states, symptomatic patients still cannot get tested for the coronavirus unless they meet certain limited criteria—even if their doctor wants to test them.
Those criteria mean that the cases most crucial to understanding the spread of the pandemic may never be discovered. In at least 13 states, the rules effectively discourage doctors from testing patients who have no known ties to existing cases—exactly the kind of "community case" that would signal that the pandemic has reached a dangerous new stage in a city or region, and that the virus is now spreading among strangers.
The rules are set by states, counties, and cities, as well as by individual hospitals and health systems. And while many are based on guidelines published by the CDC, their enforcement can vary profoundly on a state-by-state, and even hospital-by-hospital, basis.
Under the most widely used criteria, only people who have either traveled recently or have had known contact with a laboratory-confirmed COVID-19 patient can get tested, even if they have all the symptoms of the disease. This means that a city or region's first community case may not qualify for a test, especially if the person is not sick enough to be hospitalized.
"If those are the requirements, you will miss almost all mild symptomatic transmission, and only become aware [that the coronavirus] is present in your community when it gets into a group of vulnerable people and starts killing them," William Hanage, an epidemiology professor at Harvard, told me by text message.
On a wider scale, the rules frustrate doctors, nurses, and other front-line medical workers as they try to take care of patients without endangering themselves. Even in the absence of local rules, doctors must sometimes involve dozens of people throughout a sprawling hospital bureaucracy before they can authorize a single test. The rules have prevented medical staff from getting themselves tested: In several cases, a doctor who had symptoms of COVID-19 told me they were denied a test because they could not prove they were exposed to a laboratory-confirmed case.
The rules almost certainly mean that the United States is still greatly understating the number of people nationwide who are sick with COVID-19, experts say. There are more than 1,800 discovered coronavirus cases in the United States, but estimates of the outbreak using statistical and genetic models suggest that thousands of people are already sick. An Ohio official estimated yesterday that 1 percent of the state's residents—or approximately 100,000 people—already have the coronavirus, though she did not say how she reached that number.
The strict criteria may also explain why so few Americans have been tested for the coronavirus, even though administration officials have promised that they have sent millions of testing kits to state labs and hospitals. As of this afternoon, an ongoing investigation co-led by The Atlantic could only verify that 16,471 people have been tested for the coronavirus in the United States. By this point in its own COVID-19 outbreak, South Korea had tested more than 100,000 people for the illness.
Officials say the rules are necessary because without enough supplies to cover everyone in their state who may want to be tested, they must ration the COVID-19 tests. "The aspirational goal is that, ultimately, COVID-19 testing would be available for anyone with upper-respiratory symptoms who wants to be tested. However, at the state level and at the national level, we do not have individual supplies," Kris Ehresmann, the infectious-disease chief for the Minnesota Department of Health, said at a press conference yesterday.
And in some places, such as New York City, it does not make sense to test possible community cases with mild symptoms, because the coronavirus is clearly spreading among strangers. Mark Levine, a city councilman and the chair of New York City's health committee, said on Twitter yesterday that the city was reserving tests for the acutely sick, to focus existing resources for treatment on those people.
Likewise, many states include an exception to their rules, allowing doctors to test someone in respiratory distress who has no clear alternative diagnosis, or someone who lives in a nursing home.
But it is still unclear whether community spread has begun in every part of the country. And in a state or city where the coronavirus is not yet known to be spreading, the rules may keep doctors from noticing that it has started.
The CDC guidelines—which do not carry legal force—allow for testing a wider array of patients than is currently allowed under many state-level rules. Under guidelines updated earlier this week, the agency noted that "priorities for testing" may include severely ill hospitalized patients with no other diagnosis; symptomatic adults who are older or who have a complicating factor, such as heart disease or a suppressed immune system; and any patient who had close contact with a "suspect or laboratory-confirmed" COVID-19 patient.
Benjamin Haynes, a CDC spokesman, told me in a statement that the factors cited in the CDC guidelines "are meant to help guide decisions on testing."
He said that decisions about who to test were best left to doctors. "Decisions on which patients receive testing should be based on the local epidemiology of COVID-19, as well as the clinical course of illness," he said. "Clinicians should use their judgment to determine if a patient has signs and symptoms compatible with COVID-19 and whether the patient should be tested."
But the guidelines may also keep doctors from understanding the "local epidemiology"—that is, the extent of the coronavirus's spread—in their own region. Ehresmann, the Minnesota official, said yesterday that her state's nine coronavirus cases were all linked either to travel or exposure to a known infected person. "None of the cases would be considered related to community spread," she said.
But 20 minutes later, she added that the state was testing only "individuals who have the highest likelihood of having COVID-19." Who fell into that category? Only people who had traveled recently, who had been exposed to an infected person, or who were already hospitalized or in a nursing home.
In other words: If officials say there is no evidence of community transmision, it may only be because they aren't looking for it.
---
There is little consistency to who gets a coronavirus test in the United States today. After a player on the Utah Jazz tested positive for the coronavirus this week, the rest of the team—as well as the coaches, staff, and reporters who travel with them—was tested for the virus. (Another player tested positive.) The Oklahoma City Thunder, whom they were about to play and whom they had mingled with on the court, were not initially tested, even though the game was in Oklahoma. (The team has now said it will work with the state health department to test Thunder players, coaches, and staff.)
Even members of Congress who are in self-quarantine after being exposed to the coronavirus have had inconsistent access to the tests. Senator Ted Cruz said this week that he has not been tested for the virus. Representative Don Beyer, a Democrat from Virginia, has also not been tested. But Representative Matt Gaetz, a Republican from Florida, did secure a test for the virus. He was negative.
"If you come in sick with a viral syndrome, you're going to get good treatment, you're going to get supported. [Testing] does matter on a population basis so we can understand the scale of the disease," a 50-year-old doctor in Tennessee told me. (He was one of several doctors I spoke with who asked that his name not be used, because he was not authorized to speak with the press.) As of last weekend, he had seen five patients who he thought might have COVID-19. The state and county rules allowed him to test one of them—the only one who might have picked up the disease abroad. The test came back negative.
And state rules do not always govern who can be tested and who can't. Hospitals also institute their own requirements. A 53-year-old doctor in Northern California told me that at her hospital, both the state and the county have lifted any restrictions on testing. But she still must involve several other departments as well as hospital administration before she can test a single patient.
"It's not as easy as taking a swab. It requires the involvement, I kid you not, of 40 people. If that's not a barrier to care, I don't know what is," the doctor said.
Understanding the testing situation requires walking through hypotheticals. If an American with a state or city's first community case of COVID-19 walked into an emergency room—short of breath, exhausted, and perhaps coughing up blood—would he or she get tested? It depends on the state, the county, sometimes even the individual hospital.
The person would probably not get tested in New Hampshire, which had the strictest guidelines among the dozens of states we asked to share basic information about their current testing criteria. If someone has not had contact with a COVID-19 case, has not traveled from a country where the CDC or World Health Organization says the coronavirus is in community spread, and is not sick enough to be hospitalized, then a flow chart published by the state recommends "no testing; usual care." (After publication, New Hampshire said it had updated its rules. Under the new guidance, a doctor could test such a person if they were exposed to large numbers of people or were judged to have a "risk of exposure to COVID-19.")
Most other states publish criteria only for how to prioritize tests. Hawaii, Idaho, and Vermont hew to something like the basic CDC criteria, asking doctors to focus on patient symptoms, travel history, and known exposure. North Carolina, among the most lenient, will allow doctors to test a symptomatic patient if the person has failed a rapid flu test. Some states—such as Missouri, Wisconsin, and Colorado—allow for testing a hospitalized patient if the person is in severe respiratory distress and has no other diagnosis.
Some states admit they have to be more stringent with tests than the CDC recommends. In Missouri, a spokeswoman told me that the state public-health lab had to reserve its "finite number of tests … for those in greatest need." The state has testing supplies for only about 1,000 samples, she said, and additional testing kits and supplies had been back-ordered from the CDC for two weeks.
Some states, such as Illinois, Colorado, and Washington, prioritize testing when officials or doctors suspect there might be a cluster of cases, such as in a school or nursing home.
Most state guidelines do not apply to tests conducted by private laboratory firms that do routine medical testing, such as Quest Diagnostics and LabCorp. Those firms say they can test 5,000 people a day, combined, but they take three to four days to deliver results, compared with 24 hours for a state public-health or on-site hospital lab test.
What about a doctor or nurse who has COVID-19 symptoms and wants to get tested? Again, it varies by state. Washington, the site of the country's largest confirmed outbreak, says it will test health-care workers as well as people in other "public-safety professions," such as police officers, firefighters, and EMS. Colorado allows symptomatic health-care workers to get tested, even if they don't know whether they have had contact with a COVID-19 patient. But Illinois says that health-care workers can get tested only if they have met a patient with a lab-confirmed case of COVID-19.
The CDC guidelines say that health-care workers should get a test, even if they only have had contact with a suspected case that was not confirmed in a laboratory.
But Hanage, the Harvard epidemiologist, said he knew of multiple cases in the Northeast where a doctor or health-care worker could not get tested for COVID-19.
The experience of a 35-year-old doctor in Nebraska is indicative. Early last week, the doctor and her husband both came down with a dry cough, body aches, and a moderate fever. On Saturday, after days of being ill, she sought a coronavirus test from the hospital where she works. She had already tested negative for the flu.
For a health-care worker, getting tested for COVID-19 is not only important for peace of mind. The doctor was worried that she would infect her patients, some of whom have compromised immune systems, with the new coronavirus. If she did have COVID-19, she would have to self-quarantine for days after her fever broke.
But at her hospital—and at many hospitals across the country, my reporting has shown—doctors cannot simply order a COVID-19 test for a patient, as they would order any other diagnostic test. Instead, they must first request permission from a special infection-control unit in the hospital. Then, a doctor or nurse in the infection-control unit—who has not seen the affected patient—decides whether the test should go through.
The infection-control unit rejected the 35-year-old doctor's request to be tested. The nurse on duty told her that because she had not traveled to one of several "at-risk" countries, such as China, and since she did not know someone with a positive COVID-19 diagnosis, she could not have the coronavirus.
"We have no evidence of community spread in Nebraska," the nurse said. "And even now, there's a one-in-a-million chance that someone in the community without that travel history has COVID-19."
A type of test called a respiratory-viral panel eventually revealed that the doctor had a less serious virus, not the new coronavirus. (Because of her hospital's procedures, she had to request both the respiratory-viral panel and the special COVID-19 test at the same time.) She has since recovered.
But the experience left her baffled. If they weren't testing any community cases, how could they know there was no community spread? "I don't even know how you could get a number [like one in a million]," she told me. "How do you calculate with zeroes everywhere?"
Jacob Stern contributed reporting.