Voters Really Care About Climate Change
For Democrats, climate change is now one of the two most important issues in politics, according to a new poll.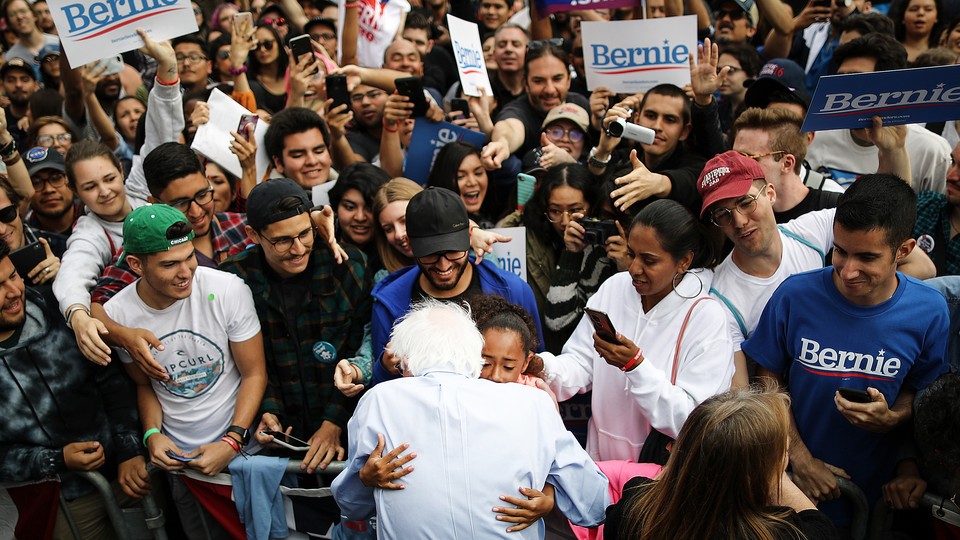 Updated at 1:05 p.m. ET on February 21, 2020.
It's not a fluke, an error, or an outlier. In poll after poll, the results are clear: Climate change is one of the most important issues in the 2020 presidential election.
A new survey, released today and provided exclusively to The Atlantic, only drives the point home: Climate is the clear number-two issue—second only to health care—for Democrats who live in one of the upcoming primary or caucus states. Among all voters, the warming planet is now one of the most salient issues in American politics. The poll was conducted by Climate Nexus, a nonpartisan nonprofit group, in partnership with researchers at Yale and George Mason University, and included nearly 2,000 registered voters.
Climate change now sits alongside only four other mainstays—health care, the economy and jobs, immigration policy, and Social Security—in its ability to command the electorate's attention. And for self-described liberal Democrats, climate change is now nationally the most important issue, beating out 28 others, Anthony Leiserowitz, a senior research scientist at Yale, told me.
"This is the first time in American political history where climate change is not just a top-tier issue—it is the top-tier issue," ​said ​Leiserowitz, the director of the Yale Program on Climate Change Communication, which helped conduct the new poll​.
Yet while Democrats have grown ever more alarmed by climate change, self-identified Republicans remain largely unmoved. In the poll, Democrats are much more likely than Republicans to say climate change is one of their top two issues, and they support more aggressive policies. This reflects a deepening divide among Americans: Climate change, Leiserowitz said, "has become more polarized now than any other issue, including abortion."
The Climate Nexus poll was conducted online from February 6 to February 9, among 1,934 respondents in 26 states. Each of those states—they include Nevada, South Carolina, California, and Texas—will hold a Democratic primary or caucus between now and March 17. Climate Nexus then weighted the responses from each state in line with Census Bureau estimates of local age, gender, race, education, and Hispanic demographics. In addition to the Yale team, Climate Nexus partnered with the George Mason University Center for Climate Change Communication for the poll.
The poll's results fit into a remarkably consistent pattern: American voters are taking climate change seriously. Last March, a CNN/Des Moines Register poll found that climate change was a top-two issue for Iowa Democrats. Since then, the same results have kept showing up in opinion surveys, exit polls, and Associated Press vote-cast data, Leiserowitz said.
Earlier this week, the Pew Research Center announced that a majority of Americans now say dealing with climate change should be a top priority for the president and Congress. Since 2016, that number has increased by 14 percentage points. And in another all-time high, nearly as many Americans (64 percent) now rank protecting the environment as highly as they do strengthening the economy, the Pew report found.
Some of this effect may reflect President Trump's broad rejection of climate policy and embrace of fossil fuels. It is common for public polling to swing in the opposite direction of the incumbent president's policy views, a phenomenon that political scientists call "thermostatic public opinion."
And while the polling shows that concern about climate change is growing, it also reveals that views are divided by party. "Over the past five years, public concern about climate change has soared, particularly among Democrats. It's also gone up substantially among independents, but it's stayed relatively flat among Republicans," Leiserowitz said. Last month, a separate study from the Yale and George Mason University teams found that ideology and partisan affiliation still strongly predict a voter's views on the climate. While more than 70 percent of Democrats say that global warming is caused by human activities, only a slim majority (51 percent) of moderate Republicans agree, as do only 25 percent of self-described conservative Republicans.
The new poll, which was conducted using different methods, shows some signs of that disconnect. Nearly 70 percent of respondents said they were very worried or somewhat worried about climate change, it found—more than those who said the United States is on the wrong track (52 percent) or approved of Donald Trump's performance as president (45 percent).
Those worries matched a growing desire for stronger climate policy, the poll found. Among all voters, seven out of 10 said the government should do more about climate change. Fifty-nine percent of respondents went further, saying they would strongly or moderately support a Green New Deal. Only 25 percent of respondents said they strongly or somewhat opposed such an aggressive measure.
More moderate policies were more popular. Nearly three-quarters of all voters said they wanted a candidate who would set stronger pollution standards, and 70 percent said they wanted the next president to strengthen federal fuel-economy standards. (As I reported earlier this month, the Trump administration has fought for years to weaken the fuel-economy rules.) And nearly four in five voters, from all parties, support providing "assistance, job training, or guaranteed wages" to workers from the oil, gas, and coal industries who have lost their jobs.
Not every climate policy commanded a majority. Roughly the same percentage of voters (42 percent) support opening up new federal lands for oil and gas drilling as oppose it (41 percent), the poll found. Every Democratic presidential candidate, from Amy Klobuchar to Bernie Sanders, has said they oppose such an expansion.
Perhaps the most intriguing finding: Large majorities of voters want most future energy infrastructure to come from renewable sources, such as wind and solar. More than 70 percent of voters said that they would support requiring 100 percent of electricity in their state to come from wind and solar plants by the year 2050. Most respondents said such a policy would boost the economy, lower electricity costs, and help rural and farming communities in their state. Most also said it would have either a positive effect, or no effect at all, on workers' wages and the unemployment rate. It's a commonplace in climate politics that Americans love solar and wind energy, but this has not, so far, translated into market power for the technologies.
The poll also asked about a series of head-to-head matchups between Donald Trump and one of the Democratic candidates.
Michael Bloomberg fared the best here: 47 percent of respondents supported the former mayor, 40 percent supported Trump, and 13 percent said they weren't sure.
In the Sanders-Trump matchup, 47 percent supported Sanders. But fewer voters (11 percent) were unsure in this scenario; 43 percent supported Trump.
In the Buttigieg-Trump matchup, 45 percent supported Buttigieg, 41 percent supported Trump, and 14 percent of respondents said they weren't sure.
Joe Biden did nearly as well as Buttigieg, winning 45 percent to Trump's 42 percent. Elizabeth Warren tied Trump in the head-to-head matchup, and Klobuchar lost by one point. In every case, the number of undecided voters was larger than the winner's margin.
The full list of states polled for the survey were—take a deep breath—Alabama, Arizona, Arkansas, California, Colorado, Florida, Idaho, Illinois, Maine, Massachusetts, Michigan, Minnesota, Mississippi, Missouri, Nevada, North Carolina, North Dakota, Ohio, Oklahoma, South Carolina, Tennessee, Texas, Utah, Vermont, Virginia, and Washington.
It's not as if candidates are ignorant of this shift in voter priorities. Every Democratic candidate has announced a climate plan and talks about it on the stump. (Even Trump alluded to a tree-planting plan in his State of the Union address.) In televised debates, such as the one earlier this week in Nevada, Democratic candidates hurried to bring up climate change before any questions about it were asked. The discussion hasn't always been satisfying, Leiserowitz admitted, but "I don't think it's a coincidence that they're all elbowing each other to talk about it," he said. "There's a climate vote for the first time."