John Kerry's New Bipartisan, Star-Studded 'War' on Climate Change
In an interview, the former secretary of state talks about the climate news that makes him want to curse, and his new alliance with Arnold Schwarzenegger and Leonardo DiCaprio.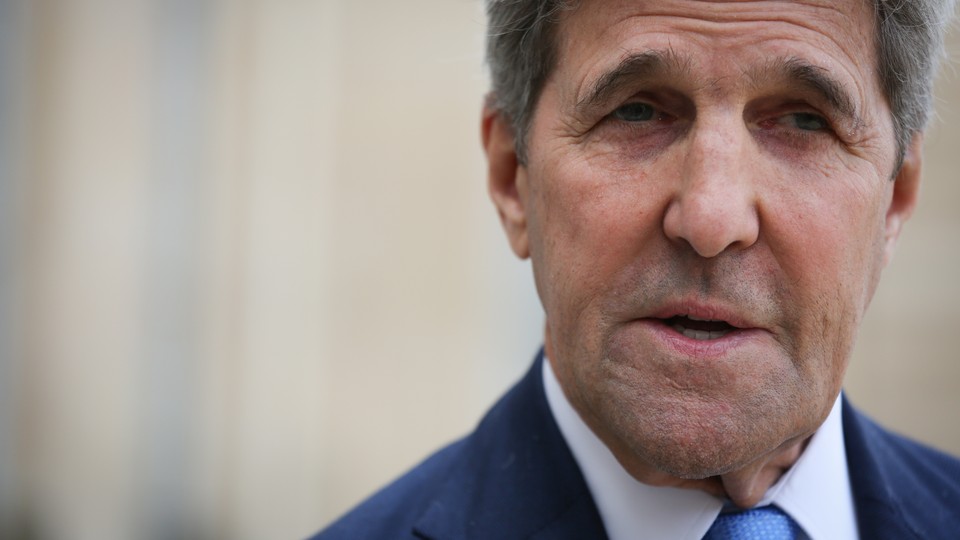 As for the sordid saga of American politics and climate change, John Kerry has not quite seen it all, but he has seen a whole lot of it.
He was there in 1997 in Kyoto, Japan, when the first global climate treaty was negotiated. Four years later, he was denouncing President George W. Bush from the Senate floor after he withdrew the United States from that pact. In 2009, Kerry was one of three bipartisan senators who tried—and failed—to pass an ambitious climate bill. As secretary of state in 2014, he negotiated the first climate agreement between the United States and China. It cleared the way, in 2015, for the global Paris Agreement, which he also helped negotiate. Somewhere in this two-decade period he also ran for president.
This weekend, Kerry returned to the breach, joining with Arnold Schwarzenegger, the former Republican governor of California, to launch a new bipartisan group that aims to unify the public behind climate action. It is named World War Zero, a reference both to its goal of an American economy with net-zero carbon emissions by 2050, and to the wartime-style mass mobilization that Kerry says can get us there.
Other than that mid-century goal, though, World War Zero will not endorse any particular candidate or climate policy. (As The New York Times noted, its supporters are split on the virtues of fracking.) Instead, it aims to offer a unifying story that can anchor other efforts, focused on the economic benefits of climate action and the national-security and public-health risks of climate change.
It will back up that story with star power. Leonardo DiCaprio, Ted Danson, and Sting are all involved, as is John Kasich, the former Republican governor of Ohio. Jimmy Carter, Bill Clinton, Hillary Clinton, Stacey Abrams, and Cindy McCain are also members. Retired leaders, including General Stanley McChrystal, represent at least three branches of the military. Ashton Kutcher, a noteworthy Iowan who now sits on the board of the Washington-based think tank New America, is also involved.
Kerry spoke with me yesterday from Los Angeles. Our conversation touched on whether the Paris Agreement is working, how the next four years could prove "catastrophic," and how Big Finance could save the world. We also talked briefly about the impeachment proceedings, which have featured several State Department employees whom Kerry knew. Our conversation has been edited and condensed for clarity.
---
Robinson Meyer: Tell me a little bit about the new group, World War Zero. What can it accomplish that other groups can't?
John Kerry: First of all, there are some terrific efforts out there by a lot of groups. But I think we bring something very unique to the table, which is the joining of unlikely allies who don't agree on everything at all, who come from different places ideologically … but all of whom believe that it's critical to urgently deal with climate change in a very different way from where we are.
We're not fighting about the difference between fracking, or the carbon fee and who gets what, or the Green New Deal. We're really focused on getting everybody on the same page: that the goal of 2045, 2050 for a low-carbon, no-net-carbon economy is critical. Let's get everybody moving in that same direction, agreed that we have to reach that goal urgently—almost treating it like war, literally. Because if we don't get on a war footing in order to do what we have to do … we're not going to make it. We're not going to get the job done—to do what we set out to do in Paris and elsewhere, that the scientists tell us we have to do.
Meyer: Do you think the challenge in climate in the United States right now is getting everyone to accept the problem—or is it getting everyone on the same page about what the policy is going to be? Why do we need this big narrative?
Kerry: Because it's only by getting people to buy in and recognize the upside options that you're going to change the other narrative. We're trapped right now. And so how do you break out of that trap? I believe you break out of that trap by having conversations with people and motivating people to activate themselves … so that it becomes an actionable belief taken into elections and into boardrooms and into stockholder meetings and into the halls of Congress.
Meyer: What's the biggest part of that trap—is it partisan?
Kerry: No, it's not partisan. It's not partisan. The biggest part of it is simply that you're getting people to believe sufficiently that they can make a difference by working the democracy, and that they are investing in getting the job done.
That means you are ultimately gonna politicize yourself. You're going to become involved in that system, and you're going to go out, and most importantly, you're going to vote your future. We're not going to tell them who to vote for. We're not going to back candidates, but we're going to try to generate enough energy that people are interested in making sure that they get the job done here.
Meyer: It seems like on the one hand, you're not backing candidates, and you're saying climate change isn't partisan. On the other hand, this is a very specific set of Republicans that you've brought together, and they don't seem like the rising force in the Republican Party right now. Do you really think this is not a partisan issue?
Kerry: I don't think it's a partisan issue. I think it's been made an ideological issue by some people. But I believe that the vast majority of Americans want to deal with facts, and they want to deal with reality. And if they're presented with that over a period of time, by people who they know are trustworthy and thoughtful and experienced, I believe we will change the conversation.
Meyer: We're talking about folks eventually voting on this issue. Do you think the survival of the Paris Agreement rests on the 2020 U.S. election?
Kerry: [Pause.] Um, the reason I'm hesitating is that the president, I believe by executive order, has the right to say that he is going to take the government out.
Meyer: Yes.
Kerry: But something extraordinary is happening in America, which is that states have passed renewable-portfolio laws, and so you've got [37] states in our country that are locked in already to moving towards Paris, no matter what the president does. You also have the mayor of every major city in America signed on to the mayor's commitment to try to live by the Paris Agreement. So you have this dichotomy in America, where the president of the United States has said I'm out, but, frankly, the majority of the American people are still saying, We're in.
Meyer: Do you think that dichotomy is powerful enough to counteract the U.S. leaving?
Kerry: No. It's not counter enough; it's not powerful enough. It's powerful enough to continue to mitigate to some degree. But ultimately, not having a president committed to this is going to be a disaster globally. We're losing the momentum, and actors in the world are using the American absence and lack of commitment as an excuse to cover for their desire not really to rush themselves. We saw this in the negotiations in Poland.
Meyer: I think that's what I mean here, in that we're seeing other countries hiding behind the U.S. withdrawal.
Kerry: Correct.
Meyer: And if that withdrawal then extends another four years …
Kerry: If it extends another four years, it's catastrophic for the notion that we're going to somehow meet this challenge—with one exception. If Big Finance, Big Business, says we're going to move no matter what, we're going to do this, that could save the day, actually. But absent that, the lack of a president being committed to this is catastrophic.
Meyer: It's funny; I was remembering a press conference you gave back during the Paris negotiations, where you said that the Paris Agreement was "a signal to global markets."
Kerry: Correct. And for the first year, Rob, that worked. For the first year, about $358 billion went into renewables. It was the first time that more money went to renewable than fossil fuel ever. So it worked.
Meyer: Is it continuing?
Kerry: It continued for about two years, and now it's slacked off. There's a lot of investment still, but it's not at the level that it needs to be or we anticipated, or that you would have if you had a president who was really screaming about this.
Meyer: Do you think the Paris Agreement has worked as anticipated?
Kerry: Not as anticipated, because of the interference of our president—I mean, the fact that the president pulled out hugely stemmed the momentum. And that's another reason for our creating World War Zero. Unless we get this thing on a kind of presidential-leadership, wartime footing, it's going to be very difficult to meet the goals.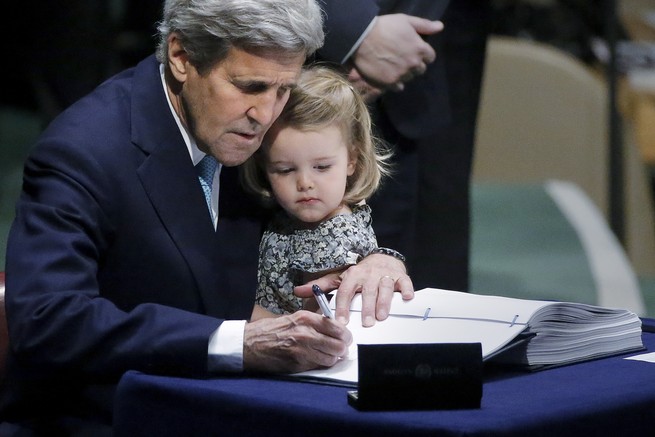 Meyer: This is a bit forward-looking, but let's say the winning candidate in 2020 wants to do something about climate change. How should America then rebuild its credibility on Paris or on climate? Should it immediately rejoin? Or should it try to set some goals first and show the world it's serious?
Kerry: Well, I think every presidential candidate has already said that they're committed to rejoining Paris. So the answer is yeah, they should say we're going to rejoin.
But I think that we have to leverage immediately the raising of ambition by everybody. And that requires remarkable presidential leadership. You're going to need to sit down and negotiate with countries. We're going to have to put real money on the table together with other countries that can afford it.
I mean, basically, the [Group of 20] has the ability to really solve the problem. The fact that the G20 could only put $20 million on the table for the Amazon fire is a disgrace. They've never really fully funded the Green Climate Fund. So there's a lot of work to be done.
But I think if a president came along and immediately began to do those things … it's doable. That's what's so exasperating about this. It is doable, but you don't see a very specific set of proposals for how you do it. For instance, bringing the auto manufacturers into the White House and sitting them down and saying: "Okay, we've got to move this faster. I want to know what the hurdles are. I want to know how we take them out of your way. I want to know what kind of incentives we're going to need for people to be able to afford to buy the electric car." Then you've got to bring the utility people in.
Meyer: That's the kind of wartime footing you're imagining, this mobilization of the private sector.
Kerry: That is precisely what it is. People will competitively protect themselves if it's simply left up to the outside process. But if, on the other hand, the president is enlisting everybody in this endeavor, then you've got the opportunity to eliminate those kinds of hurdles, and people join up, and boom! You've got the kind of energy that's really going to get the job done.
I don't doubt America's ability to do that for an instant, but clearly it's not going to happen with this—with where we are today. But World War Zero is not going to be talking about Trump. This is the first mention you've heard me say, and I'm saying, we're not going to talk about it. We're not focused on candidates. We're focused on the ideas and on what has to happen.
Meyer: What's the best thing that's happened on climate that you didn't anticipate, since your last day as secretary of state?
Kerry: I can't say I didn't anticipate it, but I think the best thing that's happened is the reduction in the price of solar and wind. It's been what we did predict, but it's the best thing that has happened in terms of the technical, physical component of meeting the challenge.
The best thing that has happened—beyond the technical component of it—is the engagement of young people on a global basis, the fact that they're kicking butt out there, going out there and trying to hold people accountable. Ultimately, I think that will translate into the kind of political accountability that existed back in 1970, when the Dirty Dozen were held accountable.
Meyer: What's the worst thing that's happened?
Kerry: The worst thing is the fact that the largest nations have reneged on genuine efforts to really get there and are playing a game—a very dangerous game—with it. The fact that emissions are going up in the United States, they're going up in Europe, they're going up in China, they're going up in India, they're going up in countless countries in the world, that is just—I could use an expletive, but it's really unacceptable. It's outrageous.
Meyer: You're welcome to use an expletive.
Kerry: You know, suffice it to say that it's … outrageously unacceptable. It's just disgraceful. And the public ultimately is going to catch up and hold people accountable for this kind of indifference.
Meyer: So I have to ask. You were the 68th secretary of state. There have been two since you. Right now, the president is attacking members of the Foreign Service and State Department career employees. If you were in Secretary Mike Pompeo's shoes, with your boss, the president, attacking your employees, what would you do?
Kerry: Well, I'm not going to get into that. I can't—I'm not going to get into the politics, which is what it is, of the current administration. I'm trying to build an organization here that is going to be bipartisan and bring people together, not split them apart.
Meyer: Did you work with any of the witnesses?
Kerry: Suffice it to say—Yes, I did work with them, Marie Yovanovitch and many others, David Hale, all these people. But I do want to say how proud I was of those who testified and their courage in defining the best of foreign policy and the best of Foreign Service, and I think America should be very grateful that we have public servants like that.
Meyer: You were the last candidate who tried to unseat a Republican president in a midterm. I realize you're trying to build a bipartisan organization now, but do you have advice for the current set of candidates who have the same aspiration?
Kerry: I don't have anything to say about the presidential thing this morning. I mean, that's not just what I'm involved in right now. I may some time in the future, but I'm not today.
Meyer: What's the next step for World War Zero?
Kerry: The first thing [people] should do is go to WorldWarZero.com, enlist on the website. We're very specific with giving people things that they can do in their local communities to begin this process of building. But next year, we will have several mobilizations of people on a large scale. We need people to be involved in that. And we'll also be doing these town halls in order to talk about real options. We'll have experts and people who are demystifying this and trying to bring it down to Earth. No pun intended.